The Mumbai-based director talks to Screen about sci-fi movie Ra.One, starring Shah Rukh Khan,which is being released worldwide this week on more than 3,500 screens.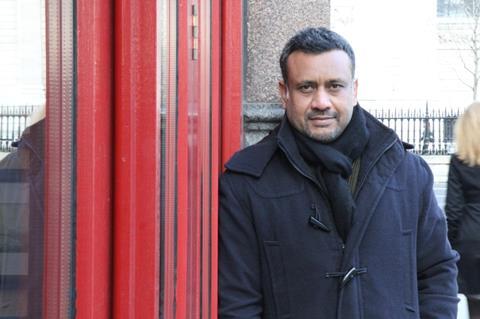 Anubhav Sinha has just spent four years writing and directing Ra.One, a big-budget Bollywood superhero movie that was released worldwide, starting on the first day of the Diwali holiday on Oct 26.
Starring Shah Rukh Khan, the film revolves around a father who gets sucked into a video game he has invented in a desperate attempt to impress his son. The film also stars Kareena Kapoor and Arjun Rampal, with cameo appearances by Sanjay Dutt and Priyanka Chopra.
Produced by Khan's Red Chillies Entertainment, the film is being distributed worldwide by Eros International in Hindi, Tamil and Telugu versions. Premieres are being held in Dubai, London, Toronto and Los Angeles.
Following principal photography in the UK and India, the film underwent extensive VFX work carried out by teams in the US, UK, Canada and China, including Jeff Kleiser's Synthespian Studios. Khan and Sinha also tapped DoP Nicola Pecorini (The Imaginarium Of Doctor Parnassus) and editor Martin Walsh (Clash Of The Titans)
Converted to 3D in post-production, the film will also be released on 500 3D screens in India and around 50 3D screens overseas.
How did the project come about?
It all started with a TV commercial that I saw of a kid controlling human beings with a remote control. The visual stayed with me and I wrote a three-page story in three or four days. It looked exciting but I knew it would require a big budget, so I needed a big star to make it work.
I narrowed down on Shah Rukh because I knew he's interested in this genre – in technology and superheroes – so I made an appointment with him and told him the story. He went very quiet for some time and then asked me "when do you want to make this film?" I told him "if you agree today, it will still take me a few years to set this up". That was August 2005 and we were both busy on other films. Then in September 2007 we met again and that was when we seriously decided to do it.
Does the story have any connection to Indian mythology?
When we were creating the bad guy, we came up with the idea of a villain who combines the world's ten most evil characters – and the devil in Hindu mythology, Raavan, cropped up organically as he has ten heads. But that's where the connection to mythology ends.
The story is about a child who wants to see his father in a different light to the way he really is – and how he reconnects with him when he finally sees him in that different light. His father is a superhero when they meet again, but he's not his father any more, so it's about how they reconnect.
The film seems to have many elements – is it also a family movie?
It's a fact that now the multiplex audience in India is large enough to support a $3-4m film, but this is much more expensive, and if you make a film this size, you have to cater to the entire fan base of Bollywood.
A superhero film does not usually lend itself to all those elements – so we needed to make a huge effort to bring in those elements, and I'm happy that in the final result we brought everything we needed into this film. I spent two years with a team of writers getting the story right and developing the script.
What were the major challenges when you were shooting?
Probably the biggest challenge at the outset, even more than the action scenes and the costumes, was having a very multi-cultural team. We had a DoP from Italy, editor from the UK, sound guys from the US, and the work culture in Bollywood is very different to the rest of the world. So that was a big challenge at the beginning, although slowly we all found each other and started to work together smoothly as a team.
We'd been warned that shooting in London – especially doing action scenes in public places – would be extremely tough, but that turned out to be the smoothest part of the shoot. We had a lot of support and everything kept moving for us. I had a fantastic experience and would love to go back there. I even love the gloomy weather.
How did you handle the post-production?
About 70% was done in-house at Red Chillies' facility in Andheri [in Mumbai] and some in the US, UK, Canada and China. Certain sequences or phenomena were out-sourced. For around three months, I spent four to six hours every night video-conferencing with one facility or another, using cineSync to look at clips together. Red Chillies did have a fairly large facility before this film but obviously their capacity has now grown. Actually, even before Shah Rukh signed me on to do this film, he was gearing up to make a movie of this size, but hadn't decided on the story. So I reached him at the right time.
Is India starting to catch up with Hollywood in terms of visual effects?
We're on the right path but we're not getting close to their ability by virtue of time. The point is that while we are developing, they are also moving and coming up with something like Inception. So yes we're on the right path, but I think it will take another ten years to bring something like an Avatar out of India.
What do you want to do next? Another huge film or something on a smaller scale?
Having tasted the fun of VFX, I want to go back to it at some point. Bollywood has already achieved a quality that is accepted by an international audience and it's developing so fast that there will be even more reason to do a VFX film in a few year's time. But after spending four years of my life on this project, I'd really like to do something like Joel Schumacher did after Batman and make a really personal film [Schumacher followed his work on the Batman franchise with darker, low-budget films such as 8MM and Flawless.]