CHINA BOX OFFICE: Fox's Dawn Of The Planet Of The Apes narrowly outgrossed The Expendables 3 to take back the top spot at the Chinese box office last week (Sep 8-14).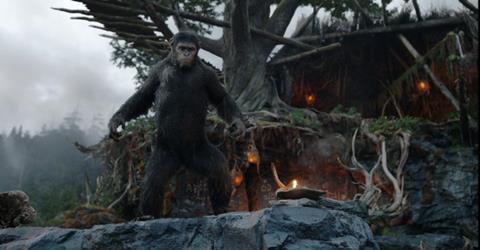 According to EngGroup figures, Dawn Of The Planet Of The Apes grossed $20.08m from 3.36 million admissions over the seven days, while The Expendables 3 took $20.04m from 3.83 million admissions.
Apes, which has so far grosed $102.26m in China, has been released in the 3D format only, resulting in a higher average ticket price. The Expendables 3 has grossed $61.97m after two weeks on release, beating The Expendables 2, which took $53m.
Romantic drama But Always came in third grossing $16.13m over the week, which included the end of the Mid-Autumn Festival holiday period. Starring Nicholas Tse and Gao Yuanyuan, the film was co-produced by Hong Kong's Emperor Motion Pictures and China's Wanda Media and Dadi Media. It has grossed $27.87m after ten days on release.
The next four places in the top ten were taken up by new releases. Lionsgate's Divergent, which opened last Monday, grossed $9.37m in its first week for fourth position in the chart, followed by Warner Bros' Into The Storm, which came in fifth with $7.62m after three days.
Beauty And The Beast came in sixth with $1.65m after three days, followed by local production Inside The Girls which took $1.08m over the weekend for seventh place.
At the bottom of the chart, Tale Of The Rally took $710,000 for a cume of $1.46m; Delhi Safari took $640,000 ($1.27m) and How To Train You Dragon 2 held on to a position in the top ten with a further $560,000 for a cumulative gross of $65.1m.