Dir: Ben Affleck. US. 2012. 120mins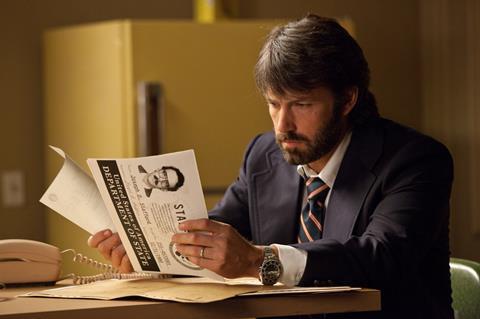 A skilfully made grownup entertainment, Argo combines an incredible true story with crafty thriller conventions to produce a crowd-pleasing drama that should go down easy with Oscar voters. Argo represents another step forward for director Ben Affleck, and while its polished professionalism doesn't negate the film's flaws, the precision of its set pieces and the confidence of its execution are almost as convincing as the unlikely scam the movie's heroes pull off.
As he demonstrated with The Town, Affleck has a knack for tight, gripping action sequences.
After its stops at Telluride and Toronto, Argo will open in the US on October 12, when it (like Affleck's previous directorial effort, The Town) will try to snag both box office and award consideration. Positive word of mouth out of fall festivals will no doubt help the cause, and Affleck's appearance in front of the camera should also prove a commercial boost.
This Warner Bros. offering is based on the 1979 takeover of the US embassy in Iran by militants, which forced six staff members to seek refuge in the Canadian embassy. With the Iranian Revolution raging and the American staffers in danger, CIA operative Tony Mendez (Affleck) hatched a desperate plan: Work with a Hollywood producer (Alan Arkin) and Oscar-winning makeup artist (John Goodman) to concoct a fake sci-fi movie and convince the Iranian authorities that the Americans are actually part of a Canadian film crew in Iran to scout locations.
As preposterous as that plan sounds, Argo documents real events. (Argo takes its name from the sci-fi film, although, amusingly, no one seems to know what the title means.) Affleck finds room in his thriller to acknowledge just how ludicrous this covert operation really was, and as a result, Argo is something of a comedic heist film, with the first half concentrated on Mendez's journey to Los Angeles to get together his creative team for the phoney film and then the second half devoted to his trip to Tehran to bring the Americans home.
Initially, there's a good deal of humour at the expense of Hollywood's mendacity and phoniness — some of which tends to be a little too backslapping and self-congratulatory — but soon the film becomes more anxious, and Affleck smoothly navigates the tonal shift from satiric to suspenseful.
As he demonstrated with The Town, Affleck has a knack for tight, gripping action sequences, and Argo boasts three: the opening siege of the US embassy, and then two during Mendez's time in Iran, including a harrowing escape attempt. Without relying on frenetic editing gimmicks or overblown violence, Affleck adroitly executes each sequence, nicely building tension with intelligence and restraint.
If there's a major quibble with the film, it's that Argo's clockwork-like efficiency sacrifices character depth. Affleck gives a soulful, understated performance as Mendez, a man whose commitment to his country has wrecked his family, but beyond the actor's inherent sincerity, the character is mysterious in a way that suggests a lack of script development rather than an intriguing artistic choice. (Argo is the first produced full-length screenplay from Chris Terrio.) The same problem afflicts the imperilled Americans, despite the best efforts of Tate Donovan, Rory Cochrane and their cast mates. Affleck has done a robust job making a movie about their rescue, but his film doesn't do much to really get to know them.
Production companies: GK Films, Smokehouse Pictures
Domestic distribution: Warner Bros. Pictures, www.warnerbros.com
Producers: Grant Heslov, Ben Affleck, George Clooney
Executive producers: David Klawans, Nina Wolarsky, Chris Brigham, Chay Carter, Graham King, Tim Headington
Screenplay: Chris Terrio, based on a selection from The Master of Disguise by Antonio J. Mendez and the Wired magazine article The Great Escape by Joshuah Bearman
Cinematography: Rodrigo Prieto
Production design: Sharon Seymour
Editor: William Goldenberg
Music: Alexandre Desplat
Website: argothemovie.warnerbros.com/
Main cast: Ben Affleck, Bryan Cranston, Alan Arkin, John Goodman, Victor Garber, Tate Donovan, Clea DuVall, Scoot McNairy, Rory Cochrane, Christopher Denham, Kerry Bishé, Kyle Chandler, Chris Messina, Željko Ivanek