Dir: Kim Ki-duk. Korea. 2011. 100mins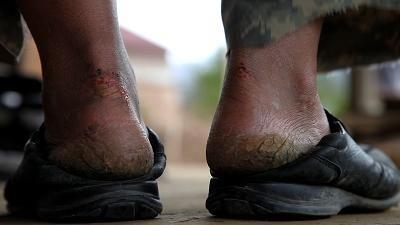 This, without any doubt, is the ultimate "film d'auteur" ever made. Kim Ki-duk's one-man astounding performance- there is nothing in this film he doesn't do and there is no one else except him - is a thought-provoking tour de force, the far out experiment of a filmmaker in crisis, asking himself crucial questions about himself, his profession and his past achievements, in a manner that will most likely put off general film audiences but should reach every film school and festivals in the world, its topics to be discussed by anyone who would like to dedicate his or her life to making or even watching movies.
Whether everything Kim Ki-duk says in this film is a spontaneous, sincere reflection of a troubled conscience or a carefully thought out script, one will probably never know.
Doing it justice in a short review is almost impossible, not because Kim Ki-duk is providing revolutionary insights into his line of work, but because he raises numerous issues that are too often ignored as irrelevant or pedantic by professionals who should know better. Since 2008, when one of his actresses almost lost her life in the course of shooting Dream, an incident for which he blames his own negligence, Kim Ki-duk stopped making films, retreated in the company of a cat to a lonely house on the hill, on the outskirts of an unspecified city.
There, in complete solitude, he started mulling over his entire existence, the films he made, the themes he had chosen for them, about his own life but also about life and death in general, about violence, friendship, loyalty, treason, about his ethical choice in films but outside them as well.
With no one to talk to, he acquired a Canon digital camera, started shooting not only his daily activities but also turning it on himself, with one Kim Ki-duk is asking questions, like "why did you drop everything and chose this hermit's life" and then has the other Kim Ki-duk answering in a long, painful soliloquy, detailing all his doubts, fears, disappointments, personal and professional, and the adding a third Kim Ki-duk, who follows the conversation between the two others on a monitor, with a sort of doubtful look on his face.
One might even add yet another participant in this one man conversation, Kim Ki-duk's shadow, whose questions prompt the filmmaker to dig even further on his introspective journey. The film's title is the name of the song he renders in a hoarse cry, as if wrenched out of his own soul into the camera, poetically expressing his profound disarray, his feeling that life is a series of hills you climb and then descend, a never ending cycle which governs our entire existence.
Unsurprisingly, the film ends with Kim Ki-duk departing from everything that represented his previous work before embarking on a new film career, since filmmaking is definitely the one thing he wants to do. He is actually revisiting his past and symbolically emptying his revolver into it, after which he watches that most representative philosophical cycle of his career, Spring, Summer, Autumn, Winter… and Spring on his TV monitor.
Even in such rudimentary conditions, one can't ignore Kim Ki-duk's gift for colour compositions, whether he shoots his pots and pans or his working tools, and just in case anyone forgets, the posters of his films keep fresh the memory of his past work while the early paintings he did in the South of France are very much in evidence at the end of the film.
Whether everything Kim Ki-duk says in this film is a spontaneous, sincere reflection of a troubled conscience or a carefully thought out script, one will probably never know. However, there is no doubt that the questions are perfectly valid and need to be addressed by anyone who considers himself a conscientious artist. As for the new direction of his career, better wait for his next film.

International sales: Finecut, www.finecut.co.kr
Screenplay, producer, cinematography, editor, cast: Kim Ki-duk