Dir: Sarah Smith. UK-US. 2011. 97mins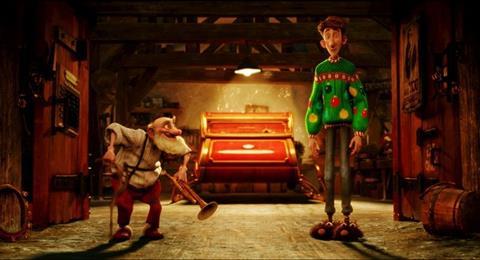 The coming together of Britain's Aardman Animation and Hollywood's Columbia Pictures Animation is a movie marriage made in heaven, with Arthur Christmas a thoroughly charming early festive gift that will keep parents and kids entertained and amused in the packed pre-Christmas period. It is a fun-packed romp, beautifully animated and lacking any heavy-handed 'messages', instead focusing on the joy and innocent delight of Christmas and the pleasures in old-fashioned family values.
Peter Baynham and Sarah Smith's script is a smart combination of joyous love of Christmas and some knowing and clever jokes, largely at the expense of cold, efficient, technology.
Opening in the UK on November 11– admittedly pretty early for a festive animated film, but London advertising is already firmly in place via the Arthur Christmas yuletide lights on Regents Street - and rolling out speedily around the world (the US on November 23), and should guarantee Sony a nice return prior to a long, long, life on home entertainment.
There is a strong contingent of British actors on-hand to provide the voices (including James McAvoy, Hugh Laurie and Jim Broadbent), and the humour is resolutely British, and while some of the gags might bemuse some audiences, the sheer sense of joy and festive delight will appeal to youngsters as the movie sets out to answer that key question – just how does Santa deliver all of those presents in one night?
The answer is quite simple. The Christmas present delivery service is actually thanks to an ultra high-tech operation hidden beneath the North Pole, with actual delivery via a huge, mile-wide, state of the art sleigh (S-1) with stealth technology and a million elves, working in three-elf teams who have exactly 18.14 seconds to get into each house, deliver the gifts and move on to the next one.
Santa Claus (perfectly voiced by Jim Broadbent) might well be the smiling, plump, red-suited front man, but in truth these days he is more of a figurehead, with actual present delivery logistics is in the capable hands of his first-born son Steve (Hugh Laurie), who might well wear combat gear while coordinating the elves, but is next in line for the jolly red suit.
Yes, the Clauses are actually a dynasty stretching back 1000 years, with Santa's own dad, Grandsanta (Bill Nighy, stealing virtually every scene as usual) still on the scene and always happy to harp on about the good old days. Very much in the background, though, is Santa's second son Arthur (James McAvoy), a genial soul, lover of all things Christmas, but who has struggled in various jobs (from wrapping to maintenance) and who now busies himself in the Letters to Santa department.
His big chance comes when one little English girl's present is forgotten, and Santa and Steve aren't keen on firing up their super sleigh just for one girl. Arthur know how vital the gift is, and with the assistance of Grandsanta he dusts off the old-fashioned sleigh, hitches up the remaining reindeers, scatters them with magic flying powder and sets off into night…the clock is ticking and he has a present to deliver.
His blundering journey takes him to Mexico and Africa before finally making it to the small English village where Gwen (Ramona Marquez, from hit BBC comedy series Outnumbered) is sleeping soundly…but the clock is ticking and Arthur still has a vital delivery to make.
Peter Baynham and Sarah Smith's script is a smart combination of joyous love of Christmas and some knowing and clever jokes, largely at the expense of cold, efficient, technology. Arthur Christmas (played with a good deal of charm by James McAvoy) may well have a childlike enthusiasm for all things festive, but his mission helps bring the Claus family back together and focus their attentions on what is good and wonderful about Christmas.
The 3-D computer generated animation is bright and exciting, and somehow seems to also embody that Aardman look of slight imperfections…there is a lot going on in the background and there are moments of subtle humour to be found in amidst the festive mayhem. Naturally enough there are moments of sentimentality, but Arthur Christmas is no-sugar coated movie…instead it is a real yuletide charmer, and one that is likely to find plenty of return viewers as it battles for screen space against other films aimed at the kids, such as Happy Feet 2 and Alvin And The Chipmunks: Chip-Wrecked.
Production companies: Columbia Pictures Animation, Aardman Animation
International distribution: Sony Pictures
Producer: Steve Pegram
Executive producers: Peter Lord, David Sproxton, Carla Shelley
Co-producer: Chris Juen
Co-executive producer: Peter Baynham
Co-director: Barry Cook
Screenplay: Peter Baynham, Sarah Smith
Cinematography: Jericca Cleland
Editor: James Cooper
Production designer: Evgeni Tomov
Music: Harry Gregson-Williams
Website: www.arthurchristmas.com
Main cast: James McAvoy, Hugh Laurie, Bill Nighy, Jim Broadbent, Imelda Staunton, Ashley Jensen, Ramona Marquez