A epidemiologist goes in search of disease and local delicacies in this quirky road-trip movie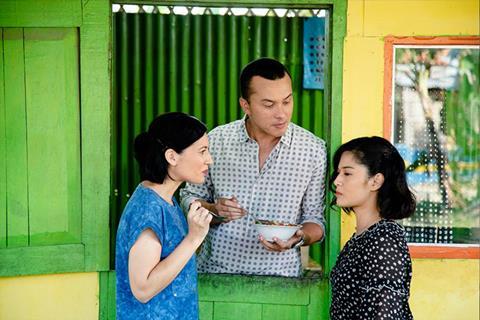 Dir Edwin. Indonesia. 2018. 106mins
A gourmet tour of Indonesian cuisine and a voyage of romantic discovery – set against the backdrop of an avian flu outbreak. The collision of themes and tones in this frothy, conspiratorial chick flick is not exactly a match made in heaven. And, perhaps not surprisingly, some elements are more successful than others. The cuisine – lovingly styled regional delicacies from this road trip in search of disease outbreaks and degustation – is appetising. But an undercooked official conspiracy plot is less palatable.
The food is where the film shines, time and again
This is the fourth feature film from Indonesian director Edwin, whose previous films Blind Pig Who Wants To Fly and Postcards From The Zoo were widely screened in festivals, including Rotterdam, Busan and Berlin. Aruna could follow the director's earlier work to further festival berths, but the perky, accessible approach of this picture, which is adapted from a novel, The Bird Woman's Palate by Laksmi Pamuntjak, might be better suited to mainstream audiences within Indonesia and its surrounding territories.
Aruna (Dian Sastrowardoyo) is an epidemiologist who is sent to investigate a series of isolated outbreaks of a new, virulent strain of what appears to be bird flu in humans. She decides to combine this with a recently planned foodie road trip to sample the local street food specialities of each city. The HazMat suit by day, clam noodles by night juxtaposition is odd enough, without the addition of Aruna's two friends, bantering along for the ride and seemingly unbothered by impending pandemic.
Bono (Nicolas Saputra) is a chef, looking for inspiration for his new menu, and vampy maneater Nadezhda (Hannah Al Rashid) is writing a new book. Matters are further complicated with the arrival of Aruna's former colleague and secret crush Farish (Oka Antara), who has been assigned to work alongside her.
Jolly, jazzy music swings carelessly thought each scene, setting a tone which is clearly more engaged with the flirtatious dynamic between the friends, and their quest for tasty treats, than it is with the infectious viruses and massive bird cull. A cutaway of a child crying, as men in biohazard suits carry off his caged budgies, is as close as we get to the trauma of a potentially devastating epidemic.
Aruna draws the audience in as her confidantes, sharing secrets with the camera and making expressive, exasperated eye-contact with the lens. It's a flippant but engaging device which lightens the material considerably.
Themes explored include the collision between faith and science, with the acknowledgement that, for some at least, food is akin to a religion. And the food is where the film shines, time and again, with lovingly shot close ups of broth sloshing over immaculately composed bowls of ingredients. It's like the instagram account of a compulsive eater. But there's only so far that a camera which is perpetually salivating over crackling woks can take a film. There is an energy dip in the third act, and a conclusion which feels rather flabby and lethargic.
Production Companies: Palari Films
International Sales: CJ Entertainment
Producer: Meiske Taurisia
Screenplay: Titien Wattimena
Editing: W. Ichwandiar Dono
Cinematography: Amalia TS
Music: Ken Jenie, Mar Galo
Cast: Dian Sastrowardoyo, Oka Antara, Hannah Al Rashid, Nicolas Saputra