Dir: Ana Kokkinos. Aust. 2009. 115 mins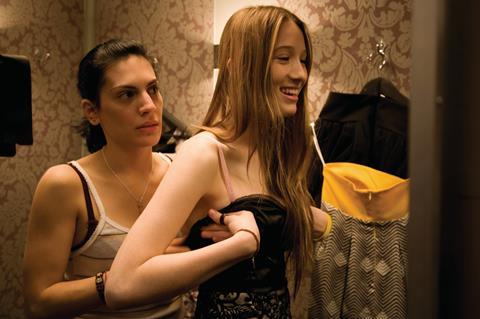 Blessed is a dark, relentless and intensely serious study of errant teenagers and their preoccupied mothers. Finely acted by a large cast led by a jagged, desperate Frances O'Connor, four thematically linked stories are played out on the mean streets of western Melbourne: unhappy mothers mistrust their children, drifting children mistrust their mothers.
It's a portrait gallery of lost and frightened souls; of cold, fearful hopelessness
Director Kokkinos, known for her sexy, stylised Head On (1998) and The Book of Revelation (2006), works close to documentary realism here, with much hand-held camerawork and a street-weary look. With grim events and strong language, Blessed has strictly arthouse box office potential but will challenge and engage those audiences, particularly female. First shown at MIFF (Melbourne) in July, it opens in Australia on September 10 before commencing an assured international festival career in Toronto.
The film has been well cast by Kokkinos and long-time producer Al Clark (Priscilla, Chopper). Experienced performers such as O'Conner, Miranda Otto, Deborra-Lee Furness and William McInnes share the screen with a range of impressively natural youngsters, including the radiant Sophie Lowe, recently seen in the title role in Rachel Ward's Beautiful Kate.
The screenplay is derived from an unabashedly political 1998 stage production by the Melbourne Workers' Theatre in which four short plays by different authors were interwoven into a portrait of local working class life. Andrew Bovell, who later wrote the screenplay for Lantana (2001), was one of the original authors and he has overseen its radical reworking from polemic into a portrait gallery of lost and frightened souls.
The children steal, swear, swig bourbon, masturbate; the mothers fret, mourn their lives, ignore their families. In the toughest tale, hooker Rhonda (O'Connor), pregnant and barely coping, has lost control over her young son and daughter who roam the streets and spend nights in a charity clothes donation bin.
Meanwhile hard-working Greek seamstress Gina (Haralabidou) has lost contact with her sexually ambivalent son and dangerously wild daughter; nurse Tanya (Furness) battles with her surly, unemployed husband Peter (McInnes) while their son starts robbing local houses; and depressed single mother Bianca (Otto) mindlessly plays poker machines while her daughter gets into increasing trouble at the local mall.
The action happens over a single day with the kids first telling their stories and then the mothers adding theirs, an intriguing device which adds much needed complexity to otherwise simple narratives. There is some crossover between the tales — for instance, Bianca's daughter is in dangerous cahoots with Gina's daughter — but the links are mainly achieved by experienced editor Jill Bilcock (Romeo + Juliet, Moulin Rouge!)
The quality of the dialogue varies considerably between stories; and fuzzy, tuneless background music doesn't assist the mood settings as the movie heads directly and inevitably towards its can't-look-away tragedy.
O'Connor delivers some of the most heart-piercing, bloodcurdling shrieks ever filmed, a triumph of naturalism, a badge of Blessed's cold, fearful hopelessness. Not a fun night out.
To sign up for Screen's weekly Reviews Newsletter with new releases, international openings and full festival reviews delivered free to your mailbox every Friday, please click HERE

Production companies
Wildheart Zizani
Screen Australia
International sales
Bankside Films
Producer
Al Clark
Screenplay
Andrew Bovell, Melissa Reeves, Patricia Cornelius, Christos Tziolkas based on the play Who's Afraid of the Working Class?
Cinematography
Geoff Burton
Production Designer
Simon McCutcheon
Editor
Jill Bilcock
Music
Cezary Skubiszewski
Maincast:
Frances O'Connor
Miranda Otto
Deborra-Lee Furness
Victoria Haralabidou
William McInnes
Sophie Lowe
Anastasia Baboussouras
Eamon Farren