Perfect Village to produce range of content including features and online TV.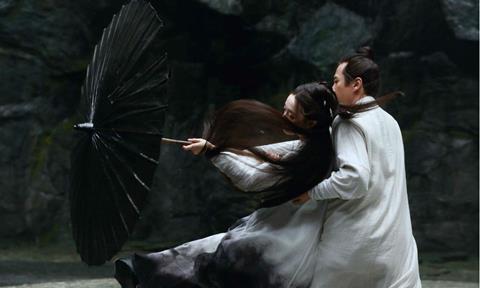 Beijing-based Perfect World Pictures, Village Roadshow Entertainment Group (VREG) and WME IMG China are joining forces on a new China-based production venture.
With offices in Beijing and Hong Kong, the new company, Perfect Village, will produce film, animation and premium online TV content for China and international markets.
Perfect World and VREG will contribute their IP and production and distribution capabilities, while WME IMG China will provide access to its brand relationships, as well as global packaging, sales and distribution infrastructure.
Ellen Eliasoph, currently head of VREG's Asia operations, will serve as president and CEO of the new company, based at the Perfect World headquarters in Beijing.
Perfect Village's initial slate includes cyber-hacker thriller Reborn and two projects co-produced by VREG Asia – sci-fi action title Bleeding Steel, starring Jackie Chan, and Zhang Yimou's Shadow (pictured).
Reborn stars Chinese actors Han Geng and Rhydian Vaughan, along with Japanese music and TV star Tomohisa Yamashita in his acting debut.
Perfect Village has also started pre-production on a combined live-action/animated feature that brings together Hero Dog, a character in a Perfect World hit TV show, with Garfield.
Described as a "creator and talent-friendly filmed entertainment label", the new company is also developing projects that will shoot in Village Roadshow's home base of Australia, as well as use Australian VFX and post-production capabilities.
Perfect World Pictures chairman and CEO Jie Lian said: "We believe the Chinese film industry is on the brink of a new 'Golden Age' in which great indigenous stories and IP will be brought to screens, utilising world-class production techniques and resonating with audiences both in China and around the world. Finding the right partners has been a critical element of our strategy."
VREG CEO Greg Basser said: "The formation of Perfect Village, in collaboration with these stellar partners, represents the fullest possible realisation of our dream to build a localised film development and production operation in China creating world-class content for China and beyond."
Perfect World Pictures also has a five-year slate financing deal with Universal Pictures. Part of the Perfect World Group entertainment conglomerate, the company is involved in film and TV production, distribution and financing, cinema operation and the talent management business.