Dir: David Brooks. US. 2012. 90mins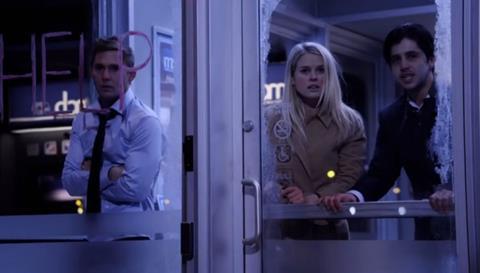 Buried screenwriter Chris Sparling aims to deliver another dose of confined-space terror with ATM, only this time the space and the cast are both a little bigger. The result, though far-fetched and less marketable than Buried (a one-man show for star Ryan Reynolds), is still a taut thriller that should have some appeal, albeit mostly as a home entertainment offering, for dedicated genre fans.
Brooks keeps things visually interesting.
After giving the Gold Circle production a VOD premiere several weeks ago, US distributor IFC is set to open ATM in domestic cinemas on April 6. Distributors in international territories might benefit from giving the film - which had a brief theatrical outing in Italy earlier this year - a similar multi-platform launch.
Sparling's victims this time out are a likeable young stock broker (played by The Hurt Locker's Brian Geraghty), the colleague he's trying to pick up (Britain's Alice Eve, from She's Out of My League) and an obnoxious workmate (Josh Peck, from The Wackness).
On the way home from their office Christmas party, the three stop at an isolated ATM booth. Out of nowhere, a mysterious figure appears outside the booth and makes clear his malicious intent, leaving the friends to choose between attempting a dangerous escape and freezing in the sub-zero night.
The set-up requires some significant leaps of faith. Once they're made, however, director David Brooks keeps the tension high as the killer tries to get at his victims and the victims begin to crack under pressure. Though he's seen planning the attack in a prologue sequence, the killer's purpose is never explained, even in a teasing epilogue that hints at sequel plans.
Brooks, making a promising feature debut, keeps things visually interesting by finding a variety of ways to shoot in and around the brightly-lit bank machine kiosk.
Production companies: Gold Circle Films, The Safran Company
US distribution: IFC Films
International sales: Lionsgate, www.lionsgate.com
Producers: Paul Brooks, Peter Safran
Executive producers: Joe MacCarthy, Leon Clarance, Scott Niemeyer, Dan Clifton
Screenplay: Chris Sparling
Cinematography: Bengt Jan Jonsson
Production designer: Craig Sandells
Editor: David Brooks
Music: David Buckley
Main cast: Brian Geraghty, Alice Eve, Josh Peck