Dir: John Wells. US. 2013. 121mins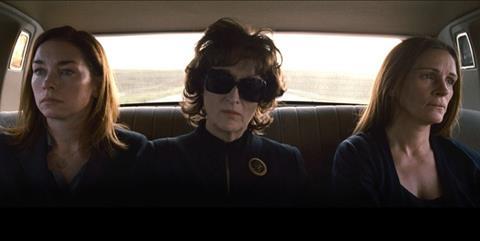 Acting with a capital "A" dominates August: Osage County, a darkly comic drama that explores the ugly anger, pain and secrets that are eating away at an Oklahoman family like the cancer that's afflicting its poisonously bitter matriarch. Based on the Pulitzer-winning play by Tracy Letts about a very unhappy family reunion, this ensemble piece is filled with high-profile actors who dig into the story's rich lines and overflowing melodrama. With a family this overwrought, it's fitting that the movie is a bit of a mess itself, but director John Wells mostly keeps this emotional rollercoaster on the rails.
Amidst the movie's histrionics and shouting matches, there is also a deep concern about the ways in which families create imperfect people who go out into the world continuously blaming their parents for their difficulties in adulthood.
August: Osage County will be released in the US and UK around Christmastime, when most industry observers will be hotly debating its considerable chances at award nominations. With a cast headed by Meryl Streep and Julia Roberts, the film is filled with Academy Award winners and nominees, and the story's mixture of hard truths and tart asides could help make the film a hit. At the very least, the Weinstein Company will position this movie as one of winter's must-see prestige picks.
As August: Osage County begins, the Westons are in mourning. Alcoholic poet Beverly Weston (Sam Shepard) has died, probably because of suicide, and the funeral service has provoked two of his daughters, flighty Karen (Juliette Lewis) and cold Barbara (Julia Roberts), to return to their Oklahoma childhood home to attend the service.
A third daughter, sensitive Ivy (Julianne Nicholson), still lives in their hometown, but the centre of the family is unquestionably Violet (Streep), their mother and Beverly's wife. With assorted husbands, children and fiancés also coming to pay their respects, Barbara and Violet reignite their angry faceoff, a resentment built up over years that the audience will begin to understand in detail over the course of the film.
Wells made his name in television as an executive producer on acclaimed shows like The West Wing and E.R., so, not surprisingly, he's able to helm a film in which there are several major characters, each with his or her own foibles and quirks. Letts has adapted his own play, and August: Osage County practically hums with sharp dialogue and good quips — although, admittedly, some of these lines feel more theatrical than lifelike, perhaps an inevitable by-product of the story's roots on the stage.
Letts' characters are often caustic, wounded individuals, and the movie is at its strongest when they're tearing each other apart, most memorably during a superb dinner scene after the funeral, the entire family gathered around the table for a series of punishingly abusive verbal volleys in between bites of food. The queen of these exchanges is Violet, who's hampered by mouth cancer and doped up on pain medicine but still firing away at her children, who have plenty of issues about their less-than-rosy childhood.
But if Violet is a volcanic fury, Barbara is a worthy adversary, refusing to let her mother browbeat her children and other family members with her accusations and self-pity. (Beverly may have killed himself, but Violet is convinced it's not because of her.) To be sure, these scenes of vengeful recriminations are an excuse for actors to go gleefully over-the-top, but the controlled ferocity contained in Streep's and Roberts' performances can be quite compelling.
Streep is known for her immersion into roles, sometimes resulting in mannered performances, but her Violet is an impressive cauldron of loathing. Though she can be bitingly funny and even loving, Violet is a woman who feels free to finally say her piece now that her husband has died, and Streep suggests the character's fuming exasperation at her ungrateful children, who don't understand the depth of her own miserable upbringing.
As her foil, Roberts gives one of her most piercing performances, playing Barbara as a spiteful woman who's very clearly becoming like her mother, berating her philandering husband (Ewan McGregor) and finding little in her chaotic life to make her happy. (Like Violet, she's unwilling to see her culpability in her own problems.) For most of her career, Roberts has chosen to be the smiling, charming star, only occasionally showing grit like in her Oscar-winning turn in Erin Brockovich. But her August: Osage County performance is defiantly steely, never asking us to sympathize with this rather unpleasant woman who both hates and loves her impossible mother.
Amidst the movie's histrionics and shouting matches, there is also a deep concern about the ways in which families create imperfect people who go out into the world continuously blaming their parents for their difficulties in adulthood. This dynamic is felt most strongly between Violet and Barbara, but it can also be observed in other characters, including Violet's boisterous sister Mattie Fae Aiken (Margo Martindale), whose good-natured ribbing can turn surprisingly dark when it comes to her disappointment of a son Charles (a timid, beaten-down Benedict Cumberbatch, nicely playing against type).
Discontent permeates this extended family — which also includes Mattie Fae's lacklustre husband Chris Cooper — and while August: Osage County can be quite funny and touching, those sentiments can't shake the darkness at the movie's centre.
August: Osage County has its quieter, more reflective moments as well, and Wells gives as much time as possible to even the supporting characters' plights, including a secret love affair between Ivy and Charles, who are first cousins. Still, the script's high-drama moments tend to dominate, and as a result the movie can sometimes be merely a showy platform for the cast to flaunt their technical skill. But on the whole the ensemble sticks close to Letts' vision of a family on the verge of imploding, letting the writer's language and ideas carry the day.
Production companies: Jean Doumanian Production, Smokehouse Pictures, Battle Mountain Films, Yucaipa Films
International sales: The Weinstein Company, www.weinsteinco.com
Producers: Steve Traxler, Jean Doumanian, George Clooney, Grant Heslov
Executive producers: Jeffrey Richards, Jerry Frankel, Ron Burkle, Claire Rudnick Polstein, Celia Costas, Bob Weinstein, Harvey Weinstein
Screenplay: Tracy Letts, based on the play by Tracy Letts
Cinematography: Adriano Goldman
Production designer: David Gropman
Editor: Stephen Mirrione
Music: Gustavo Santaolalla
Website: http://augustosagecountyfilm.com/
Main cast: Meryl Streep, Julia Roberts, Ewan McGregor, Chris Cooper, Abigail Breslin, Benedict Cumberbatch, Juliette Lewis, Margo Martindale, Dermot Mulroney, Julianne Nicholson, Sam Shepard, Misty Upham