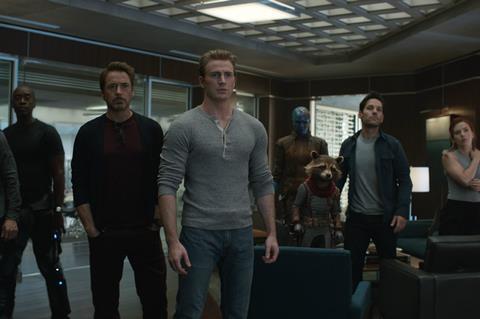 A further $121.4m from worldwide markets on Thursday propelled Avengers: Endgame to $1.785.6bn as the smash heads towards $2bn in its second weekend.
China delivered $52.1m for $511.6m to consolidate its status as the lead individual market, while the international arena produced $100m to reach $1.312bn and ranks as the fourth highest release of all time.
Globally the film ranks fifth and has in its sights Avengers: Infinity War on $2.048bn and Star Wars: The Force Awakens on $2.068bn. In North America, a $21.4m Thursday haul boosted the tally to $473.7m and Endgame ranks 15th in the all-time pantheon. It will overtake Star Wars: Episode I – The Phantom Menace and Finding Dory on Friday and climb to number 13, with a strong chance of breaking into the top 10 this weekend.
By territory, Endgame added $2.9m in the UK to reach $71.1m, $3.7m in South Korea for $64m, $2.3m in Mexico for $50.9m, $3.7m in Brazil for $44.2m, $2.8m in India for $43.7m, $1.2m in Australia for $37.9m, $1.3m in Germany for $37.1m, $1.4m in France for $35.4m, and $2.8m in Japan for $27.1m.
It added $900,000 in Philippines for $25m, $1.5m in Indonesia for $24.8m, $4.7m in Russia for $24.1m after four days, $1.6m in Spain for $20.8m, $800,000 in Thailand for $19.7m, $800,000 in Hong Kong for $18.8m, $800,000 in Taiwan for $18.3m, and $700,000 in Malaysia for $15.1m.