The Revenant and Mad Max: Fury Road also secure multiple nods; Star Wars: The Force Awakens scores four.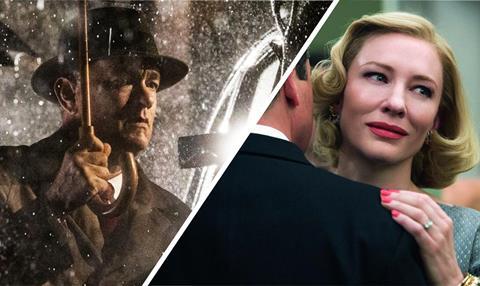 Steven Spielberg's Bridge of Spies and Todd Haynes' Carol lead the nominations for the EE British Academy Film Awards, which were announced in London this morning.
Both received nominations in nine categories including Best Film alongside The Big Short, The Revenant and Spotlight.
Nominees by the numbers
9 - Bridge of Spies, Carol
8 - The Revenant
7 - Mad Max: Fury Road
6 - The Martian, Brooklyn
5 - The Big Short, The Danish Girl, Ex Machina
4 - Star Wars: The Force Awakens
3 - The Hateful Eight, Sicario, Spotlight, Steve Jobs
It marks a further boon for Todd Haynes' Carol, a period love story starring Cate Blanchett and Rooney Mara, which is leading the nominations for this weekend's Golden Globes and is now a favourite for the Oscars.
Speaking to ScreenDaily from Los Angeles, Carol producer Stephen Woolley said he was "thrilled and ecstatic" by the nominations but admitted he had been concerned it might have been forgotten as it premiered at the Cannes Film Festival last May.
"This afternoon we [co-producer Elizabeth Karlsen] were thinking Bafta voters might have forgotten about us, with the big rush of movies at the end of the year, full of male testosterone," said Woolley.
"But Todd [Haynes] has made something that, like Cate Blanchett's character, is a beautiful, elegant movie and people communicate with its passion."
Steven Spielberg's Bridge of Spies shared the lead, with nine nominations including best film, director, original screenplay and supporting actor Mark Rylance. However, lead actor Tom Hanks was overlooked for his lead performance in the Cold War thriller.
Shutouts
Other notable actors to miss out included Charlotte Rampling and Tom Courtenay, who were each expected to each receive a nod for their performances in 45 Years, and Tom Hardy, who starred in multi-nominated The Revenant and Mad Max: Fury Road as well as Kray Twins drama Legend (which received no nominations).
Also missing were James Bond film Spectre, period drama Suffragette, Shakespeare adaptation Macbeth and US drama Joy, which at least was expected to get a nod for lead actress Jennifer Lawrence (although it is understood screeners for the David O Russell drama were sent out late). [Click here for more snubs]
Redmayne returns
British actor Eddie Redmayne won best actor last year for his portrayal of Stephen Hawking in The Theory Of Everything and will hope to repeat that success for his performance as a transgender artist in The Danish Girl.
But he will face stiff competition from Leonardo DiCaprio and Matt Damon for their performances in survival tales The Revenant and The Martian respectively, as well as Michael Fassbender and Bryan Cranston in their titular roles in Steve Jobs and Trumbo.
Alicia Vikander scored nominations in the categories for both leading actress, for her performance opposite Redmayne in The Danish Girl, and supporting actress, for her role as a super-intelligent robot in Ex Machina.
In the leading actress category, Vikander will face competition from Brie Larson (Room), Cate Blanchett (Carol), Maggie Smith (The Lady in the Van) and Saoirse Ronan (Brooklyn).
In the supporting actress line-up, Vikander is joined by Jennifer Jason Leigh (The Hateful Eight), Julie Walters (Brooklyn), Kate Winslet (Steve Jobs) and Rooney Mara (Carol).
In the supporting actor category, Idris Elba secured the sole nomination for African child soldier drama Beasts of No Nation and will be up against Benicio Del Toro (Sicario), Christian Bale (The Big Short), Mark Ruffalo (Spotlight) and Mark Rylance (Bridge of Spies).
Craft categories
Despite being overlooked for the main prizes, action Mad Max: Fury Road secured seven nominations in the technical categories including a nod for cinematographer John Seale and editor Margaret Sixel.
Blockbuster Star Wars: The Force Awakens was also recognised in four of the craft categories including a nomination for veteran composer John Williams for best original music.
Distributors
Bridge Of Spies and The Revenant helped Twentieth Century Fox top the list of distributors. [Click here for full list of distributors]
The winners will be announced at an awards ceremony on Feb 14 at London's Royal Opera House, hosted by Stephen Fry. It will be broadcast on BBC1 in the UK and in all major territories around the world.
Here are the nominations in six of the main categories (click here for the full list):
Best Film
The Big Short
Bridge Of Spies
Carol
The Revenant
Spotlight
Outstanding British Film
45 Years
Amy
Brooklyn
The Danish Girl
Ex Machina
The Lobster
Leading Actor
Bryan Cranston Trumbo
Eddie Redmayne The Danish Girl
Leonardo Dicaprio The Revenant
Matt Damon The Martian
Michael Fassbender Steve Jobs
Leading Actress
Alicia Vikander The Danish Girl
Brie Larson Room
Cate Blanchett Carol
Maggie Smith The Lady In The Van
Saoirse Ronan Brooklyn
Supporting Actor
Benicio Del Toro Sicario
Christian Bale The Big Short
Idris Elba Beasts Of No Nation
Mark Ruffalo Spotlight
Mark Rylance Bridge Of Spies
Supporting Actress
Alicia Vikander Ex Machina
Jennifer Jason Leigh The Hateful Eight
Julie Walters Brooklyn
Kate Winslet Steve Jobs
Rooney Mara Carol