Mark Johnson, chairman of AMPAS's foreign-language film award committee, tells Matt Mueller about the quiet revolution that has led to films such as Amour and Ida winning the coveted Oscar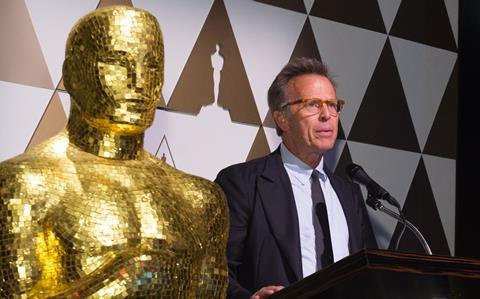 The foreign-language Oscar once used to be the preserve of soft-centred films about gentle subjects - "Anything with a grandfather and his grandson," remarks AMPAS's foreign-language committee chairman Mark Johnson - but recent years have seen the selection of more eclectic, edgier films.
Last year, Wild Tales, Ida, Leviathan and Timbuktu all made the shortlist. Much of this can be chalked up to leadership of Johnson, the Oscar-winning producer of Rain Man. In his 12 years at the helm, Johnson has spearheaded reforms to the voting and nomination process.
Screen International: You must be pleased the category is more reflective now of films that have triumphed on the international circuit.
Mark Johnson: It was clear that in order for the category to be relevant, things had to change. When I became chair there was a year [2007] in which we didn't shortlist 4 Months, 3 Weeks And Two Days and Carlos Reygadas's film Silent Light. I said, "I can't represent this committee. I don't know where we connect." To their credit the board said, "The problem is not with you; it's with the process. Please change it."
SI: What is the minimum number of films Academy members who take part in the first round of voting need to see?
MJ: It's 80% of [their] group [of films], and we've divided it into four groups. There are 81 movies this year so you have to see at least 16 films in order to have your votes qualify. That process yields six titles and the executive committee adds in a further three. Journalists like to guess which movies have been added.

The assumption is, and I won't comment on it, the executive committee added Dogtooth a couple of years ago. After that, we do the phase-two screening, in which select groups in New York, Los Angeles and now London watch all nine films and rank them from one to nine by secret ballot, which gives us our five nominees.
SI: Are you considering further reforms such as automatic entry to the top prize- winners of the major festivals?
MJ: We've discussed it but there are all kinds of questions associated: which festivals? Does it have to be the winner? And what happens if France has three entries that year — is that fair? But it keeps coming up and we're going to address it again.
SI: How do you deal with the fact selection committees in individual countries can be extremely political in their selections?
MJ: We don't ever want to dictate what gets submitted. Several years ago the Spanish committee, which we have great respect for, submitted Mondays In The Sun instead of Talk To Her. We could've said, "Now, wait a minute" because Talk To Her was a more significant movie for us. But that's not up to us to decide.
SI: Is the one film per nation rule still viable?
MJ: Since 1956, when the category was established, the award has gone to a country rather than the director or the producer, so we're stuck with this system that's a little antiquated. The concept a country wins an Oscar is a noble one, but it doesn't really work. There's virtually no movie out there now that isn't made internationally.

For the longest time the producer picked up the Oscar and then we determined it should be the director who accepts, but the director's name has not been on the Oscar until very recently. Florian Henckel von Donnersmarck pointed out that his Oscar [for Germany's 2007 win The Lives Of Others] doesn't have his name on it.
SI: Why is this category still relevant in a world of international co-production?
MJ: This category remains incredibly important in the world of cinema. It's important for the film, for the filmmaker, for other national film-makers who end up taking a great deal of pride that a film by their countryman could be in the Oscars, which is still the gold standard. It gives them validation and, in many cases, [is important] in terms of governmental support of the arts.
SI: Even if the films don't necessarily get a big box office boost in the US?
MJ: It's so embarrassing. These are the best movies in the world and they're lucky if they make $5m at the US box office.