Dir/scr: Macdara Vallely. Ireland. 2012. 77mins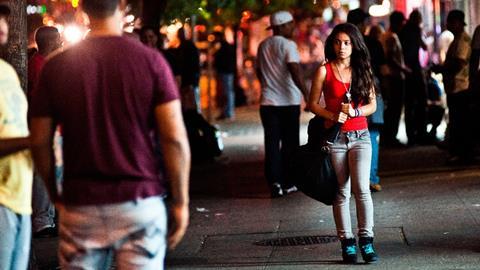 You think adolescence is hard? Try coming of age in the Bronx, when your mother's boyfriend, who sleeps on the other side of the wall, is lusting after you. That's the dilemma in Babygirl.
Babygirl has the unfinished feel of a television pilot for a show about a family with more stories to tell.
Writer/director Macdara Vallely's drama, shot on the streets of New York's most maligned borough, won't revive a tourist industry there, nor will it go too far beyond the festival and indie circuit, although television in the US and Latin America could be an outlet. Yet Babygirl, which had its world premiere at the Tribeca Film Festival, is a persuasive calling card for the young attractive talent in its cast.
Lena (Yainis Ynoa) is turning 16 as her childishly man-obsessed single mother, Lucy (Rosa Arredondo), has just found another scheming sweetheart, Victor (Flaco Navaja). Pursued by boys her age, and by Victor, Lena concocts a plan to go out on a date with the older man, and expose him to her mother as a cheater. It goes awry. Tempers flare as mother and daughter face off.
The Irish-born Macdara Vallely hasn't put immigrant ethnography on the screen, as films set in the Bronx often do. Nor has he portrayed the Bronx as a place of relentless crime and depravity, a common stereotype. His family portrait is realistic in its details, and in the Spanglish dialogue and everyday panache of his characters.
Just as convincing is his portrait of the stresses of a teenager living with a single mother who tends to have male company at night.
Newcomer Yainis Ynoa, with a pouting teenager's frown, captures much of the mercurial emotional life of her adolescent protagonist, and there is a an appealing freshness to her contemporaries in the cast, especially Joshua Rivera in the role of young Xavier, who witnesses events in Lena's family (from the perspective of delivering pizzas) with a charming incredulity.
The singer and performer Flaco Navaja, as the poor man's gigolo Victor, Rosa's bedmate, is fittingly tawdry as a loser who exploits the most vulnerable.
Ensemble scenes in Babygirl can lack polish, but Vallely directs his characters (that he wrote) with affection. Even Victor the heel isn't completely despicable. Yet you sense that Vallely errs on the side of good intentions, in order to avoid stigmatizing the Bronx and the people who live there once again.
When Lena feuds with her mother, who throws her out into the streets, we never feel the darkness on the sidewalks that ought to be giving the plot its tension. Anyone who lives there can tell you that the Bronx is a tougher place than what we see in scenes that are intended to put the young girl in danger.
Babygirl has the unfinished feel of a television pilot for a show about a family with more stories to tell. Maybe that's where its promising young cast will be working next if the talent agents are watching this one.
Production companies: Escape Pictures, Samson Films Limited, Irish Film Board
International Sales: Samson Films, www.samsonfilms.com
Producers: Paul Miller, Gigi Dement, David Collins
Executive producers: Kathrin Werner, Felix Werner
Cinematography: Jarin Blaschke
Editor: Nathan Nugent
Production Designer: Carmen Cardenas
Music: Brendan Dolan
Main cast: Yainis Ynoa, Rosa Arredondo, Flaco Navaja, Joshua Rivera, Gleendilys Inoa, Sandra Rodriguez