Dir. Carlos Carrera. Mexico. 2009. 122 minutes.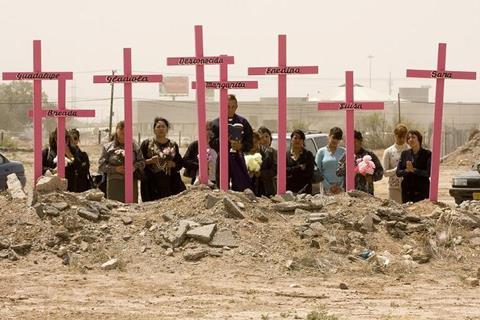 Backyard builds its plot around a scandal on the US-Mexican border: the rising body count since 1996 of young women murdered in corrupt congested Ciudad Juarez, just across the Rio Grande from El Paso, Texas. Carlos Carrera's first feature since the successful The Crime of Father Amaro (2002) is an earnest melodrama that exhumes the corpses but never finds the drama to match its horror.
The director seems more inspired by grim locations than by the corridors of political power
On its Mexican release earlier this year, Backyard underperformed Carrera's previous hit, the biggest in Mexican cinema, but still managed a steady $4m. Even with Latino heart-throb Jimmy Smits playing a crime kingpin, Backyard may have a tough fight on its hands for US audiences outside the diaspora, although other Spanish-speaking markets should rally. Smits' fans will help with ancillaries.
At the core of Carrera's film is the honest and humourless policewoman Blanca Bravo (Ana de la Reguera), whose investigation of the murder epidemic riles local male police and politicians.
The victims are rural transplants who work in the maquiladoras, low-wage sweatshops operated by multinational corporations on the border. One of these young migrants is Juanita Sanchez (Asur Zagada), who arrives from her village to join a cousin at an electronics plant. Soon Juanita hooks up with naïve Cutberto (Ivan Cortes), another peasant youth who squats in an abandoned schoolbus in a landscape strewn with trash.
Sabina Berman's script draws on feminist sociology that has studied the huge pool of exploited young women at risk in cities like Juarez.
Indeed, Backyard wears journalism and sociology on its sleeve. Politicians and businessmen are wooden representatives of arrogant greed, with polished Mickey Sanchez (Smits) the exception as an equally corrupt bar owner whose front is a respectable family life in El Paso.
Carrera's thriller places Blanca and Smits on a predictable collision course. Yet Zagada and Cortes provide some freshness as a young woman finding her freedom, even in a sweatshop, who runs up against a rural male's rigid traditionalism. Both young actors find nuances in those roles that make you want to see more of them.
As the austere by-the-book Blanca, de la Reguera is short on charisma, but conveys the futility of the most ardent reformer struggling against entrenched power. If the script and direction don't enliven this iconic face-off, DP Martin Boege's shots of the desert where the murders happen are poetic meditations on the harshness of life there. High-rise towers in the distance stress the proximity of the US, for whom the Juarez killing fields are its backyard.
The director seems more inspired by those grim locations than by the corridors of political power. Interior scenes of the local scheming elite look like stock television.
Carrera's drama does rise above an earlier treatment of the same subject, the sentimental and pompous Bordertown (2006), directed by Gregory Nava and starring Jennifer Lopez as a crusading American journalist. Yet for now, the Juarez murders still challenge the filmmakers who dare to tell their stories.
To sign up for Screen's weekly Reviews Newsletter with all the week's new releases, internationalopenings and full festival reviews delivered free to your mailbox every Friday, please click HERE
Production Company
Tardan/Berman
International Sales
Instituto Mexicano de Cinematografia
+ 5255 5448 5339
Producers
Isabelle Tardan
Sabina Berman
Screenplay
Sabina Berman
Cinematography
Martin Boege
Editor
Oscar Figueroada
Production Designer
Gloria Carrasco
Music
Fernando Corona
Main Cast
Ana de la Reguera
Asur Zagada
Marco Perez
Ivan Cortes
Jimmy Smits
Joaquin Cosio