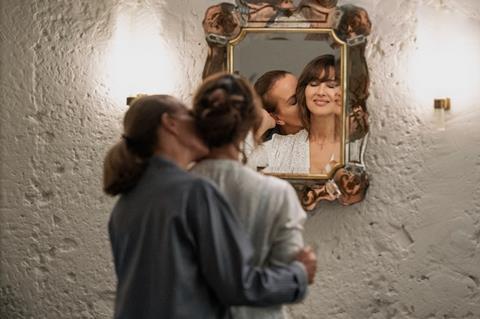 French sales, production and distribution giant Gaumont has unveiled four new projects to introduce to buyers at the Pre-Cannes Screenings.
Shooting has just begun on Ramzi Ben Sliman's in-house production Neneh Superstar, a ballet school drama starring big-screen debutant Oumy Bruni Garrel, Maïwenn and Aïssa Maïga. Bruni Garrel, who is the daughter of Valeria Bruni Tedeschi and Louis Garrel, plays a 12-year-old girl who wins a place at the prestigious dance school of the Opéra de Paris. She outshines the other students but comes up against envy and prejudice.
"It has an amazing cast and plunges us into the heart of one of Paris's oldest cultural institutions. We'll be showing a mood reel to buyers," said Gaumont head of sales Alexis Cassanet. "Oumy is a dancer with ambition in real life."
Ben Sliman's credits include the feature Ma Revolution, which played in the Berlinale's Generation 14plus, and Grand Hotel Barbès, a short film co-produced by the Opera de Paris and Les Films Pelleas.
The other new titles on Gaumont's sales slate include Mabrouk el Mechri's martial-arts comedy drama Kung Fu Zohra, which is now in post. It stars Sabrina Ouazani as a woman in a physically abusive relationship who takes up martial arts after a chance meeting with a kung-fu master. Mabrouk el Mechri's previous credits include the TV drama Maison Clos and bank heist thriller JCVD, starring Jean-Claude Van Damme.
"The Pre-Cannes Screenings will allow us to do advance work on our more commercial titles with buyers who won't be able to make it to Cannes in July. To then focus on our more auteur titles during the festival and buyers who will be physically present," said Cassanet.
He is also talking to buyers about Belle And Sebastian Next Generation, a reboot of the popular Belle And Sebastian franchise. It is about a 10-year-old boy who has grown up in the city who is sent to his grandmother's house in mountains. "Michèle Laroque will play the role of the grandmother, who is a bit rock 'n' roll and will introduce her grandson to life in the mountains," said Cassanet.
Radar Films, which produced the Belle And Sebastian trilogy as well as Spread Your Wings and School Of Life, lead produces. Pierre Coré, whose credits include the children's adventure feature The Fantastic Journey Of Margot & Marguerite, has signed to direct. It is in pre-production and due to shoot in August 2022.
Also on the slate is Natural Born Liar, the latest comedy from Olivier Baroux who directed the hit The Tuche Family trilogy. Rising comedy star Tarek Boudali plays a compulsive liar and yacht salesman who cannot stop himself from inventing stories embellishing life, from his karate black belt to his friendship with Miss Universe. It began shooting this May for release in the second half of 2022.
"It's a classic French comedy, with an element of US comedies like Liar Liar with Jim Carrey adapted to Europe," Cassanet explained.
Gaumont will also market premiere David and Stéphane Foenkinos's Fantasies [pictured], exploring intimacy and desire through portraits of very different six couples, played by Monica Bellucci, Karin Viard, Jean-Paul Rouve, Suzanne Clément, Denis Podalydès, Céline Sallette and Nicolas Bedos. It will also debut comedy The Biggest Fan, starring Gerard Lanvin, as a film star on location who cannot get shot of the pool boy at the luxury villa he is staying in for the duration of the shoot.
The company's Cannes titles include Mathieu Amalric's family drama Hold Me Tight, which will play in the new Cannes Première section, and Valérie Lemercier's long-awaited The Voice Of Love, a fiction freely inspired by the life of Céline Dion.