Dir: Richard J. Lewis. Canada-Italy. 2010. 134mins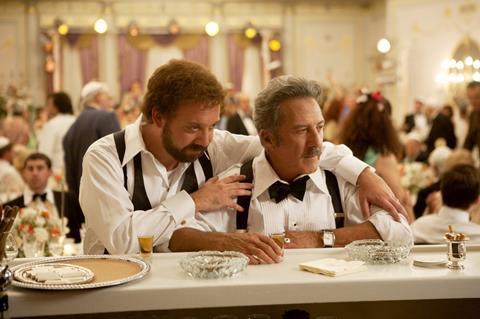 The pitfalls of literary adaptation, as well as a few of its potential rewards, are on display in this long-brewing screen translation of Canadian writer Mordecai Richler's 1997 novel. A rambling tragicomic study of a flawed man and his "wasted life" (to quote from Richler's book), Barney's Version starts fumblingly in picaresque mode, and only really hits its narrative and emotional stride in its second half.
There are certain tonal and structural similarities here to Benjamin Button – another portrait of a life that departed from the standard Hollywood script model.
If it finally wins us round, it's also thanks to a nuanced performance by Paul Giamatti, who keeps us teetering between sympathy and repulsion for Barney the Montreal Jewish mensch, marital philanderer, foul-mouthed social liability, hard drinker, self-hater, low-grade TV producer and possible murderer, through four decades of his messily authentic life. Dustin Hoffman also puts in one of his tastiest performances in years as Barney's peppy, irreverent policeman father.
There are certain tonal and structural similarities here to Benjamin Button – another portrait of a life that departed from the standard Hollywood script model to impose a more peak-and-trough biographical flow - but Barney's Version lacks that film's high-concept hook, A-list star, and shamefaced (but commercial) pursuit of fairy-tale sentiment. It also struggles to find a distinctive visual style, looking cluttered, and coming across much of the time as TV with more cameras and better lighting.
At the time of its Venice and Toronto premieres, the film had just sealed a North American deal with Sony Pictures Classics, but was still shopping around for distributors in most other territories. Potential buyers will be looking to pitch this to an older demographic, and stress the name cast more than the literary tie-in, as thirteen years after it was published, Richler's book is not exactly a hot property outside of Canada.
When we first meet him, sometime in the 1990s, Barney is running a clichéd TV production company in Montreal called Totally Unnecessary Productions, which seems to specialise in dated, innuendo-laden soft porn. He's a sleaze ball and a hard drinker, and in a clichéd downtown saloon bar he has a run-in with a bolshie former detective who has written a book about an unsolved missing person case that he worked on years before, in which Barney was the prime suspect. Leafing through the book, Barney is taken back, and the audience with him, to his time in Rome (it was Paris in the book, but the film has an Italian co-production partner) in the early 1970s, where he lived a bohemian lifestyle with a hepcat group of friends.
These include his best friend, easy-on-the-eye drugged-up charmer Boogie (Speedman) – the man Barney was later suspected of murdering – and mentally fragile artistic free spirit Clara (Lefevre), who becomes the first and most fleeting of Barney's three wives. The other two Mrs Panofskys are a never-named motor-mouthed Montreal Jewish princess (Driver), and soft, smart, ethereally pretty Miriam (Pike, in one of her strongest performances to date), who Barney meets at his wedding to the Jewish princess, and who ends up being the love of his life and the mother of his two children.
The film's main problem is how to translate the book's deliberately unreliable and unfocussed narrative ramble into a script that works. It's a problem that's never quite solved either structurally or tonally. Sometimes the film seems to side with Barney's own savagely ironic, self-deprecating view of life; but it wants to have this and eat its romantic cake too. The soundtrack music shares the same schizophrenia, veering from ballsy jazz-funk to utterly schmaltzy orchestral surges. On the story level also, the script doesn't quite seem to know what to do with the suspected murder subplot (which was presented to us early on as a potential main plot), forgetting it for most of the second half before stitching its surprise resolution in as a mildly amusing afterthought towards the end.
By this time, though, this ragbag film has built a certain emotional authority through the script's wise decision to finally fix on a subject –Barney's grand passion for Miriam – and through Giamatti's magisterial account of his character's decline, as he succumbs to Alzheimer's and realises that this imperfect life is the only one he's getting.
Production companies: Serendipity Point Films, Fandango, Lyla Films
International sales: Essential Entertainment, www.essential-ent.com
Producer: Robert Lantos
Co-producers: Lyse Lafontaine, Domenico Procacci, Ari Lantos
Executive producers: Mark Musselman
Screenplay: Michael Konvyes, based on the novel by Mordecai Richler
Cinematography: Guy Dufaux
Production design: Claude Pare
Editor: Susan Shipton
Music: Pasquale Catalano
Website: www.barneyversionthemovie.com
Main cast: Paul Giamatti, Dustin Hoffman, Rosamund Pike, Minnie Driver, Rachelle Lefevre, Scott Speedman, Bruce Greenwood, Mark Addy, Saul Rubinek