Dir: Jeremy Hartley Sims. Aust. 2010. 122 mins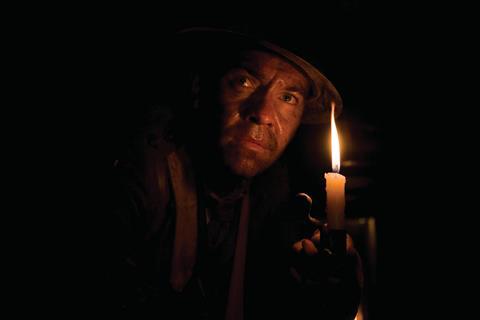 'Based on real events', this Great War story of gritty heroism and general slaughter focuses on the tunnellers and miners who dug deep under rat-infested trenches to lay mines, blast bodies and gain a few yards of frontline mud. It's a new angle on the otherwise familiar movie take on WW1 horrors, convincingly recreated by director Sims.
This strongly acted, earnest Australian story will undoubtedly find a welcoming audience locally and has definite international potential.
There has been a scramble to complete the film in time for a wide national release on more than 160 screens on April 15, the week before the Anzac Day long weekend. WWII Aussie epic Kokoda pioneered this strategy in 2006 and cleared $A3.2. Set mainly in Europe, with some German speaking characters, Beneath Hill 60 has definite international potential.
Anzac Day is Australia and New Zealand's national day of remembrance to honour the 1915 landing of the Empire's untested southern warriors at Gallipoli, Turkey. It was there, it's said, that Aussie 'mateship' was forged in the fires of overwhelming defeat. Beneath Hill 60 tells how mining engineer, Oliver Woodward, played with rock-solid integrity by Brendan Cowell, leads a disparate team of matey, mucky, brave Aussie diggers to detonate a vital German outstation on a ridge outside Ypres.
Starting in France in early 1916, the movie establishes Woodward's newness in the trenches before flashing back 18 months to his idyllic life in rural Queensland and his fascination with Marjorie (Bella Heathcote), the dazzlingly pretty 16 year old he is shaping up to marry. But he's been sent a batch of white feathers and, damn it, he knows where his duty lies.
Back at the mud-caked war, he and his crew have been ordered to taste the frontline horrors of Belgium. Colonel Rutledge (Chris Haywood), the pompously blinkered English officer-in-command thinks this whole tunnelling business is a waste of time. Of course the Aussies prove him wrong.
Cowell makes a thoughtful, determined leader and the acting is strong from a large company of actors, convincing in all but their gleaming 21st century dentistry. There's a late introduction to subtitled German soldier/miners listening for clues in underground chambers only inches away and it's a device that cleverly broadens understanding of the battle's complexity.
The freezing, rain-lashed trenches and bomb-blasted no man's land were recreated in tropical Queensland, an impressive achievement by Sims, production designer Clayton Jauncey, and experienced cinematographer Toby Oliver, who also relishes the challenge of shooting the many candle-lit scenes underground. There's a lush score, composed by Cezary Skubiszewski and played to the hilt by the Melbourne Symphony Orchestra.
The 'real events' tag can have its downside. When the Aussies arrived at Hill 60 the main underground killing chamber had already been dug and loaded with 455 tons of explosives, packaged and wired by an earlier team of Canadian miners, which tends to dent our hero's achievement. Hollywood would not have allowed that, whatever the historical facts.
Nevertheless, Woodward presses the plunger on cue and 10,000 Germans are blown away. The explosion, an end caption informs us, was heard in faraway London. And the Germans recaptured Hill 60 a few weeks later.
Production company: The Silence Productions
International sales: Intandem Pictures, www.intandemfilms.com
Aust/NZ distribution: Paramount/Transmission
Executive Producers: Ross J. Thomas, Greg Rains, John Lee
Producer: Bill Leimbach
Screenplay: David Roach
Cinematography: Toby Oliver
Production Designer: Clayton Jauncey
Editor: Danny Cooper
Music: Cezary Skubiszewski
Website: www.beneathhill60movie.com.au
Main cast: Brendan Cowell, Gyton Grantley, Anthony Hayes, Steve Le Marquand, Harrison Gilbertson, Chris Haywood, Mark Coles Smith, Bella Heathcote, Aden Young