Screen previews the Berlinale's world premieres in Competition.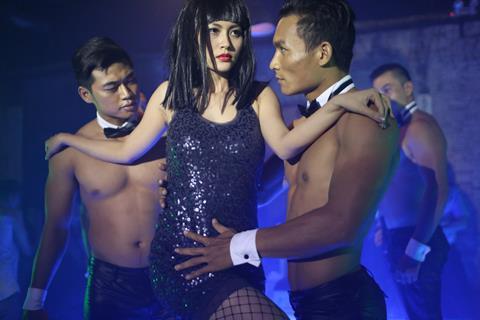 13 Minutes (Ger)
Out of competition
Dir Oliver Hirschbiegel
A decade after Downfall, Germany's Hirschbiegel (Diana) returns to the Second World War with 13 Minutes (Elser), the story of Georg Elser, the man who tried to assassinate Adolf Hitler in 1939 and was executed in Dachau almost six years later. Christian Friedel (The White Ribbon) stars.
Contact Beta Cinema, beta@betacinema.com
45 Years (UK)
Dir Andrew Haigh
Haigh's third feature following Greek Pete and 2011's acclaimed Weekend is a drama about a couple poised to celebrate their 45th wedding anniversary. They are stunned on hearing the body of the husband's first love has been discovered in the Alps. Charlotte Rampling and Tom Courtenay star in the film, which Curzon Artificial Eye acquired for the UK in Cannes. 45 Years is produced by the Bureau Film Company and backed by the BFI, Film4 and Creative England.
Contact The Match Factory, info@matchfactory.de
Aferim! (Rom-Bul-Cz Rep)
Dir Radu Jude
Set in 19th-century Romania, Jude's follow-up to Everybody In Our Family tells the story of a government official and his teenage son who capture an escaped gypsy slave. Teodor Corban and Mihai Comanoiu star. Producer Ada Solomon won the Golden Bear in 2013 with Child's Pose.
Contact Beta Cinema, beta@betacinema.com
As We Were Dreaming (Ger-Fr)
Dir Andreas Dresen
As We Were Dreaming (Als Wir Traumten), based on Clemens Meyer's German literary sensation of the same name, is Dresen's third film to screen in Berlinale Competition following Night Shapes in 1999 and Grill Point in 2002. The story follows a group of young teenage friends living in Leipzig through the difficult years of German reunification. Wolfgang Kohlhaase wrote the screenplay. Joel Basman and Ruby O Fee star.
Contact The Match Factory, info@matchfactory.de
Big Father, Small Father And Other Stories (Viet-Fr-Ger-Neth)
Dir Phan Dang Di
This is the second feature from the Vietnamese director following Bi, Don't Be Afraid, which screened in Critics' Week at Cannes in 2010. Set in Saigon in the late 1990s, Big Father, Small Father And Other Stories follows a young photography student in Saigon who becomes enchanted by his flatmate, a beautiful heroin dealer. CNC's World Cinema Fund and Rotterdam's Hubert Bals Fund are among the film's backers.
Contact Urban Distribution International, frederic@urbandistribution.fr
Body (Pol)
Dir Malgorzata Szumowska
Szumowska is back in Competition following her Teddy-winning drama In The Name Of in 2013. This exploration of mourning is about a father and his anorexic daughter trying to come to terms with the untimely death of their wife and mother. Szumowska has been one of Europe's directors-to-watch since she first came to attention with her third feature, 33 Scenes From Life, which won the special jury prize at Locarno in 2008.
Contact Memento Films, sales@memento-films.com
Chasuke's Journey (Jap)
Dir Sabu
The first of Japanese director Sabu's films to play in Competition at Berlin — eight of his titles have screened in other sections of the festival — Chasuke's Journey (Ten No Chasuke) is based on the film-maker's own book, in which an angel comes down to Earth to rescue a woman from a tragic fate. The cast includes Kenichi Matsuyama (Norwegian Wood) and Ito Ono.
Contact Films Boutique, info@filmsboutique.com
The Club (Chil)
Dir Pablo Larrain
Four priests live in seclusion in a small seaside town, each one of them paying penance for their past crimes. But their routine is disrupted by the arrival of a fifth 'inmate', a newly disgraced companion who brings with him the past they thought they had left behind, in this tense drama from Chile's Oscar-nominated director Larrain (No!).
Contact Funny Balloons, contact@funny-balloons.com
Diary Of A Chambermaid (Fr-Bel)
Dir Benoit Jacquot
Diary Of A Chambermaid (Journal d'Une Femme De Chambre), the fourth adaptation of Octave Mirbeau's 1900 novel about an ambitious young chambermaid, sees Léa Seydoux take the role previously played by Jeanne Moreau (for Luis Bunuel in 1964) and Paulette Goddard (for Jean Renoir in 1946). It marks a return to Berlin for Jacquot and Seydoux after Farewell, My Queen opened the festival in 2012.
Contact Elle Driver, eva@elledriver.eu
Eisenstein In Guanajuato (Neth-Mex-Bel-Fin)
Dir Peter Greenaway
Elmer Back stars as Sergei Eisenstein, the famed Russian director of Battleship Potemkin who in 1931 visited Mexico to make a film and found renewed creative inspiration in the process. This is the prolific Greenaway's first film in Competition at Berlin.
Contact Films Boutique, info@filmsboutique.com
Every Thing Will Be Fine (Ger-Can-Fr-Swe-Nor)
Out of competition
Dir Wim Wenders
National hero — and current Oscar nominee — Wenders, who will receive a lifetime achievement award from the festival, premieres this 3D drama about a successful writer (James Franco) coming to terms with the fact he accidentally killed a boy in a car accident years earlier. The cast also includes Charlotte Gainsbourg and Rachel McAdams.
Contact HanWay Films, info@hanwayfilms.com
Ixcanul Volcano (Guat-Fr)
Dir Jayro Bustamante
Making his feature debut, writer-director Bustamante tells the story of a teenage girl in rural Guatemala who is about to enter an arranged marriage. Those plans collapse when she falls in love with someone else and finds herself pregnant. Ixcanul Volcano (Ixcanul) started attracting buzz with a Films In Progress showing at San Sebastian in 2014.
Contact Film Factory Entertainment, info@filmfactory.es
Knight Of Cups (US)
Dir Terrence Malick
Previously winning the Golden Bear for The Thin Red Line, Malick returns to Berlin Competition with a world premiere starring Christian Bale, Cate Blanchett and Natalie Portman. Plot details are scarce, although an enigmatic trailer has piqued interest.
Contact FilmNation Entertainment, info@filmnation.com
Mr Holmes (UK)
Out of competition
Dir Bill Condon
Sherlock Holmes (Ian McKellen) has retired to a sleepy English village where Laura Linney is his housekeeper. But the great detective is still haunted by a case from the past. Condon directs Jeffrey Hatcher's (The Duchess) adaptation of the Mitch Cullin novel with Miramax/Roadside on board for US distribution.
Contact FilmNation, info@filmnation.com
Nobody Wants The Night (Sp-Fr-Bulg)
Opening film
Dir Isabel Coixet
Spanish director Coixet has a rich history at the Berlinale, showing six films at the festival and competing with My Life Without Me in 2003 and with Elegy in 2008. She also served on the jury in 2009. Juliette Binoche, Rinko Kikuchi and Gabriel Byrne star in this Greenland-set story about a 1909 explorer and two women whose relationships entangle in an inhospitable climate. Wild Bunch has French rights.
Contact Elle Driver, eva@elledriver.eu
The Pearl Button (Fr-Chil-Sp)
Dir Patricio Guzman
Renowned documentary-maker Guzman (The Battle Of Chile, Salvador Allende) follows up 2012's Nostalgia For The Light with The Pearl Button (El Boton De Nacar), a film that tells two separate stories linked by buttons found in the ocean, illustrating how "the sea is the memory of the earth".
Contact Pyramide International, lgarzon@pyramidefilms.com
Queen Of The Desert (US)
Dir Werner Herzog
German-born Herzog brings star power home to the Berlinale with the cast of this epic biographical drama about British explorer and intelligence agent Gertrude Bell (Nicole Kidman). Shot in Morocco with a reported budget of $36m, Queen Of The Desert also features Robert Pattinson (as the renowned TE Lawrence — Lawrence of Arabia), Damian Lewis and James Franco.
Contact Sierra/Affinity, info@sierra-affinity.com
Sworn Virgin (It-Swit-Ger-Alb-Kos)
Dir Laura Bispuri
Bispuri's feature directorial debut Sworn Virgin (Vergine Giurata), based on Elvira Dones' novel, stars Alba Rohrwacher as an Albanian woman who chooses to live as a man in order to enjoy the privileges afforded in her patriarchal village.
Contact The Match Factory, info@matchfactory.de
Taxi (Iran)
Dir Jafar Panahi
Banned in his native Iran, Panahi continues to film wherever he can and lives in a legal limbo, facing jail at any time. This Is Not A Film and Closed Curtain, smuggled out after his arrest and imprisonment, premiered at Cannes and Berlin respectively. Taxi has been described as a portrait of Tehran, a documentary-style film set in a taxi driven by Panahi.
Contact Celluloid Dreams, hengameh@celluloid-dreams.com
Under Electric Clouds (Rus-Ukr-Pol)
Dir Alexey German Jr
Paper Soldier auteur German Jr competes in Berlin for the first time with this drama that weaves together different stories as characters come and go from each other's lives. Under Electric Clouds (Pod Electricheskimi Oblakami) won the Screen International best pitch award at the Baltic Event's co-production meeting in 2010 and it was also presented at Rotterdam's CineMart in 2011.
Contact Films Boutique, info@filmsboutique.com
Victoria (Ger)
Dir Sebastian Schipper
Hanover-born actor-director Schipper (Sometime In August) enters Competition at the Berlinale with this story of a bank heist. Rising Spanish actress Laia Costa stars as Victoria, whose encounter with four men outside a Berlin nightclub sets off a dangerous chain of events.
Contact The Match Factory, info@matchfactory.de