New titles from Thomas Vinterberg, Mia Hansen-Løve, Danis Tanović, Lav Diaz and Gianfranco Rosi among line-up.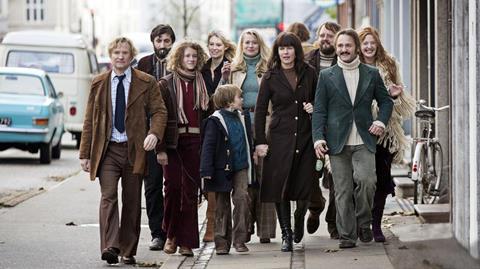 Scroll down for full list
Berlin International Film Festival (Feb 11-21) has added nine titles to its Competition line-up, bringing the current total to 14 (the full Competition programme will be announced soon, according to the fest).
The new additions include The Commune, marking the first time Danish director Thomas Vinterberg (The Hunt, Far From The Madding Crowd) has been in Competition at Berlin since Submarino in 2010. The film centres on a Danish commune in the 1970s and will be released in Denmark this weekend (Jan 14).
French director Mia Hansen-Løve (Eden) has been selected with her drama Things to Come, starring Isabelle Huppert as a woman embarking on a new life after her husband leaves her for another woman. The film will world premiere at Berlin.
Another world premiere will be documentary Fire at Sea, capturing life on the Italian island of Lampedusa, a frontline in the European migrant crisis, from Sacro GRA director Gianfranco Rosi. ScreenDaily revealed today that Doc & Film International has acquired international rights to the feature.
Bosnian director Danis Tanović will return to Berlin with the world premeire of Death In Sarajevo (aka Looking For Europe), a film based on the play by French philosopher and writer Bernard-Henri Levy, which explores the existential fears, anxieties and moral dilemmas that plague modern European society.
Tanović previously won Berlin's Silver Bear with An Episode In The Life Of An Iron Picker in 2013 and the Oscar for Best Foreign-Language Film with war drama No Man's Land in 2002.
Lav Diaz, the Filipino director behind four-hour feature Norte, the End Of History and six-hour Locarno-winner From What Is Before, will world premiere A Lullaby to the Sorrowful Mystery at Berlin. The film centres on the search for the body of 19th century Filipino revolutionary leader Andres Bonifacio.
French director André Téchiné will return to the Berlinale with the world premiere of his latest feature, Being 17. The film, co-written by director Céline Sciamma (Girlhood), is a gritty coming-of-age tale about a pampered teenager – the son of a soldier on a military mission in Africa – who is temporarily forced to share his home with the adopted son of a neighbour. A mutual sense of hatred exists between the two and tensions start to rise.
Téchiné, who has been nominated for Cannes' Palme d'Or six times, was previously in Competition at Berlin with the Catherine Deneuve, Gérard Depardieu romantic drama Changing Times in 2004 and AIDS drama The Witnesses in 2007.
Other titles include the world premiere of United States of Love, from Tomasz Wasilewski, the Polish director of Floating Skyscrapers, which is set in the aftermath of the fall of communism, following four women of different ages who desperately want to change their small-town lives.
The new additions are rounded out by A Dragon Arrives!, from Iranian filmmaker Mani Haghighi who won the Netpac award at Berlin in 2012 with Modest Reception; and Letters from War, from Portuguese director Ivo M. Ferreira (Na Escama do Dragão).
The five Competition titles previously announced include world premieres of Michael Grandage's Genius, starring Colin Firth, Jude Law and Nicole Kidman; Jeff Nichols' Midnight Special; and new Alex Gibney doc Zero Days.
Joel and Ethan Coen's Hail, Caesar! will open the festival, where it will play out of competition.
Meryl Streep will preside over this year's jury, which has yet to be named.
The following films are to have their world or international premiere during the Berlinale 2016, and will compete for the Golden Bear and Silver Bears.
Letters from War (Cartas da Guerra)
Portugal
By Ivo M. Ferreira
With Miguel Nunes, Margarida Vila-Nova
World premiere
A Dragon Arrives! (Ejhdeha Vared Mishavad!)
Iran
By Mani Haghighi
With Amir Jadidi, Homayoun Ghanizadeh, Ehsan Goudarzi, Kiana Tajammol
International premiere
Fire at Sea (Fuocoammare) – documentary
Italy / France
By Gianfranco Rosi
World premiere
A Lullaby to the Sorrowful Mystery (Hele Sa Hiwagang Hapis)
Philippines / Singapore
By Lav Diaz
With John Lloyd Cruz, Piolo Pascual, Hazel Orencio, Alessandra De Rossi, Joel Saracho, Susan Africa, Sid Lucero, Ely Buendia, Bernardo Bernardo, Angel Aquino, Cherie Gil
World premiere
The Commune (Kollektivet)
Denmark /Sweden / Netherlands
By Thomas Vinterberg
With Trine Dyrholm, Ulrich Thomsen, Helene Reingaard Neumann, Marta Sofie Wallstrøm Hansen, Lars Ranthe, Fares Fares, Magnus Millang, Anne Gry Henningsen, Julie Agnete Vang
International premiere
Things to Come (L'avenir)
France / Germany
By Mia Hansen-Løve
With Isabelle Huppert, Roman Kolinka, Edith Scob, André Marcon
World premiere
Being 17 (Quand on a 17 ans)
France
By André Téchiné
With Sandrine Kiberlain, Kacey Mottet Klein, Corentin Fila, Alexis Loret
World premiere
Death in Sarajevo (Smrt u Sarajevu / Mort à Sarajevo)
France / Bosnia and Herzegovina
By Danis Tanović
With Jacques Weber, Snežana Vidović, Izudin Bajrović, Vedrana Seksan, Muhamed Hadžović, Faketa Salihbegović-Avdagić, Edin Avdagić
World premiere
United States of Love (Zjednoczone Stany Miłosci)
Poland / Sweden
By Tomasz Wasilewski
With Julia Kijowska, Magdalena Cielecka, Dorota Kolak, Marta Nieradkiewicz, Łukasz Simlat, Andrzej Chyra, Tomek Tyndyk
World premiere
Previously announced Competition titles
(all world premieres)
Boris Without Béatrice (Canada)
Denis Côté
Cast: James Hyndman, Simone-Elise Girard, Denis Lavant, Isolda Dychauk, Dounia Sichov
Genius (UK-US)
Michael Grandage
Cast: Colin Firth, Jude Law, Nicole Kidman, Laura Linney, Guy Pearce, Dominic West
Alone in Berlin (Ger-Fra-UK)
Vincent Perez
Cast: Brendan Gleeson, Emma Thompson, Daniel Brühl, Mikael Persbrandt
Midnight Special (US)
Jeff Nichols
Cast: Michael Shannon, Joel Edgerton, Kirsten Dunst, Adam Driver, Jaedan Lieberher, Sam Shepard
Zero Days - doc (US)
Alex Gibney