'71, Life of Riley and Aloft selected. A Long Way Down, The Turning among Berlinale Special titles.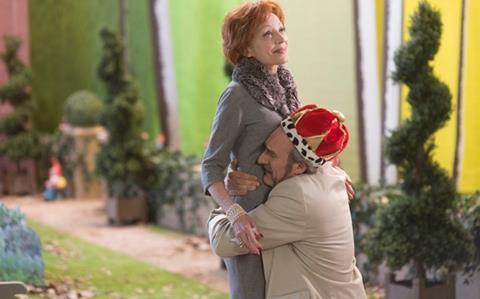 The first seven films selected for the Berlinale Competition programme include Yann Demange's '71, Alan Resnais' Life of Riley (Aimer, Boire et Chanter) and Claudia Llosa's Aloft.
Also joining Wes Anderson's opening film The Grand Budapest Hotel, and George Clooney's Monuments Men, both announced in November, are Dominik Graf's Die Geliebten Schwestern and Yannis Economides' Stratos.
In the Berlinale Special strand are Pascal Chaumeil's A Long Way Down, Australian anthology film The Turning, Hubert Sauper's documentary We Come As Friends (Entente Cordiale) and Dayna Goldfine and Dan Geller's doc The Galapagos Affair: Satan Came to Eden.
Six of the seven announced main competition titles are world premieres – Monuments Men, which screens out of competition, gets its international premiere.
Chaumeil's A Long Way Down, starring Pierce Brosnan, Toni Collette, Aaron Paul and Imogen Poots, makes its world premiere while The Turning, starring Cate Blanchett, Rose Byrne, Miranda Otto, Richard Roxburgh and Hugo Weaving, is an international premiere. Both documentaries in the Special strand are European premieres.
Competition
'71 (UK) by Yann Demange
With Jack O'Connell, Sean Harris, Richard Dormer
World premiere
Life of Riley (Aimer, boire et chanter) (France) by Alain Resnais
With Sabine Azéma, Sandrine Kiberlain, Caroline Silhol, André Dussolier, Hippolyte Giradot, Michel Vuillermoz
World premiere
Aloft (Spain/Canada/France) by Claudia Llosa
With Jennifer Connelly, Cillian Murphy, Mélanie Laurent
World premiere
Die geliebten Schwestern (Germany) by Dominik Graf
With Hannah Herzsprung, Florian Stetter, Henriette Confurius
World premiere
Stratos (Greece / Germany / Cyprus) by Yannis Economides
With Vangelis Mourikis, Vicky Papadopoulou, Petros Zervos
World premiere
The Grand Budapest Hotel (UK-Germany) by Wes Anderson
With Ralph Fiennes, Tony Revolori, F. Murray Abraham, Mathieu Amalric, Adrien Brody
World premiere – Opening film
The Monuments Men (Germany-US) by George Clooney
With George Clooney, Matt Damon, Bill Murray, John Goodman, Jean Dujardin, Bob Balaban, Hugh Bonneville, Cate Blanchett
International premiere – Out of competition
Berlinale Special
A Long Way Down (UK) by Pascal Chaumeil
With Pierce Brosnan, Toni Collette, Aaron Paul, Imogen Poots
World premiere
Entente Cordiale (We Come As Friends) - documentary (France/Austria) by Hubert Sauper
The Galapagos Affair: Satan Came to Eden - documentary (US) by Dayna Goldfine and Dan Geller
Voice cast Cate Blanchett, Diane Kruger, Thomas Kretschmann, Sebastian Koch, Josh Radnor, Gustaf Skarsgård, Connie Nielsen
The Turning – anthology film (Australia)
By Marieka Walsh, Warwick Thornton, Jub Clerc, Robert Connolly, Anthony Lucas, Rhys Graham, Ashlee Page, Tony Ayres, Claire McCarthy, Stephen Page, Shaun Gladwell, Mia Wasikowska, Simon Stone, David Wenham, Jonathan auf der Heide, Justin Kurzel, Yaron Lifschitz, Ian Meadows
With Cate Blanchett, Rose Byrne, Miranda Otto, Richard Roxburgh, Hugo Weaving