Busan International Film Festival has been under government pressure since 2014.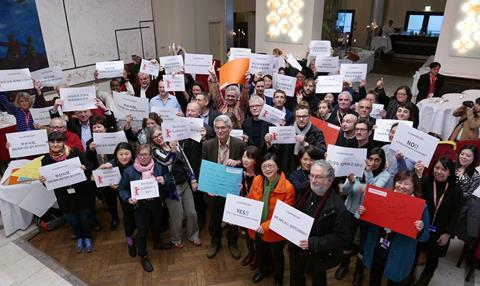 Leading international film industry figures including Venice film festival chief Alberto Barbera, Cannes Critics Week artistic director Charles Tesson and Toronto film festival director Piers Handling attended the #ISupportBIFF event in Berlin yesterday.
The campaign is raising international support for the beleaguered Busan International Film Festival (BIFF), which has been under intense government pressure since it screened controversial documentary The Truth Shall Not Sink With Sewol in 2014.
Recently, Busan city government filed a criminal lawsuit against BIFF festival director Lee Yong-kwan over minor accounting mistakes and is trying to block his reappointment as festival director this year.
In addition to the international show of support, South Korea's other film festivals, including Jeonju, BiFan, and Seoul International Women's Film Festival, attended the Berlin event and issued a joint statement:
"We are seriously concerned about Busan city government's censorship and their attempt to expel Mr Lee by filing a criminal lawsuit against him, as it is nothing but a political retaliation from central and city government just because BIFF defended their artistic freedom and its role for public good."
"As any creator is entitled to have freedom of expression, film festivals are entitled to have freedom or choosing films. The politicians cannot be involved in the selection of films in any case. The heavy political pressure on BIFF is nothing but an extortion of freedom of expression and festival independence."
The Berlin gathering follows similar shows of support at International Film Festival Rotterdam, Vesoul International Film Festival of Asian Cinema and Yamagata International Documentary Film Festival.
Leading Korean filmmakers also came out in support of BIFF at the general assembly of the Directors Guild of Korea on February 3. Bong Joon Ho said: "Every film needs to be screened freely in every film festival. Unconstrained programming is the basis of all film festivals and BIFF has carried this out for 20 years. I hope our society encourages BIFF to move on free of intervention and pressure."
Park Chan-wook added: "Compromise against our will leads BIFF to collapse in the end for sure. So whatever it takes, we should help director Lee Yong-kwan serve consecutive terms to keep BIFF and freedom of expression in our culture and art."