EXCLUSIVE: Pre-sales revealed for feel-good, cross-cultural comedy.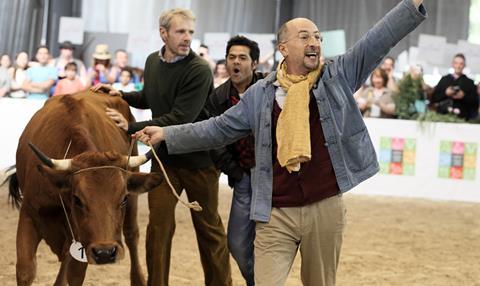 Pathé International is hoping to capitalise internationally on growing domestic buzz for French cross-cultural comedy One Man And His Cow (La Vache) after it swept the awards at the Alpe d'Huez International Comedy Film Festival in January.
Fatsah Bouyahmed won best actor for his performance as an Algerian farmer who crosses France on foot with his prize cow Jacqueline to fulfill a life-long dream of attending the Paris Agricultural Show.
The film — produced by Nicolas Duval Adassovsky, Yann Zenou, Laurent Zeitoun of Quad Films (the team behind global hit Untouchable) alongside popular actor Jamel Debbouze — also clinched the Grand Prix and the audience award.
The film has already pre-sold to Germany and Austria (Alamode), Belgium (Alternative Film) and Switzerland (Pathé) and Pathé International sales chief Muriel Sauzay says there is a potential for the film to travel even wider.
"It's a really positive, feel-good film about a guy who follows his dreams," she comments.
The picture goes on general release in France on 250 screens on Feb 17. In the meantime, Pathé will market premiere the film at the EFM.
"It was set for a pretty small release but after fantastic test screenings and the Alpe d'Huez awards, the promotional budget has since been tripled," said Benoit Sauvage, Pathé International's head of marketing and publicity. "Cinemas are asking for the film and promising high capacity slots."
The sales team had hoped to bring the film's bovine star Jacqueline to the EFM but this proved too complicated. Visitors to the Pathé stand can take their photo instead beside a life-size cardboard cutout.
Other titles on Pathé's EFM slate include Daniele Thompson's Cezanne Et Moi, Tran Anh Hung's homage to French life and its women Eternity, starring Audrey Tautou, Bérénice Bejo and Mélanie Laurent, and Bavo Defurne's Souvenir, starring Isabelle Huppert as a faded pop star convinced to make a comeback by a younger man.