EXCLUSIVE: Sci-fi action film set for release by Warner Bros in Japan in April.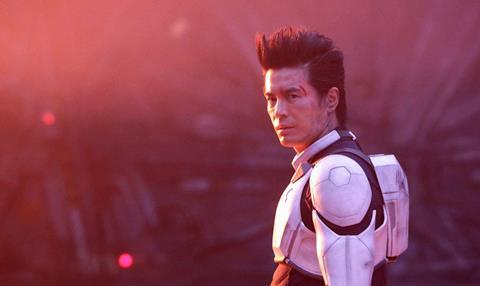 Japan's Gaga Corporation is handling international sales on Takashi Miike's sci-fi action title Terraformars, produced by a film committee headed by Warner Bros Pictures Japan.
Based on a best-selling manga, the film follows a crew who are sent to Mars to eradicate the cockroaches that were sent up first to make the planet's atmosphere habitable for humankind. But when they arrive, they discover the 'roaches have evolved into giant creatures that mercilessly attack humans.
The unsuspecting crew are played by Hideaki Ito, who worked with Miike on Lesson Of The Evil, Emi Takei (Rurouni Kenshin series), Tomohisa Yamashita (Tomorrow's Joe) and Takayuki Yamada (Miike's 13 Assassins). Shun Oguri, who appeared in Miike's Crows series, stars as a mad scientist.
Warner Bros is releasing the film in Japanese theatres on April 29, 2016. Gaga has all international rights outside of Japan, Taiwan, Singapore and Thailand.
The original manga, which is written by Yu Sasuga and illustrated by Kenichi Tachibana, has also spawned original video animations and an animated TV series.
Gaga, which celebrates its 30th anniversary in 2016, is also selling Hirokazu Kore-eda's new title, After The Storm, starring Abe Hiroshi as a private detective attempting to re-establish a bond with his young son, and Hana's Miso Soup, directed by Tomoaki Akune, about a young mother battling cancer.