Dir: Jalmari Helander. Finland-Germany. 2014. 90mins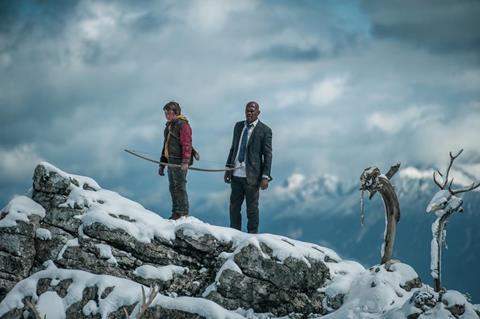 The legacy of America's first black president needs saving, especially when Air Force One is blown out of the sky over Finland's wilderness. Who could have imagined that the saving force would be a Finnish teenager with a bow and arrow? So begins Big Game, Jalmari Helander's mock-thriller in classic Finnish deadpan that spoofs everything from presidential security to vice presidents to vain Islamic villains to the trappings of masculinity to Richard Connell's 1924 short story, The Most Dangerous Game.
Big Game is great fun, yet Helander in his second feature shows that he can handle monumental logistics as well as laughs.
Bookended by subtitled scenes in Finnish language, the comedy in English should travel well as a wry coming of age journey of a kid who can't shoot arrows straight and as an adventure epic in which Samuel L. Jackson, as a US president, sheds his bad-ass image, for a while. Its presumed historic status as the first film where a character playing a US president says "motherfucker" could give Big Game an instant cult boost.
Grand rocky peaks right out of a Finnish tourism brochure ring the action as young Oskari (Onni Tommila) sets out to measure up to the exploits of his outdoorsman father – a walking punch-line with a Morgan Spurlock moustache.
But the arrows don't quite spring lively from Oskari's bow – a sexual gag that betokens the shameless burlesque of the whole movie – and he's alone in the woods when the 747 carrying lame duck President William Moore (Jackson) comes under fire and the Obama-surrogate leader of the free world bails.
It's a plot reminiscent of TV sagas like 24 and the silliest of Tom Clancy novels. This one is led by the chief exec's turncoat Secret Service chief (Ray Stevenson), who is collaborating with a black-bearded narcissistic Arab prince (Mehmet Kurtulus), garbed in a belted leather jacket and jodhpurs from a cheap operetta. More betrayals closer to the White House come later.
As good battles evil in the vividly filmed thick woods and majestic mountains of Lapland, eye-popping natural backdrops feed the over the top odd-couple melodrama of a hapless kid of 13 who keeps a president with one shoe (one was lost in the attack) from entering terrorist oblivion.
The stiff Finnish dose to Big Game's international cocktail keeps the spoof from too closely echoing thriller antecedents, or their parodies. If Big Game has a close relative, it is Iron Sky, the 2012 Finnish-German-Australian sci-faux epic about Nazis invading earth from the moon. And with Tarantino alumnus Jackson heading the cast, it has as much plausibility. No one needs a warning that this satire is not a film that one watches for the verisimilitude.
Movieland allusions pour out of Big Game, Tarantino-style. Oskari's father's friends, bearded and ragged, look like extras from Deliverance or Winter's Bone. When the president is crossed, Blaxploitation tirades erupt, as in the MF speech, uttered by Jackson with his Uzi on automatic - Jackson is as game for comedy as tough guy Jim Brown was in the classic Blaxploitation parody I'm Gonna Get You Sucka.
Big Game is great fun, yet Helander in his second feature shows that he can handle monumental logistics as well as laughs. It's one of those rare comedies that needs to be seen on the big screen.
Production companies: Subzero Film Entertainment, Altitude Film Entertainment Ltd, Egoli Tossell Film GmbH
International sales: Altitude Film Sales, mikerunagall@altitudefilmsales.com
Producers: Petri Jokiranta, Will Clarke, Andy Mayson, Jens Meurer
Screenplay: Jalmari Helander
Cinematography: Mika Orasmaa
Editor: Iikka Hesse
Music: Juri Seppä, Miska Seppä
Production designer: Christian Eisele
Main cast: Samuel L. Jackson, Onni Tommila, Ray Stevenson, Mehmet Kurtulus, Victor Garber, Ted Levine, Felicity Huffman, Jim Broadbent