State-of-the-art multiplexes are helping to grow the Gulf box office.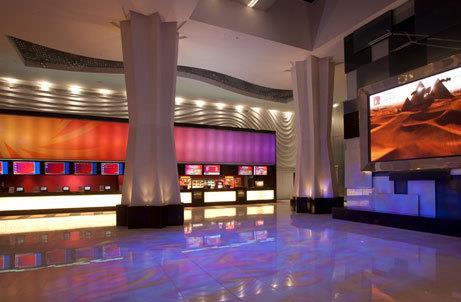 In terms of area, the six countries that make up the Gulf Co-Operation Council (GCC) would rank 10th in the world as a single country bloc, bigger than Algeria and not far off western Europe. The GCC shares more or less the same size and population as Argentina, but with a nominal gross domestic product that is more than three times higher. Given that Argentina's total box office exceeded $230m last year, the potential for growth is clear - and at 35 dirhams ($9.50), ticket prices in the UAE are about double the prices in Argentina. Put all that together and in theory the GCC has a market that could be worth more than $500m each year in theatrical grosses.
There is a catch, of course. Saudi Arabia, by far the biggest economy in the region, is to all intents shut off to theatres. Ever since 1980, when religious conservatives closed down improvised movie halls in the country, film has been consumed at home through close to a thousand channels of satellite TV, DVDs and YouTube.
Saudis who hanker after a more communal cinematic experience have to go abroad. An estimated 250,000 flocked to the UAE last year alone with the sole intention of attending a cinema. Many others used to travel to Egypt, where half of the Arab world's estimated 800 screens exist. But with recent political upheavals they have switched to closer destinations such as Qatar and Bahrain where new multiplexes are being built. One Bahraini cinema owner suggested that 90% of his customers were Saudi.
Watching movies in air-conditioned retail arenas is a fast-growing phenomenon, particularly in the Emirate states where 50 million visitors came last year to the Dubai Mall alone.
'Movie-going is a habit in the UAE'

Salim Ramia, Gulf Film
In the 12 months leading up to June this year, 13.4 million tickets were sold in the UAE, worth a total of $141m, according to figures compiled by local distributor Italia Film. Two of the biggest hits, Marvel's The Avengers and Mission: Impossible 4 - Ghost Protocol (in which Dubai's Burj Khalifa tower played a prominent role) each generated more than $6m at the UAE box office.
"Movie-going is a habit in the UAE, where the trend is already more than two-and-a-half cinema visits per year per person," says Salim Ramia, the Lebanese-born co-founder of Gulf Film, the regional distribution and exhibition powerhouse that was majority sold to the government-backed Qatar Media Services (Q.media) earlier this year.
"I can still see growth in the future due to the opening of additional multiplexes and the increase in population. As to other GCC countries, growth also will happen as new multiplexes are built in Kuwait, Qatar and Bahrain."
Ramia is now a Q.media consultant alongside his co-founder Ahmad Golchin as Gulf Film embarks on an expansion plan that will double the number of screens in their Grand Cinemas chain, already the biggest theatre operator in the UAE.
As for which films work, Ramia says: "The UAE is a mix of nationalities which makes it different from any other market in general. Hollywood blockbuster movies are hits in the UAE mainly when they are released day-and-date with the US, which is happening most of the time now. Science fiction movies or US sports-related movies are poor performers, not only in the UAE but all over the Middle East. In Lebanon they do not like horror movies."
As the local distributor for Paramount, Gulf Film broke the all-time record for a single territory in the Middle East when it crossed 636,000 UAE admissions for Ghost Protocol in early February. That record was then overtaken by Disney's distributor Italia Film with its release of The Avengers. Expected to challenge those numbers now is The Dark Knight Rises, recently released by Warner Bros' distributor, Shooting Stars.
Roy Chacra, managing director of Shooting Stars, believes the boom will continue. "There is still potential for growth in the UAE," he says. "More cinemas are opening, especially in Abu Dhabi, and that will definitely increase this city's market share."
Chacra adds: "Action and action comedy are the most preferred genres in the region. Bollywood films are also successful given the big Indian community present in the region." Left out of the picture, however, are Arab films, which Shooting Stars does not release - and nor do many of the other leading distributors. It is a problem that has not gone unnoticed locally. "There have been a number of successful feature films from the region but a greater number have been really bad," says Emirate film-maker Khalid Al Mahmood.
"The new film support and festival initiatives are a way to meet that challenge. But that still leaves one final but big obstacle, which is distribution."