Dir: Katie Aselton. US. 2011. 83mins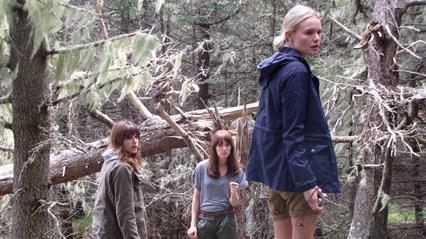 A vacation getaway for three estranged girlfriends turns deadly in Black Rock, a gripping, economical horror/thriller that might be thought of as a feminist Deliverance. The second film from director/star Katie Aselton – who sharply moves away from the marital examinations of her comparatively breezy debut, The Freebie – works perfectly fine as a traditional fight-for-survival chiller, but the movie's underlying gender issues give a would-be midnight-movie offering an extra jolt.
Black Rock cuts deeper because of the universal fears it taps into – particularly for women.
Black Rock's North American rights were scooped up by LD Distribution after the film's premiere in Sundance's Park City At Midnight section, and the movie's marketable hook – female protagonists try to outlast male predators on a deserted island – should lure genre fans. And although there are no major-draw stars, Kate Bosworth and Lake Bell's involvement could help raise this low-budget entry's profile.
Following horror conventions, the film opens by establishing the ordinary central characters in deceptively mundane ways. Childhood pals Sarah (Bosworth), Lou (Bell) and Abby (Aselton) have decided to hang out on an island off the coast of Maine for a few days – even though Lou and Abby had a falling out years ago over a boyfriend. But soon the women discover they're not alone on this remote island: Three former US soldiers (one of whom the women grew up with) are visiting the island for a hunting trip. But after Abby accidentally kills the soldier she knew from school in self-defence to prevent him from raping her, the other two soldiers pursue the women around the island to get revenge.
With a brief running time and a stripped-down aesthetic, Black Rock would seem on its surface to be a standard (though quite efficient) old-fashioned drive-in thriller. But Aselton's approach suggests thornier issues underneath. Though largely unspoken, Black Rock (which was written by Mark Duplass from a story by Aselton) plays like a veiled commentary touching on several societal issues, chief among them gender inequality and female empowerment. And while it would be easy to simply enjoy the movie for its jagged cat-and-mouse suspense and violent showdowns, Black Rock cuts deeper because of the universal fears it taps into – particularly for women.
The three actresses all nicely transition from the first act's character drama to the eventual life-or-death stakes that quickly develop. Bell is particularly striking as a heroine who won't let armed men intimidate her, demonstrating a confident physicality that's quite arresting. Alas, the three men are less effective, mostly serving as anonymous, unfeeling male villains. It's tempting to assume this anonymity is partly by design – because we learn little about these soldiers, they can become frighteningly unknowable – but Black Rock might have been even more nerve-wracking if it had given the women's nemeses a little bit more definition.
Production company: Black Rock
US distribution: LD Distribution
International sales: Submarine, www.submarine.com
Producer: Adele Romanski
Executive producers: Mark Duplass, Jay Duplass
Screenplay: Mark Duplass, story by Katie Aselton
Cinematography: Hillary Spera
Editor: Jacob Vaughan
Production designer: Erin Staub
Music: Peter Golub
Website: www.twitter.com/blackrockmovie
Main cast: Katie Aselton, Lake Bell, Kate Bosworth, Will Bouvier, Jay Paulson, Anslem Richardson