Lou Ye's Blind Massage was the big winner at this year's Golden Horse Awards in Taiwan, scooping six prizes including best film and best new performer for Zhang Lei.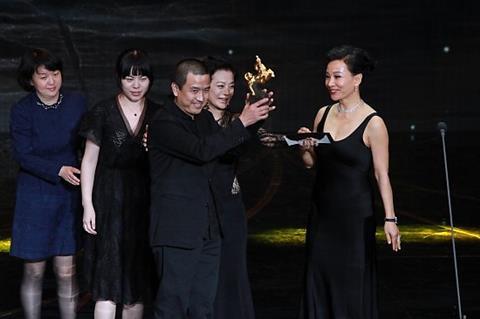 Scroll down for full list of winners
The mainland China production also won best adapted screenplay (Ma Yingli), best cinematography (Zeng Jian), best film editing (Kong Jinlei, Jolin Zhu) and best sound effects (Fu Kang).
Ann Hui won best director for historical biopic The Golden Era, while best original screenplay went to Yee Chih-yen for Meeting Dr Sun.
Chen Jianbin won best new director and best actor for A Fool, along with best supporting actor for Paradise In Service, which also took the best supporting actress prize for Regina Wan's performance. Chen Hsiang-chi took best actress for Exit.
Fruit Chan's The Midnight After won best visual effects and Liu Qiang was awarded best art direction for Black Coal, Thin Ice. Brotherhood Of Blades won best makeup and costume design (Liang Tingting), while As The Light Goes Out took home best action choreography (Jack Wong).
Best original film score went to Qigang for Coming Home, while The Continent won best original film song. Best documentary went to Cotton and best short film to The Hammer And Sickle Are Sleeping.
Full list of nominees and winners
Best Feature Film
"A Fool"
"Black Coal, Thin Ice"
"The Golden Era"
WINNER: "Blind Massage"
"KANO"
Best Director
Midi Z ("Ice Poison")
Diao Yian ("Black Coal, Thin Ice")
WINNER: Ann Hui ("The Golden Era")
Wang Xiao Shuai ("Red Amnesia")
Lou Ye ("Blind Massage")
Best Leading Actor
WINNER: Chen Jian-bin ("A Fool")
Sean Lau ("The White Storm")
Liao Fan ("Black Coal, Thin Ice")
Masatoshi Nagase ("KANO")
Chang Chen ("Brotherhood of Blades")
Best Leading Actress
WINNER: Chen Shiang Chyi ("Exit")
Gwei Lun-mei ("Black Coal, Thin Ice")
Gong Li ("Coming Home")
Tang Wei ("The Golden Era")
Zhao Wei ("Dearest")
Best Supporting Actor
Wang Xue Bing ("A Fool')
Ng Man Tat ("Aberdeen")
WINNER: Chen Jian-bin ("Paradise in Service")
Leon Dai ("(SEX) Appeal" )
Jin Shi Jie ("Brotherhood of Blades")
Best Supporting Actress
Hao Lei ("The Golden Era")
Paw Hee Ching ("Insanity")
Lang, Tsu-Yun ("Sweet Alibis")
Chen Yi-han ("Paradise in Service")
WINNER: Wan Qian ("Paradise in Service")
Best Documentary
WINNER: "Cotton"
"The Walkers"
"The Last Moose of Aoluguya"
Best Short Film
"Stairway"
"The Free Man"
WINNER: "The Hammer and Sickle Are Sleepings"
"The Great Buddha"
"Heipigu"
Best New Director
WINNER: Chen Jian-bin ("A Fool")
Chienn Hsiang ("Exit")
Xin Yu-kun ("The Coffin in the Mountain")
Umin Boya ("KANO")
Li Xiao-feng ("Nezha")
Best New Performer
Ann Hsu ("Design 7 Love")
Zhang Huiwen ("Coming Home")
WINNER: Zhang Lei ("Blind Massage")
Tsao Yu-ning ("KANO")
Matthew Wei Hang-ting ("Meeting Dr. Sun")
Best Original Screenplay
Xin Yun-Kun, Feng Yuanliang ("The Coffin in the Mountain")
Diao Yinan ("Black Coal, Thin Ice")
Li Qiang ("The Golden Era")
Wang Xiaoshuai, Fang Lei, Li Fei ("Red Amnesia")
WINNER: Yee Chih-yen ("Meeting Dr. Sun")
Best Adapted Screenplay
Chen Jian-bin ("A Fool")
Chan Fan-hung, Kong Ho-yan, Fruit Chan ("The Midnight After")
Zou Jingzhi ("Coming Home")
WINNER: Ma Yingli ("Blind Massage")
Li Xiao-feng, WangMu, Pan Yu ("Nezha")
Best Cinematography
Dong Jingsong ("Black Coal, Thin Ice")
Du Jie ("No Man's Land")
WINNER: Zheng Jian ("Blind Massage")
Mark Lee Ping Bing ("(Sex) Appeal")
Zhang Ji ("North by Northeast")
Best Visual Effects
Hi-Organic Motion Graphic Studio ("Design 7 Love")
Ng Yuen-fai, Chas Chao Chi-shing, Tam Kai-kwan ("The White Storm")
WINNER: Tong Ka-wai, Ken Law, Lucky Tracy Hannah ("The Midnight After")
Wook Kim, Park Young Soo ("Young Detective Dee: Rise of the Sea Dragon")
Henri Wong, Hugo Kwan, Walter Wong ("As The Light Goes Out")
Best Art Direction
Kenneth Mak ("Young Detective Dee: Rise of the Sea Dragon")
WINNER: Liu Qiang ("Black Coal, Thin Ice")
Fu Yingzhang ("Uncle Victory")
Hao Yi ("No Man's Land")
Huang Mei-ching ("Paradise in Service")
Best Makeup and Costume Design
Bruce Yu, Lee Pik-kwan ("Young Detective Dee: Rise of the Sea Dragon")
Hao Yi ("No Man's 'Land")
Amanda Deng, Lin Xin-yi, Tu Mei-ling ("KANO")
Fang Chi Luen, Li-wen Hsu, Chia-lin Kao ("Paradise in Service")
WINNER: Liang Tingting ("Brotherhood of Blades")
Best Action Choreography
Li Chung Chi ("The White Storm")
Yuen Bun, Lin Feng ("Young Detective Dee: Rise of the Sea Dragon")
WINNER: Jack Wong ("As The Light Goes Out")
Donnie Yen, Stephen Yung Wai, Yuen Bun, Yan Hua ("Kung Fu Jungle")
Lin Sang ("Brotherhood of Blades")
Best Orignal Film Score
Owen Wang, Annie Lo, Nieh Lin Chieh ("The Twelve Nights")
Kawai Kenji ("Young Detective Dee: Rise of the Sea Dragon")
WINNER: Qigang Chen ("Coming Home")
Nathan Wang, Dong Dongdong, Jiang Yongjun ("No Man's Land")
He Miaoshu ("North by Northeast")
Best Orginal Film Song
"The White Storm" – Rubber Band ("The White Storm")
"Mr. Bird" – Umin Boya ("KANO")
"Happiness" Wawa and David Tao ("(Sex) Appeal")
WINNER: "The Road We Pass" – Pu Shu and Han Han ("The Continent")
Best Film Editing
Yau Chi Wai (H.K.S.E.) ("The White Storm")
Yang Hongyu ("Black Coal, Thin Ice")
Du Yuan ("No Man's Land")
WINNER: Kong Jinlei, Jolin Zhu ("Blind Massage")
Zhu Li Yung, Tu Yiran ("Brotherhood of Blades")
Best Sound Effects
Kingson Tsang, Yiu Chun-hin, Chow Yun-lun ("The White Storm")
Tao Jing ("Coming Home")
Fu Kang ("Red Amnesia")
WINNER: Fu Kang ("Blind Massage")
Tu Duu-Chih ("Paradise in Service")
Outstanding Taiwanese Filmmaker of the Year
Lifetime Achievement Award
Audience Choice Award
FIPRESCI Prize