Dir: Elliott Lester. UK. 2011. 97mins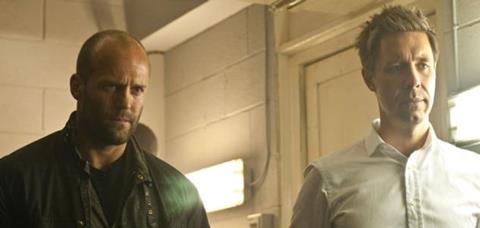 Jason Statham briefly leaves his Hollywood action-vehicles behind to return to the UK for the brutally violent crime thriller Blitz – it might be standard cop vs. killer fare, but it is made with a lot of style, pace and energy and confirms Statham's muscular star-power.
The real pleasure is seeing the excellent Mark Rylance on screen.
The film is the first to be made by Lionsgate UK, and while it has the domestic talent to appeal to UK audiences – with a cast also including Paddy Considine, David Morrissey and Mark Rylance – it will be a tougher sell to mainstream international audiences. But Statham's ability to open films is considerable, and Blitz should also be destined for a long DVD shelf life.
It is the brutal and bloody story of cops chasing down a serial killer who has targeted London police officers, and while hardly original in terms of plot – Dirty Harry has dealt with such things many times before – the strength of the characters is what drives the film, along with a strong sense of momentum. In some ways it is closer to tough British crime films of the 1980s or tough TV police procedurals that the current crop of over-stylised crime films.
The film nails its colours to the mast in the opening scenes. Heavy drinking copper Brant (Statham) sees three youths breaking into his car, and promptly beats them up. The youths are portrayed in the press as innocents and Brant is sent to the police psychologist.
When a woman police officer is shot dead, openly gay DC Nash (Considine) is brought in to lead the investigation, leading to expected homophobic comments for the coppers. Brant, however, respects Nash's policing abilities and the pair team up to track down the killer, who has dubbed himself 'Blitz' and is seeking plenty of publicity.
The killer – Weiss (Aidan Gillen) – kills again, and also set about stalking Roberts (Mark Rylance), who was Brant's friend and mentor. Eventually killing Roberts, he steals his old police uniform with plans to murder Brant.
Director Elliott Lester makes great use of the East London locations, and while there are no real surprises along the way it features some nice old-fashioned police brutality and some great lines for the ever-charismatic Statham. His Brant is the sort of policeman who lives in a flat about a pub, drinks whiskey for breakfast and does his interviewing in a bar. And he is nicely complemented by Paddy Considine's restrained (and perhaps slightly underwritten) performance.
Aidan Gillen plays the psychotic Weiss well-enough – it is a clichéd role that offers him little to work with, but he gives the character a delicious loopiness – though the real pleasure is seeing the excellent Mark Rylance on screen. He makes infrequent film appearances and despite the role that is strictly by-the-numbers he makes a strong impression.
Production companies: Lionsgate UK, Davis Films, Current Entertainment, Kushner/Wyman Productions
Producers: Zygi Kamasa, Steven Chasman, Donald Kushner, Brad Wyman
Executive producers: Guy Avshalom, Ken Bruen, Alwyn Hight Kushner, Nick Manzi, Samuel Hadida
Screenplay: Nathan Parker, based on the novel by Ken Bruen
Cinematography: Rob Hardy
Editor: John Gilbert
Production designer: Max Gottlieb
Main cast: Jason Statham, Paddy Considine, Aidan Gillen, Zawe Ashton, David Morrissey, Ned Dennehy, Mark Rylance, Luke Evans