James McAvoy turns to whisky and pies in preparing for his latest role.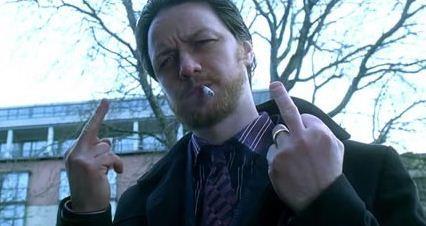 Filth certainly shows James McAvoy like we've never seen him before: smoking, drinking, snorting, shagging, cursing, punching, and any other form of misbehaviour you can imagine.
In the adaptation of Irvine Welsh's book, McAvoy plays Scottish policeman Bruce Robertson, investigating a murder, missing his wife, seeking a promotion and generally behaving badly.
The underlying mental troubles that lead to the bad behaviour were what drew in McAvoy. "It was a portrayal of someone with severe mental health issues that's not just sad and depressing," McAvoy said after a London screening last night. "It was about finding the thing that makes him not just a surreal caricature which is his fear."
Ultimately, despite the despicable behaviour, the filmmakers want the audience to care for Bruce. "We're trying to make you feel for him, that should be the shocking thing."
Director Jon S Baird said he relished the challenge of "making this despicable character, if not likable, followable."
Plus, it gave McAvoy the chance to let himself go a bit. "I had an excuse to look like shit and feel like shit. I could say, 'yeah, I'll have another whisky.' I got to turn up looking like absolute hell and that was right for the part. I drank a lot and ate a lot of pies."
McAvoy said only two other times in his career (with Atonement and The Chronicles of Narnia) has he read a script and immediately thought, "I know what I want to do with this."
McAvoy added that he was drawn to the riskier material overall. "[The script] was really bold and brave and fresh. There's not a lot of bravery that comes my way in the film industry."
Filth author Irvine Welsh is a fan of the film – he told Baird it was "better than the book". Welsh even shot a cameo, but it was left on the cutting room floor. Baird joked: "He is one of the best writers around, but one of the worst actors."
Filth opens in Scotland on Sept 27 before Lionsgate releases it UK-wide on Oct 4.