Dir: Nick Murphy. UK. 2012. 95mins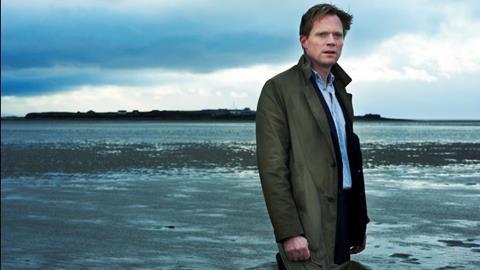 An effective British police thriller, Blood benefits from some stylish location work in Northeast England's The Wirral and a typically engrossing performance from Paul Bettany. Solid rather than spectacular, it sits comfortably with recent Scandinavian detective dramas and is based on the BAFTA-nominated three-part TV drama of 2004, also written by Clocking Off's Bill Gallagher.
Performances are strong, particularly Bettany in what has become quite a rare sighting for the talented actor.
Director Nick Murphy competently tackles another genre here after last year's debut (and solid commercial performer) The Awakening. Although distinguished by its visual flourishes, Blood could struggle to grab the attention of the mature theatrical audiences it needs, but at the very least should be a good ancillary prospect for IM Global.
Genre addicts will undoubtedly be attracted by the cast, which also features Brian Cox, Stephen Graham and an enjoyably-intense Mark Strong, all playing local coppers. Confusingly, despite clear visual indications that they are very much in the North of England, their delivery is un-accented, which perhaps will suit overseas and TV markets.
Bettany leads the team as Joe Fairburn, a notably well-groomed detective in a photogenic seaside copshop who discovers the body of 12-year-old Angela in a skateboard park as the film opens. Joe is son of former chief of police Lenny (Cox) and brother of detective Chrissie (Graham). He's celebrating his 20th wedding anniversary and is particularly close to his young daughter (Naomi Battrick), who went to school with Angela. It falls to Chrissie, meanwhile, to look after their father as Alzheimer's takes its toll, but the Fairburns evidently operate as a team.
Soon, they have a suspect in the murder, long-haired weirdo Jason (Ben Crompton), who helpfully has a criminal record and is prone to taking photographs of young girls. When he refuses to confess, Joe become haunted by memories of a similar case that he failed to solve. Any crime fan knows, however, that it's too soon in the piece for our detectives to have found their man, and soon Blood begins thicken.
In adapting and contracting his own work for the big screen, Gallagher has axed the role of the lawyer sister who represents Jason, and has made Joe a more complicated character without being an out-and-out brute. This makes Blood a very male affair, although that's not entirely out-of-character for the time and place. Once Joe's moral maze has been constructed, however, there's only one place for this film to slowly go.
Although the conclusion may be inevitable, watching Blood is a smoothly enjoyable experience – these detectives live in a visually engrossing location, work in a beautiful building, eat in nice restaurants and there's even a lovely library for Joes's wife to work in. But its plot confines restrict the potential audience, despite top-notch production values, to fans of the genre – which wavers between TV drama (The Killing, The Bridge) and film (Dragon Tattoo).
Performances are strong, particularly Bettany in what has become quite a rare sighting for the talented actor.
Production companies: Neal Street Productions, Red Productions
International sales: IM Global, info@imglobalfilm.com
Producers: Pippa Harris, Nick Laws, Nicola Shindler
Screenplay: Bill Gallagher
Cinematography: George Richmond
Editor: Victoria Boydell
Production designer: Cristina Casali
Main cast: Paul Bettany, Mark Strong, Brian Cox, Stephen Graham, Zoe Tapper, Adrian Edmondson, Ben Crompston, Natasha Little, Naomi Battrick