Dir: Ed Boase. UK. 2011. 76mins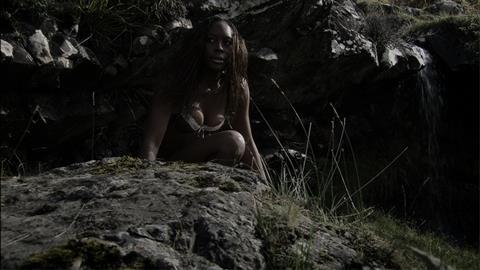 Ambitious low-budgeted British thriller Blooded is an intriguingly made film with high ambitions and some qualities to match, and while easy on the eye and nicely provocative in places if anything it plays down its exploitation concept when it should be racking up the thrills and chills.
While Blooded is certainly watchable and intriguing, it may have been far better if it had been played as an exploitation chiller.
Playing the fake documentary card, the film is a mixture of dramatic reconstructions, interviews and a supposed 'controversial' viral video all set against some beautifully shot picture-postcard footage of the Isle of Mull locations. It has a few nice filmic twists (fictional characters interviewed are played by different actors in the reconstructions), but while it often attempts to be a horror-thriller it is too tame to impress the horror fans.
The story spins off from the UK government's decision to ban fox-hunting, and focuses on a group of pro-hunting types off on a stag-hunting holiday on the Scottish Isle of Mull who are stalked by masked animal rights activists.
The pro-hunting lobby's golden boy Lucas Bell (played by Neil McDermott and the film's producer Nick Ashdon) has invited a group of friends to a remote farmhouse on the island. The group consists of his ex-girlfriend Liv Scott (Isabella Calthorpe and Cicely Tennant); his estranged brother Charlie (Mark Dexter and Oliver Boot) and his black American girlfriend Eve Jourdan (Sharon Duncan-Brewster and Tracy Ifeachor) along with Lucas's Irish working guy best pal Ben Fitzpatrick (Adam Best and Joseph Kloska).
After a little stag-hunting (during which Eve shoots the animal and is 'blooded' – having the animal's blood smeared on her face) and an unsuccessful attempt by Lucas to reunite with Liv, the group settle in for the night. Liv, Charlie, Eve and Ben wake the next morning clothed in just their underwear, all in different parts of the island, cold and terrified and find themselves 'stalked' by men with rifles.
This is an excuse for a few scenes of the two flimsily clad women to stumble around the moorland (plus the two guys, of course, with Ben getting grazed by a bullet) before finding their way back – fairly easily it must be said – to their cottage, where they hide out from the masked men. Meanwhile Lucas is being tortured into making an anti-hunting statement.
Cinematographer Kate Reid does a terrific job in capturing the bleak beauty of the Isle of Mull, with plenty of aerial shots to reinforce the island's rugged charm. The images, meshed with Ilan Eshkeri and Jeff Toyne's stirring score, give the film a classy feel. What is lacking is a consistent script – it touches on extremism and morals of hunting, but as an exploitation thriller (which it is being pitched as by the UK distributor Revolver Entertainment) it plays with the genre (half-naked girls, guns, knives, dead animals, remote houses etc) but never takes the final steps.
While Blooded is certainly watchable and intriguing, it may have been far better if it had been played as an exploitation chiller rather than a traditional drama with a little mild action on the side.The film has a brief theatrical release in the UK, after its premiere at the Bradford International Film Festival, prior to probably far longer life on DVD.
Production companies: Magma Pictures, Ptarmigan ACP
Producer: Nick Ashdon
Executive producers: James Walker, Ed Boase, Nick Ashdon
Screenplay: James Walker
Cinematography: Kate Reid
Editor: Ed Boase, Howard Douglas, Dan Susman
Production designer: Hanna Wiggins
Music: Ilan Eshkeri, Jeff Toyne
Main cast: Oliver Boot, Tracy Ifeachor, Nick Ashdon, Joseph Kloska, Cicely Tennant, Jay Taylor, Neil McDermott, Mark Dexter, Isabella Calthorpe, Adam Best, Sharon Duncan-Brewster, Tim Bell