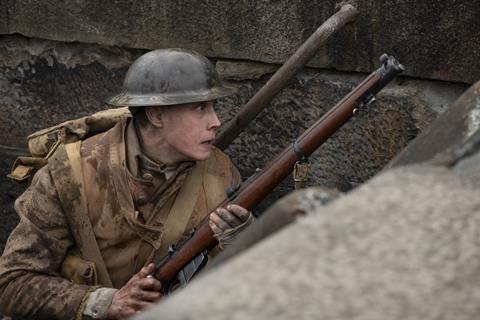 FEBRUARY 3 UPDATE: Multiple Bafta winner 1917 crossed $250m at the worldwide box office on Monday (February 3).
The First World War thriller earned seven wins in London on Sunday night including best film, director, and outstanding British film, and has reached $130.6m internationally from Universal and Amblin Partners territories.
Meanwhile Will Smith and Martin Lawrence vehicle Bad Boys For Life ruled international weekend box office on $31m to reach $142.9m and has become the action franchise's biggest hit at the global box office on $291m.
Sony's Little Women crossed $160m worldwide, while Searchlight Pictures' JoJo Rabbit swept past $60m at the global box office.
SONY PICTURES RELEASING INTERNATIONAL
UPDATED: In a solid $31m session for Bad Boys For Life the action release overtook the franchise's previous best global mark set by Bad Boys II on $271m. The UK is the lead market after a $2.4m weekend haul resulted in third place and a $14.7m running total, followed by Germany at number one on $12.7m, Mexico at number two on $10.4m, and Australia on $10m at number one.
Jumanji: The Next Level has crossed $750m at the global box office to reach $755.7m. The fantasy adventure added $6.1m internationally for a $464.5m running total.
Multiple Oscar nominee Little Women stands at $162.9m at the global box office, with international markets representing $64.6m following a $7.9m session in 47 markets. Greta Gerwig's period drama adaptation opened in Germany on $1m including previews, and arrived on $1.1m in Russia, where after a single weekend it has already overtaken the lifetime total of Gerwig's Lady Bird. The UK remains the lead market on $26m.
TriStar Pictures' A Beautiful Day In The Neighborhood has reached an early international tally of $2.9m, and Screen Gems and Stage 6 Films' The Grudge stands at $21.7m.
UNIVERSAL PICTURES INTERNATIONAL
UPDATED: Bafta's best film and outstanding British feature winner 1917 brought in $21.9m from 61 international markets through Universal and Amblin as the running total reached $130.6m. The film crossed $250m on Monday having reached $249.7m by the end of Sunday. An estimated $9.4m of the international weekend haul came from Universal territories for a $31.7m gross.
The Oscar hopeful opened in second place in Russia on $1.8m, and secured first place in Taiwan on $640,000. Turning to the holdovers, France delivered $2.1m for $10.5m after three weekends, Germany $1.2m for $5.5m after three, and Brazil $834,000 for $2.9m after two. Mexico has delivered $3.8m after three sessions.
Tom Hooper's Cats stands at $42.5m and $69.6m internationally and worldwide, respectively. The Broadway adaptation delivered a $1.6m hold in the second weekend in Japan, where it stands at $7.2m after two weekends. The Lighthouse opened in the UK in tenth place on $509,000 and stands at $4.9m internationally and $15.7m worldwide. Horror The Turning has generated an early $2.3m from Universal and Amblin and opened in Brazil on $249,000. Waves, which Focus Features International announced in Toronto it had acquired for international, stands at an early $1.9m worldwide.
A trio of strong European debuts provided a fillip for the box office fortunes of embattled family adventure Dolittle as it earned $18.3m from 63 territories to boost the tally to $72.1m. The Robert Downey Jr. vehicle stands at $127.2m worldwide and opened at number one in Mexico on $3.5m, number one in Germany on $2.9m, and number two in Italy on $2.3m.
Spain was the top holdover on $1.4m for $3.6m after two sessions. After three weekends, Australia has generated $6.6m, Indonesia $4m, Middle East $2.3m, Colombia $2.1m, and Netherlands $1.7m.
AMBLIN PARTNERS
An estimated $11.5m of 1917's overall weekend came from Amblin Partners territories, which have nearly generated $100m as the tally reached $98.1m. The film ranks number one in the UK, where it added $3.5m via eOne for a $41.1m running total after four weekends and added $1.2m in Italy through Leone for $4.7m after two.
In three other eOne territories, Australia delivered $1.2m to reach $11.5m after four, while Spain has produced $7.8m in four weekends of release, and Netherlands $6.8m. Middle East stands at $6.5m after four sessions through Italia Film, Norway $1.3m after two via Nordisk, and India $1.3m after three through Reliance. 1917 opened in Sweden on $577,000 through Nordisk.
WALT DISNEY STUDIOS MOTION PICTURES INTERNATIONAL
UPDATED: Searchlight Pictures' JoJo Rabbit earned $5.6m internationally to push the running total to $36.9m, while the $6.9m global session boosted that tally to $64.6m. Taika Waititi's Nazi satire opened in France in fourth place on $700,000. It has amassed $8.8m in lead market the UK, followed by $5.1m in Australia, $3.2m in Italy, and $3.1m in the filmmaker's home turf New Zealand.
Fresh from its WGA adapted screenplay win on Saturday night and in the running for six Oscars next weekend, JoJo Rabbit fell a mere 23% internationally, with Brazil, South Korea, and China all still to come.
Star Wars: The Rise Of Skywalker passed Aladdin to become the eighth highest global release of 2019 on $1.058bn and counting. The international tally climbed by $3.3m to $551m. Walt Disney Animation Studios' Frozen II remains the tenth highest grossing release and highest grossing animated release of all time globally on $1.430bn. A $5.3m weekend propelled the international running total to $958.6m.
Blue Sky Studios' Spies In Disguise added $4.9m for $94.4m internationally as the worldwide tally climbed to $157.3m.
MIRAMAX INTERNATIONAL
Miramax's crime caper The Gentlemen directed by Guy Ritchie and starring Matthew McConaughey opened in 12 international territories this weekend and used a $4m session to boost the overall haul to $28m.
In holdover markets, the action film added $836,000 in the UK to climb to $13.6m after five weekends, $565,000 in Australia and New Zealand for $9.7m after five, and $495,000 for $1.8m after two in Middle East. The Gentlemen opens in France via SND this week.
LIONSGATE INTERNATIONAL
UPDATED: Knives Out stands at $293.7m at the global box office after 10 weekends of release and $138.2m internationally following a $2.4m haul from 62 markets. The whodunnit opened in its final major market of Japan on $825,000. The lead markets are China on $28.2m, UK on $16.7m and Australia on $9.2m after 10, Germany on $9.1m after five, and France on $8.1m after 10. Bombshell stands at $16.3m internationally and has reached $47.1m worldwide.
WARNER BROS PICTURES INTERNATIONAL
UPDATED: Miscarriage of justice drama Just Mercy starring Michael B. Jordan, Jamie Foxx, and Brie Larson grossed $2.1m for $6.4m over the weekend, as the worldwide tally climbed to $37.2m. The drama debuted in France on $683,000 and arrived in Italy on $609,000. Australia has delivered $1.2m after two sessions and the UK is the lead market on $1.7m. Richard Jewell stands at $12.6m internationally, with the global tally at $35m. Japanese drama Al Hokai opened top in Japan on $2.4m. The film is a Film Partners production, led by Nippon Television, and theatrically distributed by Warner Bros Japan.