UPDATED MAR 10: A more appropriate title would be hard to find as Warner Bros' 300: Rise Of An Empire dominated global box office on an estimated $133.9m and pulled off a confirmed $88.8m international launch on 14,740 screens in 58 markets.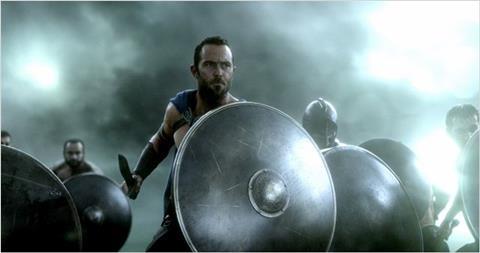 Warner Bros Pictures International (WBPI) executives reported the action sequel generated approximately 10% more than the 2007 original in comparable markets.
As usual IMAX was in the thick of it as 179 screens delivered $5.2m for a comfortable March record including a new best Saturday in an opening weekend in Brazil. The global IMAX haul reached $12m, the second highest March debut behind Alice In Wonderland's $15m.
Returning to conventional screens, Russia led the way on $8.8m on 1,441 screens for an easy number one that claimed 45% of the top five market share.
France generated $6.9m on 454 including previews, while South Korea returned a $6.3m number one from 720.
Rise Of An Empire arrived in Brazil on a table-topping $5.8m (R$13.6m) on 795 screens including previews for the biggest March debut and Warner Bros' fourth biggest result for a 16-rated release.
In another slew of number one debuts, the war film opened in Mexico on $5.4m on 2,047 screens, Germany on $5.2m on 582 screens for 44% share, the UK on $4.6m from 955 screens and 44% share, Spain on $3.7m (€2.7m) from 611 for 54% and Italy on $3.4m (€2.5m) on 471 for 37% share.
Further pole positions saw India generate $3.1m on 894 screens to overtake the entire 300 run in two days and set the studio's third biggest debut and the fourth biggest Hollywood launch, while Australia delivered $2.8m (A$3.1m) from 467 for 51% share and UAE returned an estimated $1.4m from 61 for Warner Bros' second biggest release and the biggest for an 18-rated film.
The film is scheduled to open in Japan on June 20.
WBPI's other active release, The Lego Movie, added $9.6m on 5,585 screens to reach $135.4m. Key markets thus far are the UK on $47.5m, Mexico on $9.7m, France on $10.1m, Spain on $6.4m, Brazil on $5.5m, Italy on $4.5m, Russia on $5.6m and South Korea on $1.4m. The family hit is due to arrive on Australia on April 3 and Germany on April 10.
The Hobbit: The Desolation Of Smaug grossed a further $5.8m (Rmb 25.1m) for $679.7m and has amassed $66.5m in China (Rmb 404m), surpassing by some margin the $50.7m (Rmb 316m) final gross of the first Hobbit film. The Japanese running total has reached $7.6m (¥777.4m) and is tracking 23% ahead of the original by the same stage. Gravity has reached $440.2m.
UPDATE: DreamWorks Animation's Mr. Peabody & Sherman opened in 36 new markets through Fox International and brought in $20.5m from 56 markets for an early $65.4m.
The family title opened in second place in Russia on $4.5m on 2,016 and ranked second in Spain on $1.9m on 719. A $1.7m number two hold in Mexico boosted the score to $5m after two, while $1.3m in Germany also ensured a number two hold for $4.5m.
The film will continue to roll out through April in 20 markets, including Australia, China, Italy and South Korea.
The Grand Budapest Hotel added $6.1m from nine markets for $19.9m and scored Wes Anderson's biggest debut in the UK as 284 screens produced $2.6m. The director also enjoyed new marks in Germany on $1.1m from 163, Austria on $138,105 from 29 and Belgium on $175,259 from 12.
The Monuments Men used a $3.2m session from 53 to raise the tally to $45.1m, while The Book Thief grossed $1.5m from 17 for $44.4m. It opened in Colombia on $138,637 from 72 in fourth place.
UPDATE: MGM and Columbia Pictures' RoboCop added $15.8m from 70 markets for $165.3m, of which $14.2m came from Sony Pictures Releasing International markets for $135.4m and the balance through MGM licensees.
Driving the session was a $102.6m number one hold in China for $42m after two weekends and $1.6m in director Jose Padilha's native Brazil for $11.8m after three. Mexico has generated $7.7m after four and the UK $13.2m through StudioCanal after four. Australia has delivered $6.2m after five. The reboot stands at $220m worldwide.
Action release Non Stop generated a further $12m through StudioCanal markets as the early running total climbed to $40m. Liam Neeson's heroics coaxed a further $2.4m (£1.5m) out of UK audiences for $8.9m (£5.3m) after two sessions.
New Regency, River Road and Plan B's best picture Oscar winner 12 Years A Slave by Steve McQueen surged past $100m through Lionsgate International licensees after adding $9.3m for $104.6m. See separate story here.
Pompeii added $5.3m through Lionsgate International from 50 markets to stand at $57.4m. The adventure added $554,400 in Russia through Paradiso for $11.6m and stands at $9.2m in South Korea through Daisy Entertainment, $5.8m in France through SND, $4.8m in Brazil through Imagem, $4m in Italy via Rai and $3.9m in Mexico through Imagem.
Pathe's French comedy Supercondriaque from Welcome To The Sticks director Dany Boon added $7.5m for a $27m running total.
UPDATE: Universal Pictures International executives said Ride Along added $1.7m from 11 territories for 9.9m and stands at $4.7m in the UK after two sessions. The Netherlands launch generated $201,000 from 36. The studio plans to release the comedy in another six territories including Australia on March 20.
The Wolf Of Wall Street added $1.5m in nine UIP markets for $108.1m. The UK has produced $36.8m (£22.3m), Germany $29.6m and Spain $15.8m. The film generated $3m overall for the session including Red Granite International licensees to reach $257m.
Sotto Una Buona Stella has grossed $13.6m after four sessions in Italy, Endless Love $7.7m from 18, Dallas Buyers Club starring Oscar winners Matthew McConaughey and Jared Leto $1.9m from 11 Universal markets and 47 Ronin $107.8m from 16.
Best animation and best original song Oscar winner Frozen stands at $616.4m through Walt Disney Studios Motion Pictures International and $1.009bn worldwide.
South Korea remains the lead market on $76.3m, followed by the UK on $63.8m, Germany on $47.9m, China on $46.1m, France on $42.6m, Russia on $33.3m, Australia on $30.8m, Italy on $27.4m, Mexico on $25.7m and Spain on $21.7m.
Cuban Fury has amassed $4.1m (£2.4m) in the UK through StudioCanal.
Last Vegas added $332,423 through Good Universe licensees to raise the international running total to $70.1m and the worldwide tally to $133.9m.