'Minions' sequel set to be biggest animation of pandemic era.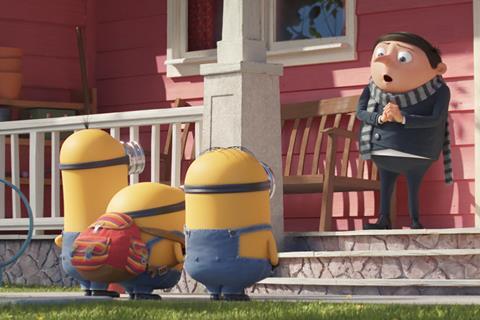 World Box Office July 1-3
Rank
Film(distributor)
3-day(world)
Cume(world)
3-day(int'l)
Cume(int'l)
Territories

1.

Minions: The Rise of Gru

(Universal)

$195.7m
$202.2m
$87.2m
$93.7m
73

2.

Top Gun:

Maverick

(Paramount)

$62.5m
$1,108.5m
$37m
$544.5m
66
3.

Lighting Up The Stars

(Various)

$44m
$118.2m
$44m
$118.2m
1
4.

Jurassic World

Dominion

(Universal)

$42.5m
$824.5m
$26.8m
$492.7m
73
5.

Elvis

(Warner Bros)

$34.7m
$113.5m
$15.7m
$46.2m
58
6.

The Black Phone

(Universal)

$20.6m
$74.4m
$8.3m
$30m
51
7.

Lightyear

(Disney)

$17.9m
$187.6m
$11.3m
$82.2m
46
8.

Decision to Leave

(Various)

$3.5m
$3.6m
$.3.5m
$3.6m
2
9.

Ode to the Spring

(Various)

$2.7m
$2.7m
$2.7m
$2.7m
3
10.

Witch 2: The Other One

(Various)

$2.1m
$20.2m
$2.1m
$20m
3
Credit: Comscore, all figures estimated, click top right to expand
Following an early launch in Australia that yielded $6.5m in its first week, Universal/Illumination Entertainment's Minions: The Rise Of Gru delivered the strongest weekend takings for a US studio animation in the pandemic era: an estimated $108.5m in North America, and $87.2m from 72 international territories, combining for $195.7m worldwide. Cumulative total is now $202.2m.
The biggest animated hit of the pandemic era from a US studio is currently Sing 2, with $406.8m. After its strong start, Minions: The Rise Of Gru is clearly going to soar past that total.
Among the 72 international markets, the Minions film delivered the biggest animated opening of the pandemic era in 52 of them – and in four countries (Argentina, Venezuela, Saudi Arabia and Israel) it was the biggest animation opening weekend of all time.
UK/Ireland led the way for international markets, with an estimated $12.9m, just ahead of Mexico with $12.4m. Next came Germany ($4.8m), Spain ($3.6m) and Indonesia ($3.4m). The sole holdover market, Australia, added $5.6m, taking the total after two weekends of play to $12.2m.
Comparisons with the release of the first Minions film (from 2015) are hard to frame, since it followed a different international release pattern, rolling out more gradually. In North America, it began with $115.7m, so Rise Of Gru is currently 6% behind the pace of the earlier film in its biggest market.
The Rise Of Gru is chasing Minions' global tally of $1.16bn, as well as $1.03bn for Despicable Me 3 – a 2017 release, and the most recent in Illumination's Despicable/Minions franchise.
Meanwhile, rival animation Lightyear continued its slide, both in North America (down 64% from the previous weekend) and internationally (down 59% in holdover markets). Global total after three weekends for the Disney/Pixar film is $187.6m.
Lightyear was boosted by its arrival in Japan, grossing an estimated $2.9m. Mexico remains the top international market, with $16.2m, ahead of UK/Ireland with $10.5m.
'Top Gun: Maverick' flies past $1.1bn
The release of the Minions film knocked Paramount and Skydance's Top Gun: Maverick off the top of the global box office. In its sixth weekend of release, the belated Top Gun sequel delivered another $62.5m (estimated), taking the total to $1.11bn worldwide. It's a fairly even split so far between $564m in North America and $545m for international.
Maverick yielded fantastic holds, dropping just 14% in North America, and 16% across international markets. South Korea, where the film landed relatively late to avoid competition with a strong local title, delivered a sensational $10.8m in its second weekend of play, up 1% from the opening session, and taking the total to $27.5m.
Among markets now playing the film for a sixth week, Australia was the standout performer, adding another $3.9m (up 5% from the previous weekend). Japan, down 24%, added $3.6m; and UK/Ireland, down 18%, added an estimated $3.4m.
In cumulative totals, UK/Ireland remains the hero market, with $84.8m so far, ahead of Japan ($57.6m), Australia ($51.5m) and France ($42.0m).
In the past seven days, Top Gun: Maverick has surged up the league table of all-time global box office performers, rising from 49th place to 30th. It will very soon overtake 28th-placed Transformers: Dark Of The Moon ($1.12bn) to become the biggest Paramount release of all time. Titles above Maverick in the chart are quite close together in terms of box office outcomes, so the Tom Cruise film should rise into the all-time global top 20 over the next seven days.
So far, there is no release in China or Russia scheduled for the film.
'Elvis' holds stronger in international markets
Warner Bros' Elvis posted a strong hold in international markets, declining 28% in holdover territories. In North America, slippage was more severe, with a 39% drop.
Globally, Baz Luhrmann's film delivered estimated second-weekend takings of $34.7m, taking the total to $113.5m. Elvis was boosted by a fresh opening in Japan, yielding $1.1m.
Among its 57 international markets so far, Australia led the way for Elvis at the weekend, with $4.0m, followed by UK/Ireland with $3.6m. Combined, these two territories have delivered box office totalling $23.7m, which is 51% of the film's $46.2m international total.
Elvis is now a healthy 60% of the way to matching the $189.9m reached by Moulin Rouge! in 2001 – although the new film benefits from two decades of ticket price inflation. It has further to go to match the final tallies of Luhrmann's other biggest hits. Elvis has so far reached 54% of Australia's $211.8m tally (from 2008), and 32% of the $353.7m global total achieved by The Great Gatsby (2103).
Elvis should receive a boost from the middle of next week, landing in South Korea on July 13, and the whole of Latin America on July 14.
'Lighting Up The Stars' surges in China
Sentimental drama Lighting Up The Stars enjoyed a very strong second session in China, rising 40% from the opening to deliver second-weekend box office of $44.0m, and taking its total to $118.2m. Liu Jiangjang's film has stretched its lead over second-placed Jurassic World Dominion, which grossed $9.7m in China at the weekend.
In Lighting Up The Stars, Zhu Yulong stars as an ex-con funeral director who befriends an orphaned girl (Yang Eyou) after a chance encounter.
The sustained success for the film helped push the China weekend box office total to $60.9m, according to Artisan Gateway – the biggest weekend tally for the country since late February, when the market was still dominated by titles (such as The Battle At Lake Changjin II) released for the Chinese New Year holiday.
Reports suggest that the China box office is currently benefiting from improvements in the Covid situation in Beijing and Shanghai – although the national picture is more complicated.
'Jurassic World Dominion' cracks $800m
Universal's Jurassic World Dominion may have been eclipsed by Lighting Up The Stars in Comscore's global chart (see above), but the film's $42.5m global take at the weekend is buoyant considering the marauding dinosaurs are now in the fifth week of release.
The sixth film in the Jurassic series fell by 40% in international markets at the weekend, and by 41% in North America. Total after five weekends is a strong $824.5m – although Dominion still has some way to go to catch its immediate predecessors in the franchise, Jurassic World: Fallen Kingdom ($1.31bn, 2018) and Jurassic World ($1.67bn, 2015).
Also for Universal, The Black Phone added an estimated $20.6m globally, taking the worldwide total to $74.4m. The Blumhouse abduction horror continued its hot streak in Mexico, falling just 1% from the opening session, with estimated second-weekend takings of $3.1m, and a total of $8.3m – more than double the cumulative total of second-placed international territory UK/Ireland (now at $3.3m).
Future key markets include Australia and Brazil (both July 21), and South Korea (September 14).