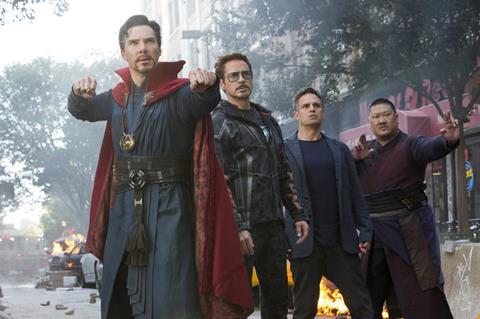 APRIL 28 UPDATE: Marvel Studio's Avengers: Infinity War has stormed to $284.5m worldwide after three days as the second highest North American opening day of $106m pushed Disney past $1bn at the North American box office in record time.
Only Star Wars: The Force Awakens has opened higher on its first day — on $119m. Studio executives said they anticipated an opening weekend in the $225m-$240m, underplaying the film's chances of overtaking the $247.9m record set by The Force Awakens in 2015.
Disney reached the $1bn milestone in 117, quicker than the previous industry and Disney record of 128 days in 2016.
Internationally, Avengers: Infinity War stands at $175m after three days. The studio will deliver a more detailed update on Sunday.
By Friday, Avengers: Infinity War stood at $8.9m in the UK, $11.4m in South Korea and $10m in Australia after two days.
By that stage the film had recorded the recorded the highest opening day in industry history in South Korea, Brazil, Philippines, Thailand, Indonesia, Malaysia, Hong Kong, Vietnam, Central America, Chile, Peru, Bolivia and UAE.
France had delivered $6.5m, Italy $5.1m, Brazil $4.7m, Philippines $4.7m, Thailand $4.1m, Indonesia $3.6m, Germany $3.2m, Taiwan $3.2m, Malaysia $2.8m, and Hong Kong $2.5m.
The major markets still to come are Russia on May 3 and China on May 11.