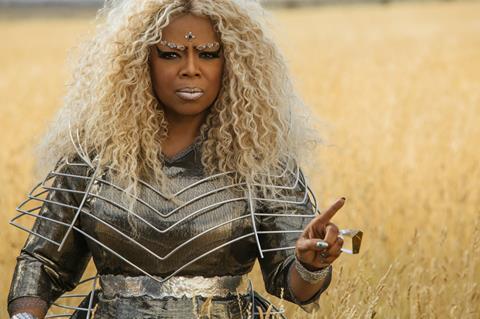 MARCH 12 UPDATE: Marvel Studios' Black Panther used a confirmed $40.8m weekend session to leap to $561.7m and seventh in the all-time North American pantheon, as Disney's A Wrinkle In Time disappointed, and A Fantastic Woman and The Shape Of Water capitalised on Oscar successes.
Buena Vista opened Ava DuVernay's A Wrinkle In Time fantasy adaptation based on Madeleine L'Engle's novel starring Reese Witherspoon, Oprah Winfrey and Mindy Kaling at number two on a lacklustre $33.1m from 3,980 sites.
DuVernay becomes the first black woman to direct a film budgeted at more than $100m. Studio executives expected the film to perform where it did.
Aviron Pictures released horror sequel Strangers: Prey At Night on $10.4m in third place in 2,464 venues. Christina Hendricks and Martin Henderson star and the 2008 original film's director Bryan Bertino wrote the screenplay. The distributor anticipates a strong ancillary life.
Entertainment Studios released the Rob Cohen action thriller The Hurricane Heist starring Toby Kebbell and Maggie Grace in ninth place on a lowly $3m from 2,402 sites. Even at a reported $35m budget not including marketing spend, this is a disappointing result.
Returning to Black Panther, the blockbuster overtook Rogue One: A Star Wars Story and The Dark Knight but still has a way to go before it can overtake Star Wars: The Last Jedi in sixth place on $619.5m. However, with the Easter holidays coming up it stands a good chance of doing so.
As things stand the tentpole ranks as the second highest Marvel Cinematic Universe release and could become the highest if it overtakes Marvel's The Avengers in fifth place on $623.4m. The film crossed $1bn worldwide at the weekend and stands at $1.078bn.
Fox Searchlight expanded last weekend's quadruple Oscar winner The Shape Of Water by 720 theatres to 1,552 as the film added $2.3m for $60.9m in the 15th weekend, slipping one place to number 12. The worldwide tally has reached $148.4m. Three Billboards Outside Ebbing, Missouri – the recipient of two acting Oscars – slid three slots to 16 in its 15th session on $695,000 for $53.3m.
SPC's best foreign language Oscar winner A Fantastic Woman from Participant Media, Fabula and Komplizen Film was the most obvious beneficiary of Academy Award success, climbing 16 places after expanding by 77 to 166 to deliver $272,000 for an early $1.2m after six weekends.
I, Tonya starring Oscar winner Allison Janney stands at number 23 on $29.5m after 14 weekends through NEON and 30WEST. Best production design Oscar winner Phantom Thread ranks 26th on $20.7m through Focus Features after 11 weekends.
Amazon Studios' dark comedy Gringo from Nash Edgerton starring Joel Edgerton, David Oyelowo and Charlize Theron arrived at number 11 on $2.7m in 2,404 venues. STX acts as service distributor and handles international distribution.
Focus Features opened Sundance 2017 thriller Thoroughbreds in 15th place on $1.2m from 549 sites, while IFC debuted Armando Iannucci's dark comedy The Death Of Stalin at number 28 on $184,805 from four sites for a terrific $46,201 per-site average. SPC opened comedy drama The Leisure Seeker starring Helen Mirren and Donald Sutherland at number 34 on $111,703 from 28.
Overall box office for the top 12 generated $128.2m, down 6.5% on last weekend and down 12.8% on the comparable session in 2017.
This week's wide releases are: Warner Bros' Tomb Raider reboot starring Alicia Vikander; Fox's action adventure Love, Simon; Participant Media's recent Berlin world premiere and action thriller 7 Days In Entebbe with Rosamund Pike and Daniel Bruhl through Focus Features.
Confirmed top 10 North America March 9-11, 2018
Film (Dist) / Conf wkd gross / Conf total to date
1 (1) Black Panther (Buena Vista) Walt Disney Studios Motion Pictures International $40.8m $561.7m
2 (-) A Wrinkle In Time (Buena Vista) Walt Disney Studios Motion Pictures International $33.1m –
3 (-) Strangers: Prey At Night (Aviron Pictures) Bloom $10.4m –
4 (2) Red Sparrow (Fox) Fox International $8.5m $31.5m
5 (4) Game Night (Warner Bros) Warner Bros Pictures International $7.9m $45m
6 (5) Peter Rabbit (Sony Pictures) Sony Pictures Releasing International $6.8m $93.4m
7 (3) Death Wish (MGM) MGM $6.6m $23.9m
8 (6) Annihilation (Paramount) Netflix $3.3m $26.2m
9 (-) The Hurricane Heist (Entertainment Studios) $3m –
10 (7) Jumanji: Welcome To The Jungle (Sony) Sony Pictures Releasing International $2.7m $397.3m