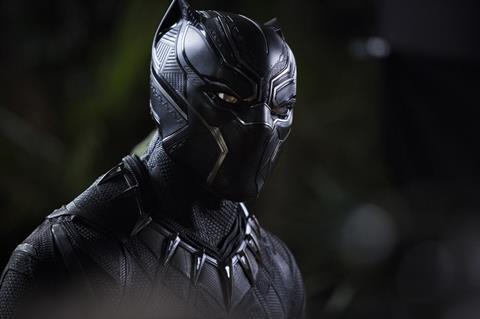 Marvel Studios behemoth Black Panther should cross $850m worldwide by the end of its third weekend en route what is increasingly looking like a $1bn-plus final gross.
While it may not overhaul China's Operation Red Sea as the international box office leader this weekend, Black Panther's run has been thunderous and promises more to come in short order.
The film stands at $334.6m internationally and debuts this weekend in Japan. It will open in China on March 9 in what will be an intriguing litmus test of how the world's second largest film market receives a Hollywood cultural phenomenon featuring an almost entirely black cast.
The key drivers behind the $763.3m worldwide haul thus far have been the UK on $43.8m, South Korea on $38.1m, Brazil on $20.6m, Australia and Mexico on $18.8m apiece, and France on $17.5m.
Germany has delivered $12m, Taiwan $11.3m, Indonesia $10.5m, Malaysia $8.4m, India $8m, Philippines $7.8m, Russia $7.3m, Hong Kong $7.2m, and Thailand $7.2m. Pixar's Coco has generated $532.9m internationally.
A certain Jennifer Lawrence may prove a thorn in the side of Black Panther's bid to hold on to its Hollywood international box office crown. Thriller Red Sparrow opens day-and-date with North America in approximately 80 territories.
Highlights are anticipated from the UK, Australia, Germany, Spain, Italy, Mexico Brazil, Indonesia, Taiwan, and South Korea.
Oscar front-runner The Shape Of Water stands at $58.3m and gets a push in Japan, while Academy Award heavyweight Three Billboards Outside Ebbing, Missouri has amassed $72.6m. The Greatest Showman stands at $201.2m, and Ferdinand $205.5m.
Jumanji: Welcome To The Jungle stands at $534.7m through Sony Pictures Releasing International. The distributor opens Peter Rabbit in China this weekend, and Call Me By Your Name in France and Germany.
Universal Pictures International's Fifty Shades Freed stands at $239.8m, while Oscar contenders Phantom Thread – nominated for six Academy Awards on Sunday – has amassed $15.5m, and The Post $21.5m.
Contender Lady Bird has grossed $6.8m and gets a big push this weekend, debuting in approximately 21 territories, among them France, Italy, Taiwan, and Argentina.
From Warner Bros Pictures International, Clint Eastwood's 15:17 To Paris has reached a relatively early $13.2m and debuts in Japan, while crime caper Game Night on $8m opens in the UK, Germany, and an additional 23 markets. The Disaster Artist stands at $7.9m, and Father Figures on $5.6m arrives in Italy.