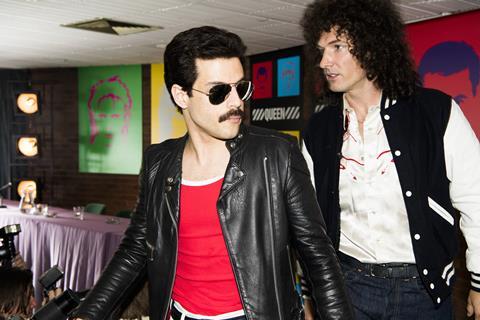 NOVEMBER 5 UPDATE: Fox's Bohemian Rhapsody soared to the top of the global box office at the weekend thanks to an estimated $124m haul that included $74m from 64 international markets.
Disney's Keira Knightley family fantasy The Nutcracker And The Four Realms debuted on $38.5m, while Universal's horror hit Halloween crossed $225m worldwide.
FOX INTERNATIONAL
UPDATED: The Queen / Freddie Mercury drama starring Rami Malek (Mr. Robot) stands at $91m internationally and ranks top in approximately 50 markets. Bohemian Rhapsody debuted top in France on $8.1m debut. It grossed a stunning $7.5m following an impressive 13% drop in the second weekend in the UK to hold on to top spot and climb to $26.7m.
In other mighty number one debuts, the Fox tentpole produced by Graham King and directed by Bryan Singer debuted top in Mexico on $5.7m, Germany on $5.6m for the fifth highest debut so far in 2018, Australia on $5.5m for the seventh highest, and Spain on $5.2m.
South Korea generated $5.6m for second place, Russia $4m for number one, Brazil $2.4m for number one, and Holland $1.7m for first place. In other table-topping debuts, the unstoppable musical drama arrived in Sweden on $1.4m, Chile $1.3m, Poland $1.2m, and the Czech Republic and Slovakia on $1.3m. Denmark generated $1.1m, and rising Asian giant Indonesia produced $1m.
The Predator grossed $3.9m from 15 markets for $108.7m, Bad Times At The El Royale $519,129 for $11.5m, and The Hate U Give $283,466 for $2.1m.
WALT DISNEY STUDIOS MOTION PICTURES INTERNATIONAL
UPDATE: Keira Knightley fantasy The Nutcracker And The Four Realms arrived day-and-date with the number two North American launch on $39.2m from 45 active territories. The Chinese audience was the chief driver on $11.9m that ranked number one in an otherwise quiet session in the Asian titan, followed by Italy on $5.7m for top spot in what was the fifth highest debut of the year-to-date.
Elsewhere, the tentpole generated $2.7m in Germany, $2.3m in Mexico, $2.2m in Spain, $2.2m in the UK, and $1.7m in Brazil. The worldwide running total stands at $59.4m.
Incredibles 2 has reached $630.3m following a $1.9m session from 12 active territories. Now on $1.2382bn worldwide, it has overtaken The Fate Of The Furious on $1.236bn to climb to number 15 in the all-time pantheon.
UNIVERSAL PICTURES INTERNATIONAL
Horror hit Halloween from Universal, Blumhouse and Miramax starring Jamie Lee Curtis added $18.3m from 66 active territories to reach $79.2m, and $229.6m worldwide. It opened in four territories led by a $671,000 number five debut in South Korea.
Germany led second weekend holdovers on $2.9m for $8.8m, followed by France on $1.9m for $5.3m, and Brazil on $1.2m for $3.1m. Market leader Mexico delivered $1.2m for $11.6m after three weekends. The UK has produced $10.3m after three.
Johnny English Strikes Again added $5.7m from 59 from for $118.3m, and $121.5m worldwide. The Rowan Atkinson comedy opened in Brazil on $300,000, and added $1.3m for $21m in lead market the UK after five weekends. Damien Chazelle's Neil Armstrong drama First Man with Ryan Gosling grossed $4.7m from 50 active territories and climbed to $45m internationally, and $87.1m worldwide. It opened in fourth place in Italy on $1.9m, and stands at $5.3m in France after three weekends, and $10m in the UK after four.
Amblin Partner's fantasy The House With A Clock In Its Walls has reached $24.7m and $125.4m worldwide, while Tiffany Haddish and Kevin Hart comedy Night School stands at $20.3m and $94.7m. BlacKkKlansman is on $39m internationally, and $87.2m worldwide.
SONY PICTURES RELEASING INTERNATIONAL
UPDATED: Venom from Columbia Pictures, Marvel Entertainment And Pascal Pictures added $15.8m from 65 markets to rise to $344.4m internationally, and $543.1m worldwide.
The weekend highlight came in a $5.3m number one debut in Japan. The top three markets are Russia, South Korea, and the UK on $31.6m, $30.1m, and $25.5m, respectively. Next are Mexico on $23.8m, and France on $18.3m.
Goosebumps 2: Haunted Halloween added $8.9m from 44 markets for $38.5m. Sony Pictures International Productions launched two films this weekend. According to estimates, the road trip comedy 25 Km/h debuted in Germany on $2.3m including previews, while boarding school monster invasion horror comedy Slaughterhouse Rulez debuted in the UK on $520,000.
WARNER BROS PICTURES INTERNATIONAL
UPDATED: A Star Is Born used a $14.6m session from 73 markets to reach $129.9m, and $295.4m worldwide. The musical reboot earned $2.6m to rank second in its third weekend in Australia, where it stands at $14m. The fifth session in the UK brought $2.3m for second place and propelled the running total to $29.2m.
After five weekends in France, $1.6m boosted the tally to $11.3m, while Italy and Brazil have delivered $7.1m and $5.3m after four weekends, respectively. The UK remains the lead market on $29.9m, followed by Australia on $14m. The final key market to open will be Japan on December 21.
The animation Smallfoot added $12.8m from 77 to reach $116.5m. A $2.7m third weekend in France pushed the tally there to $10m, while $2.1m in the second weekend in Russia resulted in $7.1m, and $1.3m in the third in China boosted the running total to $9.9m. After four sessions in the UK, which remains the top market, the animated feature voice by Channing Tatum, Zendaya, and James Corden, among others, stands at $13.2m. Germany has delivered $3.6m after four.
PARAMOUNT PICTURES INTERNATIONAL
Tiffany Haddish and Tika Sumpter comedy-drama Nobody's Fool kicked off its international launch day-and-date with North America, earning $265,000 from three territories. South Africa delivered a number one start on $122,000. The film arrives in the UK on November 23.