APRIL 29 UPDATE: Disney executives reported on Friday that the Marvel Studios tentpole added an estimated $23.8m on Thursday to reach an early $38.7m international running total.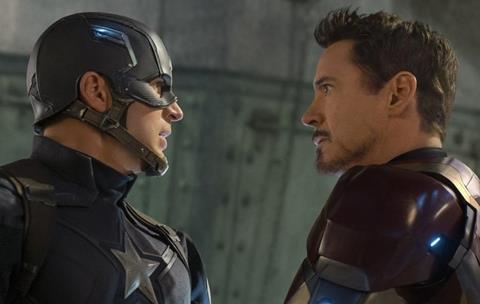 Following the launch in 15 markets on Thursday, Captain America: Civil War arrived in a further 15, ranking number one everywhere and staying roughly on par with Avengers: Age Of Ultron from the same bucket of markets at the same stage.
Ultron ended up on $946m internationally, which at today's exchange rate translates to $893m.
Civil War has reached $7.7m after two days in South Korea, $3.7m in France, $2.6m in the Philippines, $2.4m in Taiwan, $2m in Hong Kong, and $1.9m in Thailand.
Thursday opening day delivered $2.7m in Brazil, $2.3m in Australia, $1.9m in Germany, and $1.1m in Malaysia.
THURSDAY REPORT: Disney executives said on Thursday morning that Marvel Studios' latest tentpole opened top in all of its first 15 markets in Europe and Asia.
Captain America: Civil War's combined Wednesday opening day amounted to $14.9m according to early estimates, led by $4.3m in South Korea for the industry's third biggest opening day.
France delivered $2.4m, the Philippines $1.5m for the industry's third biggest opening day, Taiwan $1.4m for the fourth highest industry opening day, and Hong Kong for the third highest on $1.1m.
All results tracked above the opening days of Captain America: The Winter Soldier in 2014 and marginally behind last year's Avengers: Age Of Ultron.
Captain America: Civil War debuts on Thursday in Germany, Australia, Brazil, Austria, Denmark, Netherlands, Portugal, Malaysia, Singapore, Panama, Peru, Bolivia, Chile and Colombia.
The film will be in 63% of the international footprint including Spain and Mexico by Sunday and debuts in North America on May 6, when it will be in active release all over the world.
Executives did not provide an estimate for the opening international weekend due to less forensic tracking capability outside North America.
Comparing previous releases adjusted to today's exchange rates in the same bucket of territories, Disney said Avengers: Age Of Ultron would have grossed $212m, Iron Man 3 $160m and Captain America: Winter Soldier $78m.
Disney's The Jungle Book added $7.5m on Thursday to reach $378.5m internationally and $588.2m worldwide. China has generated $109.8m and the UK $35m.