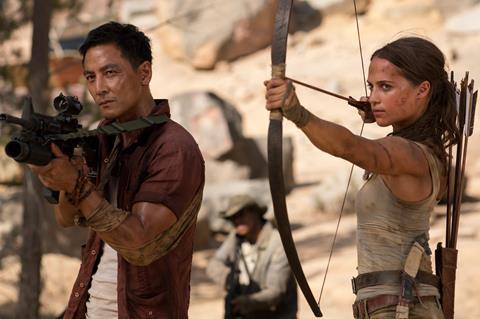 MARCH 17 UPDATE: International audiences are responding well to Alicia Vikander in the role of adventurer Lara Croft as Tomb Raider plundered an estimated $62m from 65 markets by Saturday.
China accounts for an estimated $28.5m of that, comprising $12.1m from opening day Friday and a projected $16.4m for Saturday. Friday devoured 50% of top five market share and delivered Warner Bros' fourth highest opening day in the territory as executives said the tally reached $28.9m.
Elsewhere the action film co-production between Warner Bros and MGM, which the companies are jointly distributing internationally, has generated $502,000 from its first day in Mexico, $500,000 in Scandinavia, and $320,000 in Spain.
After two days the tentpole has grossed $1.6m in the UK, $1.4m in both France and Russia, $1.2m in the UAE, $870,000 in Germany, $819,000 in Australia, $599,000 in Brazil, and $459,000 in Italy. Angelina Jolie first portrayed Lara Croft in the video game adaptation in 2001.
MARCH 16 REPORT: Marvel Studios' Black Panther has a fight on its hands to hold on to the international box office title in the face of a spirited challenge from Tomb Raider, which according to early estimates has raced to $12.3m on Friday opening day in China.
The films are posed for a mighty clash. In one corner is Marvel Studios' behemoth Black Panther, which has overtaken Transformers: Dark Of The Moon ($1.124bn), The Lord Of The Rings: Return Of The King ($1.120bn) and Skyfall ($1.109bn) this week en route to becoming the 16th highest global release in history on $1.126bn and counting.
China leads the way on $83.7m and the tentpole will surge past $100m this weekend for a terrific running total that while not spectacular in and of itself, represents a laudable accomplishment given how films with black leads have struggled to gain a foothold in the territory until now.
Next is the UK on $57.1m, followed by South Korea on $42.6m, Brazil on $31.1m, and Australia on $26.7m.
Black Panther stands at $548.1m internationally and grossed roughly $100m from the marketplace last weekend, giving it an edge in the duel with Tomb Raider as it charges towards $600m this weekend.
However the latter has grossed approximately $37m including that China estimate, which if it holds means Tomb Raider ranks number one on 50% share of the top five box office for Warner Bros' fifth biggest China opening day.
Elsewhere, the co-production between Warner Bros and MGM (the companies are jointly distributing internationally) has delivered a raft of promising Thursday opening days. The action reboot starring Alicia Vikander and American-Hong Kong actor Daniel Wu grossed $616,000 in Russia, $566,000 in the UAE, $553,000 in the UK, $356,000 in Australia, $261,000 in Brazil, $248,000 in Germany, $182,000 in Italy, and $518 in France to bring the two-day tally there to $882,000.
Disney also gives a push to the fantasy adaptation A Wrinkle In Time from Ava DuVernay, the first black woman to direct a $100m film who has just been confirmed as director on the DC Extended Universe title New Gods for Warner Bros.
A Wrinkle In Time has grossed an early $7.4m and arrives in France, Thailand, Indonesia and Philippines this weekend. The industry will be watching its progress closely: Black Panther was expected to do well, even if it has delighted with its outsized success. A Wrinkle In Time clearly does not have the same prospects, yet a strong performance will only bolster the argument amplified by Black Panther that audiences want more diverse cast and stories. Pixar's Oscar winner Coco has generated $540.7m and debuts in Japan.
Warner Bros also handles Game Night, which has grossed $26.6m, The 15:17 To Paris on $18m, Disaster Artist on $8.4m, and Father Figures on $6.2m.
Universal Pictures International launches Rooney Mara historical drama Mary Magdalene in the UK, Germany, Spain, Brazil, and Italy.
Lady Bird stands at $17.3m heading into Russia, and Phantom Thread on $21.5m debuts in Argentina. The Post has grossed $29.2m and Fifty Shades Freed $262.9m
Fox International's The Shape Of Water and Three Billboards Outside Ebbing, Missouri both stand at $91.1m heading into the weekend. The former debuts in China two weeks after winning four Oscars including best picture and best director for Guillermo del Toro. A strong opening there could push the fantasy romance past $100m this weekend.
Three Billboards, which earned Academy Awards recognition for lead actress Frances McDormand and supporting actor Sam Rockwell, debuts in South Korea.
Jennifer Lawrence spy thriller Red Sparrow is perched on $55.3m and flies into Malaysia and Myanmar, while Fox opens local title La Tribu in Spain.
Sony Pictures Releasing International's Peter Rabbit has reached $27.4m and opens in the UK and Mexico.