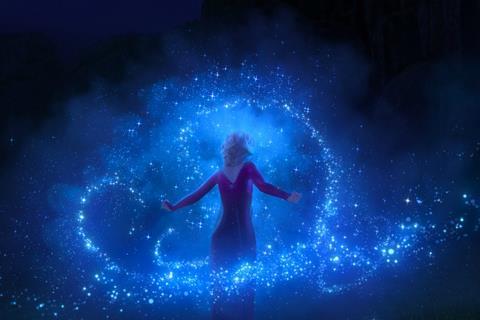 DECEMBER 2 UPDATE: Disney's Frozen 2 delivered $85.9m three-day and a $125m five-day Thanksgiving holiday weekend box office records in North America as the running total raced to $288.8m after 10 days.
The Hunger Games: Catching Fire previously held the Thanksgiving records on $74.2m over three days, and $109.9m over five.
Frozen 2 added $251.9m at the worldwide box office and stands at $742.1m, with the $1bn milestone well in sight.
Rian Johnson's Knives Out arrived in second place in 3,461 theatres via Lionsgate on $26.8m over three days and $41.4m over five. MRC's murder mystery features an all-star cast that includes Daniel Craig, Ana de Armas, Chris Evans, Don Johnson, Toni Collette, Jamie Lee Curtis, LaKeith Stanfield, Michael Shannon, and Christipher Plummer.
Drama Queen & Slim starring Daniel Kaluuya and Jodie Turner-Smith opened in fifth place in 1,690 sites through Universal on $11.9m, rising to $16m over five days.