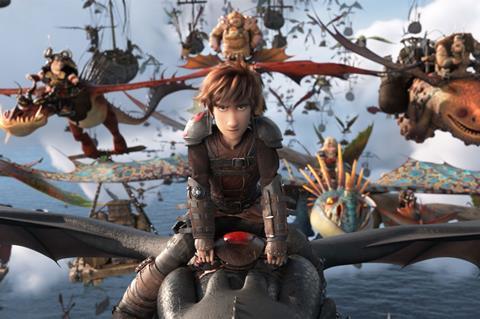 How To Train Your Dragon: The Hidden World brought in an estimated $40.2m to rule the global and international roost over a relatively quiet session and push the family film's early running total to $84.4m, with North America still to come on February 22.
UNIVERSAL PICTURES INTERNATIONAL
The latest entry in the DreamWorks Animation series launched in 23 markets and was in predictably robust form, scoring number one debuts in 20 markets. It earned $7.7m in Mexico in the biggest debut for the studio, $6.8m in the UK in a franchise-best launch, $4.6m in South Korea which included the biggest opening day in the series, and $3.4m in Italy.
In other number one results, How To Train Your Dragon: The Hidden World opened in Malaysia on $1.9m for a record DreamWorks Animation launch and the third highest animation debut in the territory. There was a new all-time animation mark in Thailand on $1.8m, and the studio's fourth highest launch in Taiwan on 1.5m. Singapore delivered $1.1m, Argentina $1m for a new studio record, Belgium $1m for a franchise best, Peru $987,000, Denmark $853,000 for another franchise best, and Hong Kong $642,000.
Brazil led the holdover charge with a $1.6m number one result for $10.3m after three weekends, followed by Chile on $741,000 in second place for $2.1m after two, Australia on $496,000 for $15.5m after five, Colombia $446,000 at number one for $2.9m after three, and the Netherlands $408,000 for $2.4m after three.
A $2.3m haul for Mary Queen Of Scots in 33 territories elevated the tally to $17.8m as the UK generated another $1m for $8.6m after three sessions.
WALT DISNEY STUDIOS MOTION PICTURES INTERNATIONAL
M Night Shyamalan's Glass is on the cusp of $200m worldwide atfer three weekends and brought in a further $12.2m from 54 material territories via Buena Vista International to push the running total to $110.3m, and worldwide to $199m. The lead territory is the UK on $11.3m, followed by Russia on $10.1m, Mexico on $9.5m, France on $7.6m, Germany on $6.8m, and Australia on $6.3m, Spain on $5m, Brazil on $4.4m, Italy on $4.3m, and South Korea on $3.8m.
Ralph Breaks The Internet has overtaken the original Wreck-It Ralph internationally and in North America and delivered $8.5m from 31 for $289.5m, and $486.5m worldwide. It opened top in Finland, Norway and Sweden and the lead markets is China on $39m, followed by Japan on $33.9m, and the UK on $22.8m.
GREEN BOOK
Green Book added approximately $11.9m through Amblin Partners and Lionsgate International territories as the running total climbed to approximately $25.5m.
The road movie starring the Oscar-nominated pair of Viggo Mortensen and Mahershala grossed an estimated $6.4m through Amblin Partners markets as the running total scaled $10.9m. It opened at number two in the UK on $2.1m including previews, and debuted in Spain in second place on $1.1m, and Germany on $980,000 including previews. Australia generated $1m for $3.2m after two sessions, and South Korea has delivered $1m. Amblin Partners will release the film in China on March 1.
Green Book brought in a further $5.5m from 37 Lionsgate markets to push the tally to $14.6m after a session in which Italy delivered a $1.8m debut in second place. The film starring the Oscar-nominated pair of Viggo Mortensen and Mahershala Ali launches in Mexico this week.
FOX INTERNATIONAL
After 15 weekends Bohemian Rhapsody is still vibrant, adding $7.1m from 39 markets to power the international running total to $624.3m and register Fox International's fifth highest grossing title of all time. The Queen / Freddie Mercury drama added $1.8m in Japan for $98m and will cross $100m there by next weekend.
Once Upon A Deadpool brought in an additional $6.8m in China to rank number two as the territory climbed to $40.6m after two weekends, and the overall tally (including Deadpool 2 results) reached $462m, and $784m worldwide to rank as the highest grossing film in the X-Men franchise.
The Favourite added $4.1m from in 31 for $33.1m and has reached $17.8m in the UK after five weekends. It opened in Russia on $524,000 at number eight and in Mexico on $256,000 at number six.
The Kid Who Would Be King grossed $1.2m from 21 markets for $5m and debuted in Brazil and Colombia on $421,000 and $139,000, respectively. The family film opens in the UK on February 15. Dragon Ball Super: Broly stands at $72m through Fox markets, and Bollywood release Ek Ladki Ko Dekha Toh Aisa Laga, from Fox International Productions and FoxStar, added $2.2m from India and the UK and arrived in second place in India on $2m.
WARNER BROS PICTURES INTERNATIONAL
Creed II grossed $7m from 44 territories as the boxing drama starring Michael B. Jordan reached $86.5m internationally, and $202m worldwide. Italy was the star of the session on $1.8m in third place for $7m after two weekends – a number that has already exceeded the lifetime total of Creed by 11%
Germany generated $1.6m for third place and $4.2m after two, some 19% ahead of Creed's final tally, while Spain produced $1.1m for third place and $3.9m after two. France has delivered $12.6m after four, Brazil $2m after two, and lead market the UK $12.8m.
The Mule carried in $6.3m from 51 for $24 internationally and $125.8m worldwide. In a string of second weekend results, Clint Eastwood's drug courier drama added $2.7m to rank second and reach $7.8m, Australia $1.3m for number one on $3.5m, Mexico $437,000 and fourth for $1.8m, and the UK $402,000 for $1.9m. The Mule opens in Italy this week.
DC Entertainment's smash Aquaman earned an additional $4.6m from 77 for $783.4m, and $1.1bn worldwide. China is the lead market on $291.7m and Aquaman opens in Japan this week.
PARAMOUNT PICTURES INTERNATIONAL
Bumblebee added $6.2m from 49 markets for a $331m running total fuelled by a strong $5.4m fifth session in China that raised the tally to $167.5m. After six weekends the Transformers spin-off has reached $15.8m. Japan is the final market to open on March 22.
Rose Byrne and Mark Wahlberg comedy Instant Family used a further $4.7m from 29 markets to climb to $28m. It opened in Germany in sixth place on $1.3m, debuted in Russia on $715,000 in fifth, and the Netherlands in third on $503,000. The UK receives Instant Family on February 15.
SONY PICTURES RELEASING INTERNATIONAL
Escape Room added $8.8m from 33 markets to stand at an early $44m. The bulk of business so far comes from China, where the horror-thriller brought in a further $5.1m in its third weekend for $33.5m. Escape Room launched in the UK on $1.1m including previews. This week brings debuts in Australia, Brazil, Russia, and Mexico.
A Dog's Way Home grossed $3.1m from 26 SPRI markets for an international tally of $15m. Spider-Man: Into The Spider-Verse spun $1.6m from 60 markets to reach $172m, and the next major market is Japan on March 8.
Spanish comedy Under The Same Roof (Bajo El Mismo Techo) from Sony Pictures International Productions opened at number one in its home turf on $1.3m. Juana Macias directed the story about a debt-ridden, divorced couple that declares war on each other when forced to continue living together under the same roof.