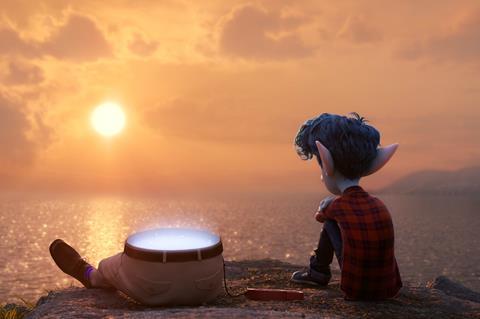 Concerns over the coronavirus pandemic coupled with the first US theatre closures and restricted capacity at the leading chains have contributed to the worst North American box office weekend in 20 years, according to estimates unadjusted for inflation.
Total box office is on course to generate $55.3m, which would be the lowest number since $54.5m in September 15-17, 2000. Insiders said the overall gross was in the region of 35% below projections, a grim picture made even bleaker when it is considered that studios have pulled new releases for the next three weeks.
A number of AMC Theatres and Regal Cinemas sites have gone dark in parts of Pennsylvania and New Jersey after local authorities announced public health measures.
Alamo Drafthouse sites in Brooklyn and Yonkers have closed temporarily, as have New York venues at Film at Lincoln Center, BAM, IFC Center, Film Forum, Nitehawk and Metrograph
Pixar's Onward held at number one following the heaviest drop ever for a Pixar film on 73.1%. The family release added $10.5m for $60.3m after two weekends – a relatively small score for a Pixar release and one that earned good reviews across the board and an 87% score on Rotten Tomatoes.
The devastating reality is that no film – whether a new release or one that has been in theatres for a while – will achieve its potential if audiences stay away or have no choice if local theatres continue to close down.
Lionsgate's faith-based drama I Still Believe arrived at number two on $9.5m, marginally ahead of Sony's new sci-fi action Bloodshot starring Vin Diesel in third on $9.3m. Universal's sci-fi remake The Invisible Man in fourth place stands at $64.5m after three sessions.
Universal released action thriller The Hunt – which was postponed from last August after a spate of shooting massacres in the US and centres on a game whereby liberal elite hunt red state inhabitants – and it opened in fifth place on $5.3m.
Eliz Hittman's Never Rarely Sometimes Always, an acclaimed drama that has played at Berlin and Sundance, opened via Focus Features in four venues on $18,000. Sally Potter's The Roads Not Taken with Javier Bardem and Elle Fanning grossed $3,853 in three sites.
Specialty box office in particular is suffering as select art house venues in New York have closed temporarily and the broadly older audience would be less likely to venture out during the pandemic.