The superhero adaptation dominated the global box office on an estimated $260m debut that delivered opening weekend records in abundance.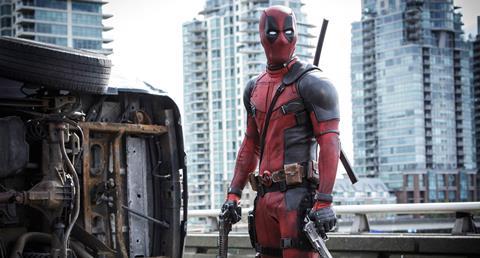 FOX INTERNATIONAL
The R-rated Deadpool starring Ryan Reynolds as the tongue-in-cheek crime-fighter opened at number one in 60 of its 61 markets excluding Poland where a local title held sway.
It scored the third biggest opening ever in the UK behind Stars Wars: Episode 3 and The Simpsons on $10.1m, while Russia produced the biggest opening weekend in history on $12.4m, and Australia delivered a record Fox, February and MA15+ launch on $10.1m.
France delivered $8.7m, Taiwan $8.2m for record Fox and 15+ debuts, Mexico $7.8m for a record PG-13 opening, Germany $7m, and Brazil $5.9m for the biggest Fox and second biggest R-rated debut in history.
Deadpool scored record Fox launches in Hong Kong on $3.8m, Malaysia $2.9m, Thailand on $2.3m, and Vietnam on $1.6m.
The Philippines delivered Fox's second biggest and the record R-rated debut on $2.8m, and India generated $2.6m.
Imax delivered $8.9m internationally and has reached $28m worldwide.
Alvin And The Chipmunks: The Road Chip grossed $15.3m for a $108.1m running total, while DreamWorks Animation's Kung Fu Panda 3 added $14.6m for $162.2m including $124.7m in China via Oriental DreamWorks.
The Revenant crossed $200m as $14m boosted the tally to $201.9m, while The Martian has reached $386.1m.
ASIA UPDATE
Another mighty session from China saw Stephen Chow's The Mermaid gross $109m for $260m, while The Monkey King 2 grossed $38m for a $113m tally, and From Vegas To Macau III $33m for $120m.
PARAMOUNT PICTURES INTERNATIONAL
Zoolander 2opened in its first 20 markets as the Ben Stiller comedy took $8.5m overall, led by the UK in a $2.7m number three debut, Australia at number two on $2.5m, and Italy in third place on $1.3m.
Daddy's Homegrossed $2.4m for $82.5m, while The Big Short added $2.1m for $52.1m. 13 Hours stands at an early $3.8m.
WARNER BROS PICTURES INTERNATIONAL
How To Be Singlegrossed $8.1m led by Taiwan on $1.3m and Italy on $945,000.
SONY PICTURES RELEASING INTERNATIONAL
Stephen Chow's film The Mermaid grossed $7.3m from three markets: $3.8m for number one in Malaysia, $1.9m for second pace in Vietnam, and $1.6m for number two in Singapore.
Goosebumps added $3.7m for $66.8m and The 5th Wave $3.7m for $65.3m. Concussion grossed $1.1m for $7.7m.
THE WEINSTEIN COMPANY INTERNATIONAL
The Hateful Eight added $4.8m for $86m.
WALT DISNEY STUDIOS MOTION PICTURES INTERNATIONAL
Stars Wars: The Force Awakens grossed $4.3m from 28 territories for $1.1118bn.
Zootopia grossed $2.8m in Spain and $1.7m in Belgium and Denmark.
UNIVERSAL PICTURES INTERNATIONAL
Dad's Army took $1.8m in its second session in the UK to reach $7.4m. The Danish Girl stands at $33.3m, while Ride Along 2 stands at $25.6m, and Sisters $17m.