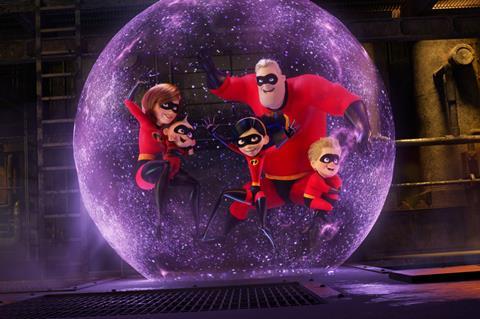 Global box office for The Walt Disney Studios has overtaken the 2017 $6.458bn tally to reach the company's second biggest year behind 2016's record $7.6bn with more than three months to go.
Pixar's Incredibles 2 has contributed a large piece of the year-to-date and stands at $1.183bn worldwide following a $4.4m weekend.
Inevitably Marvel Studios has been a significant driver. Avengers: Infinity War grossed $2.046bn, while Black Panther generated $1.346bn. A Wrinkle In Time generated $132.7m.
Lucasfilm's Solo: A Star Wars Story brought in a relatively soft $392.9m worldwide. Of the current releases, Ant-Man And The Wasp crossed $400m at the international box office this weekend and has reached $617m worldwide. Christopher Robin has amassed $153.7m.
Coming up later this year for Disney are The Nutcracker And The Four Realms in November, and December release Mary Poppins Returns.