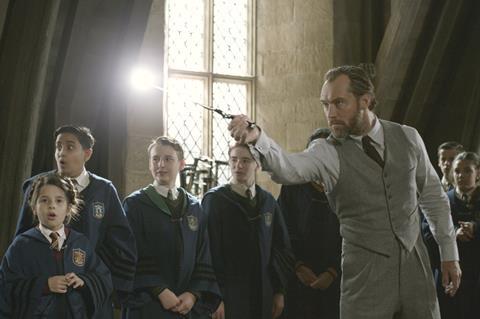 DECEMBER 3 UPDATE: Fantastic Beasts: The Crimes Of Grindelwald held on to the international top spot and hit $500m worldwide, however it was Ralph Breaks The Internet that claimed the worldwide top spot and crossed $200m, while Bohemian Rhapsody crossed $375m.
WARNER BROS PICTURES INTERNATIONAL
UDPATE: Fantastic Beasts: The Crimes Of Grindelwald grossed $40.8m from 80 markets to reach $386.9m internationally, and $521.4m worldwide. By region, it is tracking on par with the original at the same stage in EMEA and Latin America.
Japan led the way on $7.5m for number one and a $25.6m running total after two weekends, as Germany generated $4.5m for number one and $29.2m after three. In other third weekend holds, France produced $3.m for number two and $24.6m, the UK $3.5m for $33.8m, and China $2.3m for $56.2m.
Australia delivered $1.5m for number four on $13.9m, Russia $1.6m for number three and $22.1m, Brazil $1.3m for a number one hold and $13.6m, Italy $1.1m for number four and $13.5m, and Holland $1.1m for number two and $7.5m. Brazil and Spain have generated $18m and $9.4m, respectively.
Creed II has reached $11.7m from 29 markets overall (including eight MGM markets) following a strong $10.2m second session. The UK delivered the highlight with a $3.8m number two debut that tracked 39% ahead of the debut of its predecessor. Australia returned $2.2m for number one, some 74% ahead of the Creed debut, and UAE $905,000 for number one, more than double the original's debut. The remaining key markets open in the new year, starting with Mexico on January 1.
A Star Is Born grossed a further $3.3m from 60 markets to reach $168.5m internationally and $362.2m worldwide. The lead markets are the UK on $37.1m, Australia on $21.4m, France on $15m, Germany on $9.3m, and Italy on $7.9m. The romance opens in its final market Japan one December 21. Crazy Rich Asians opened in China on a dismal $1.2m and the international running total stands at $64m. Smallfoot stands at $130.8m
FOX INTERNATIONAL
UDPATE: Bohemian Rhapsody brought in a further $37.5m from 76 markets as the running total climbed $375.7m internationally, and $540.2m worldwide. The Queen and Freddie Mercury drama opened in Italy on a stunning $6.3m. The extraordinary South Korean run continued apace, generating $7.3m in the fifth session for $46.6m, while Japan delivered $4.4m in the fourth weekend for $24.4m. Lead market the UK has now generated $54.7m after six weekends, France $26.5m after five, and Australia $23.1m after five.
Widows added $5.6m from 61 for $20.1m. Steve McQueen's heist thriller starring Viola Davis and Elizabeth Debicki debuted in France on $1.1m, Spain on $704,378, and Mexico on $471,497. Widows stands at $7.5m in the UK after four sessions, and $1.5 in Australia after two.
WALT DISNEY STUDIOS MOTION PICTURES INTERNATIONAL
UDPATE: Ralph Breaks The Internet crossed $200m worldwide and added $34m from 27 active territories for an early $87.9m led by a $5.1m number one debut in the UK that trailed the February 2013 debut of the original by 16%. The global tally stands at $207m.
Elsewhere, the animation opened top in Taiwan on $1.7m including previews for the best Disney Animation launch. There was a $1.1m number one debut in Thailand including previews. Disney executives said they expected number one holds in the second weekend in Russia on $3.2m for a $10.2m running total, Indonesia, where it added $1.m for $3.1m, Philippines, where it stands at $2.5m after a $1m weekend haul, and Singapore. After two weekends, Ralph Breaks The Internet stands at $34.2m in China, and $12.6m in Mexico following a number one hold. The Nutcracker And The Four Realms added $6m for $87.8m.
UNIVERSAL PICTURES INTERNATIONAL
UDPATE: The Grinch grossed $28.1m from 53 markets in play as the running total vaulted to $65.8m, and worldwide reached $269.5m. France led a wave of strong debuts on France on $3.9m for number one, followed by Germany on $3.7m in second place, Australia on $3m for number one, Italy on $2.1m for number two, Spain on $2.1m for number one, and Poland on $1.1m for number one.
The family release took $823,000 for number one in Belgium, $739,000 for number one in Latin America, $634,000 for number one in Austria, $598,000 for number three in the Netherlands, and $564,000 for number one in New Zealand.
The UK led holdovers on $2.9m for fourth place and a $21.8m running total after four weekends. After four weekends, Brazil has generated $4.9m, Sweden $2.2m, and Norway $2.2m.
Rowan Atkinson action comedy vehicle Johnny English Strikes Again added $5.6m from 34 territories in play for $149.3m from 68 internationally, and $153.6m worldwide. China has produced $21.1m after two weekends.
CHINA UPDATE
UDPATE: Rao Xiaozhi's second feature A Cool Fish added $39.5m to reach $88.6m.
LIONSGATE INTERNATIONAL
UDPATE: Robin Hood grossed $15.1m from 67 markets to reach an early $26.4m running total. The adventure opened in Russia on $2.3m in second place. South Korea and France launched on $1.6m and $1.3m, respectively. The film performed well across Latin America, grossing a combined $3.1m. Brazil and Mexico were the highest markets on $1.2m and $1m, respectively. The UK remains the top market on $2.9m after two sessions.
SONY PICTURES RELEASING INTERNATIONAL
UDPATE: Venom added $12.9m from 53 markets to reach $633.2m internationally and $844m worldwide. The fourth session in China produced $12.1m for $262.3m.
Horror film The Possession Of Hannah Grace launched internationally on 17 markets and generated $4.4m. Mexico led the way on $899,060 and Spain $650,412.