SEPTEMBER 28 UPDATE: Sony's animation sequel featuring lead voice work by Adam Sandler ruled the kingdom on a confirmed $48.5m and overtook its 2012 predecessor to register the biggest September launch.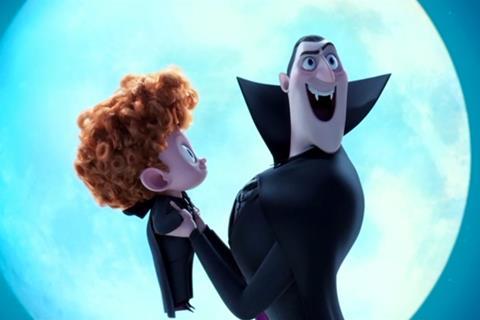 Hotel Transylvania arrived exactly three years ago on $42.5m and finished on $148.3m.
The sequel finished number one comfortably ahead of Warner Bros' comedy The Intern in second place on $17.7m. Robert De Niro and Anne Hathaway star.
Eli Roth's long-awaited cannibalism horror The Green Inferno opened in ninth place via High Top Releasing on $3.5m and marks the second film in the top 10 where Bloom represents international sales.
The other title is Black Mass, which has grossed $42.1m after two weekends through Warner Bros and ranks fifth.
Everest stands on $23.3m in fifth place through Universal after two sessions and grossed $3.7m on 366 Imax screens to reach $11.5m and become the first Imax September release to cross $10m.
In its second session Lionsgate expanded Sicario by 53 to 59 theatres in its second weekend and the drugs cartel thriller broke into the top 10 to stand at $2.3m.
Lost In Hong Kong, the Chinese comedy smash that stormed to a $100m opening in China at the weekend, arrived in North America via Well Go USA on $537,736 from 28 venues.
Roland Emmerich's gay rights historical drama Stonewall opened on $112,834 from 29 through Roadside Attractions.
The top 12 films amassed $127.8m and climbed 29.3% against last weekend and gained more than 23% on the comparable $98.2m 2014 session when Sony thriller The Equalizer opened top.
This week's wide release is recent Toronto world premiere The Martian starring Matt Damon and directed by Ridley Scott. Fox releases.
Confirmed top 10 North America Sept 25-27, 2015
Film (Dist) / Conf wkd gross / Conf total to date

1 (-) Hotel Transylvania 2 (Sony) Sony Pictures Releasing International $48.5m –
2 (-) The Intern (Warner Bros) Warner Bros Pictures International $17.7m –
3 (1) Maze Runner: The Scorch Trials (Fox) Fox International $14.3m $51.9m
4 (5) Everest (Universal) Universal Pictures International $13.2m $23.3m
5 (2) Black Mass (Warner Bros) Bloom $11m $42.1m
6 (3) The Visit (Universal) Universal Pictures International $6.7m $52.2m
7 (4) The Perfect Guy (Screen Gems) SPRI $4.8m $48.9m
8 (6) War Room (TriStar/Affirm) $4.2m $55.9m
9 (-) The Green Inferno (High Top Releasing) Bloom $3.5m –
10 (N/A) Sicario (Lionsgate) Lionsgate International $1.7m $2.3m