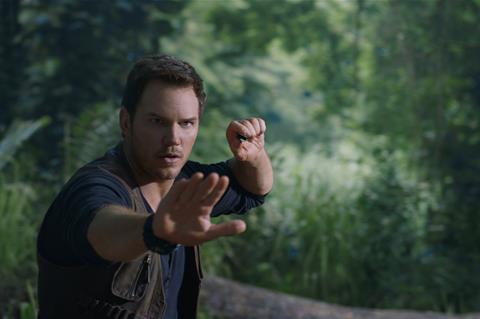 JUNE 18 UPDATE: Jurassic World: Fallen Kingdom has surged to an early $405.1m factoring in an additional $33m Monday (June 18) haul from China where film-goers enjoyed the Dragon Boat Festival holiday.
UNIVERSAL PICTURES INTERNATIONAL
UPDATE: The Universal and Amblin Entertainment tentpole grossed $175.8m for $372.1m over its second international session, comprising $113.4m from the opening weekend in China.
Active in 51 territories, the dinosaurs rank number one in 48 as the Jurassic series become the 10th franchise to cross $4bn worldwide. Jurassic World: Fallen Kingdom crossed $300m on Saturday (June 16) and opens in North America and an additional 17 territories including Australia, Brazil and Mexico this week on June 22.
The $113.4m from China delivered Universal's second highest opening weekend in the territory behind The Fate Of The Furious, as well as the industry's eighth highest three-day debut, and the sixth highest for an imported film. The $33.5m (RMB 215m) opening day was Universal's third highest behind Furious 7 and The Fate Of The Furious, the seventh highest for an imported title, and more than double the RMB 101m opening day of Jurassic World.
The new release added $6.3m for $39.2m in South Korea where it ranks number one and is the second highest territory behind China. It held on to number one in the UK on $9.6m for $33.9m, and added $4.8m for $17.3m in France, $4.4m for $15.3m in Germany, $3.7m for $15.4m in Spain, $2.7m for $14.3m in India, and $2.9m for $13.9m in Taiwan.
The dinosaurs have reached $9.3m in Indonesia, $8.6m in Malaysia, $8.2m in Italy, $7.5m in both Thailand and the Philippines, $7.4m in Hong Kong, and $5.3m in Singapore.
Supernatural thriller Truth Or Dare has generated $48m through Universal Pictures International, while the comedy Blockers stands at $32.9m, and Wim Wenders documentary Pope Francis: A Man Of His Word has reached an early $500,000 from eight territories including Germany.
WALT DISNEY STUDIOS MOTION PICTURES INTERNATIONAL
UPDATE: Incredibles 2 launched in the first wave of a typically staggered Pixar release, earning $53.1m from 25 territories for the weekend and combining with the spectacular North American debut for $235.8m worldwide.
Mexico delivered $12.1m, Australia $7.8m, Russia $5.5m, and Argentina $2.9m. The film ranked number one in all its Latin American markets and is already the highest grossing Pixar release in Mexico, Argentina, Chile, Colombia, Central America, Peru, Ecuador, Bolivia and Paraguay.
It scored the highest Pixar opening weekend in Australia, Philippines, Indonesia, Malaysia, Singapore and Vietnam and the second highest opening in Russia.
Solo: A Star Wars Story added an estimated $5.2m for $146.7m, while Avengers: Infinity War grossed an estimated $3.1m for $1.356bn and $2.02bn worldwide.
WARNER BROS PICTURES INTERNATIONAL
UPDATE: Ocean's 8 used a $18.9m weekend from 36 markets to boost the early tally to $36.8m. It opened in South Korea on a non-traditional Wednesday (election day), earning $5.2m in third place.
France generated $1.9m in second place, while Taiwan produced $1.8m and Hong Kong $816,000 and $789,000 respectively.
Ocean's 8 added $2m for $8.3m in Australia, $1m for $4.7m, in Mexico, and $778 for $3.2m in Brazil. This week brings debuts in the UK, Germany, and Russia.
Comedy Tag opened day-and-date with North America in seven markets on $1.5m. Australia led the way on $850,000. Action tentpole Rampage stands at $325.4m, while comedy Life Of The Party has reached $9.7m.
FOX INTERNATIONAL
UPDATE: Deadpool 2 will cross $400m within days after $10m elevated the tally to $395.1m. Rom-com Love, Simon stands at $18.5m, and YA adaptation Maze Runner: The Death Cure $229.3m followng an $897,400 Japan debut.
PARAMOUNT PICTURES INTERNATIONAL
Animation Sherlock Gnomes has reached $434.3m and A Quiet Place $139.6m. Book Club an early $4.9m with the UK on $4.2m.
STX INTERNATIONAL
UPDATE: Survival drama Adrift stands at $1.5m from 22 international markets, and opened in the Middle East on $192,000.