SEPTEMBER 28 UPDATE: The comedy (Gang Jiong) destroyed the Hollywood competition in another potent reminder of the might of China. Universal and Illumination's Minions meanwhile crossed $800m.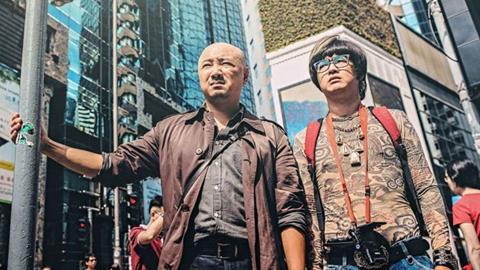 UNIVERSAL PICTURES INTERNATIONAL
UPDATE: Universal, Working Title, Cross Creek Pictures and Walden Media's Everest grossed a confirmed $33.9m from 62 territories for a total of $74.1m as the worldwide tally reached $97.4m.
The adventure opened top in Estonia, France, Israel, Latvia, Lithuania, Portugal, Russia, Slovakia, Slovenia, Sweden, Trinidad and Ukraine.
Russia led the way on $5.2m from 1,110 sites while France produced $2.1m from 391.
A total of 241 Imax screens produced more than $4.1m for $8.2m.
Universal and Illumination Entertainment's Minions crossed $800m as a further $8.3m from 48 including the final territory of Greece propelled the running total to $802.2m.
Global takings stand at $1.136bn as Minions overtook Transformers Dark Of The Moon to become the tenth highest-grossing film of all time.
It opened at number one in Greece on $505,000 from 75 and ranks third in China where $4.1m pushed the tally to $59.9m after 15 days
The Visit took $5m from 22 for $13.9m and Straight Outta Compton grossed $2.1m from 20 for $33.4m. Jurassic World has reached $1.012bn.
SONY PICTURES RELEASING INTERNATIONAL
UPDATE: Hotel Transylvania 2 opened day-and-date with North America on $30.5m from 42 markets in Latin America,
The animation sequel took $20.3m from Latin America that included $7.9m in Mexico including previews for Sony's biggest launch in the market.
The studio reported its second biggest animation debut for the year-to-date in Brazil on $2.6m and a $1.9m launch in Argentina.
The Philippines delivered $1.6m to overtake the original's lifetime total in four days, while Malaysia generated $1.2m and the UAE $1.3m for the third biggest animated opening weekend in history.
FOX INTERNATIONAL
UPDATE: Maze Runner: The Scorch Trials added $28.5m from 74 markets to stand at $122.2m.
South Korea generated $3.9m for $12.7m while the film opened in Germany on $1.9m from 811
Fantastic Four stands at $109.4m, Hitman: Agent 47 $57.9m and El Clan $16.6m
WARNER BROS PICTURES INTERNATIONAL
UPDATE: The Intern opened day-and-date with North America on $12.5m from 40 markets and debuted in South Korea on $2.8m from 751 screens and Germany on $1.5m from 528.
Russia produced the highest launch for a Nancy Meyers film as 924 screens generated $1.4m. Taiwan delivered $1.1m from 96.
Pan launched in Australia as September school holidays got underway and the aventure fantasy arrived at number two on $1.6m from 470 screens.
The next key markets will begin launching in two weeks, including Germany, Russia, South Korea and Brazil on October 8 and Mexico and Spain on October 9.
PARAMOUNT PICTURES INTERNATIONAL
Mission Impossible: Rogue Nation brought in $5.3m from 46 territories for $480m and grossed $3.8m from 5,500 in its third session in China to reach $131.3m.
WALT DISNEY STUDIOS MOTION PICTURES INTERNATIONAL
Inside Out grossed $8m in its 15th weekend from 34 territories for $421m and stands at $6.1m in Italy.
Ant-Man took $1.5m in its 11th weekend from 11 for $228.5m
LIONSGATE INTERNATIONAL
UPDATE: Sicario generated $3.8m from 34 markets for an early $4.9m. The film arrived in Australia on $1.5m, Italy on $472,000 and the Middle East on $1.1m. heads into Germany on October 1.
STUDIOCANAL
Legend added $2.5m (£1.6m) to reach $20.2m (£13.1m) and has become the studio's highest grossing rated 18 British film ahead of Trainspotting on $18.8m (£12.4m).
Cinema Management Group reported that Toronto selection Born To Dance 3D opened second in New Zealand through Vendetta Films ahead of The Intern on $159,410.